Experience highlights of the Portland area on this full-day sightseeing tour, including the blossoming food cart culture, diverse neighborhoods, Pioneer Courthouse Square and the unspoiled beauty of the Columbia Gorge waterfalls. Immerse yourself in a guided tour of Portland's fascinating history and quirky contemporary culture.
Highlights
Full-day tour of Portland and its surroundings
See downtown attractions such as Pioneer Courthouse Square and the famous food carts
Explore vibrant, eclectic neighborhoods such as Nob Hill and the Pearl District
Enjoy views of gorgeous waterfalls at Columbia Gorge National Scenic Area
Your guide will teach you about Portland's history and modern-day culture

Round-trip hotel transport included
Recent Photos of This Tour
Portland Sightseeing Tour Including Columbia Gorge Waterfalls
What You Can Expect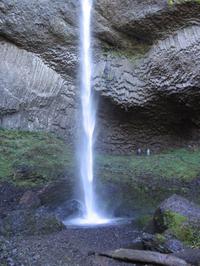 Your morning begins with a guided bus tour through Portland. You'll be picked up from your downtown hotel to explore the hot spots of Portland's westside such as Pioneer Courthouse Square, a living venue for the city's key seasonal events. Your local guide will narrate the (sometimes macabre) history of Portland's oldest neighborhoods including Vista Hills, Council Crest, Nob Hill, the Pearl District, North Mississippi and Alberta.
Drive high into the West Hills and marvel at the beauty of Washington Park, which offers an unobstructed view of Mount Hood. Explore Pittock mansion, former home to Portland pioneer and newspaper tycoon Henry Pittock, and meander through the International Rose Garden, where more than 550 varieties of roses invite you to test their signature perfume.
Explore Portland's happening food carts, and sample delicacies (own expense) that range from poutine and fried-egg sandwiches to authentic Vietnamese and Mexican fare.
Following lunch, leave the city behind for a tour of the Columbia River Gorge, where scattered waterfalls break through the gorge's sheer stone walls. Your guide will explain how these waterfalls were formed and invite you to study the area's fascinating geology at sites such as Bridal Veil Falls, Horse Tail Falls and Bonneville Dam. The grand finale of your waterfall tour is Multnomah Falls to stroll to the Benson Bridge and snap a souvenir photo.
Your return to the hotel in Portland passes by the Vista House at Crown Point, where you can take in the majesty of the Columbia River Valley. The 8.5-hour tour ends by early evening.
Shannon_atl United States of ...
April 2016

April 2016
Great tour! Plenty to see and a very interesting mix of the great outdoors and the city. Our tour guide was fantastic, extremely knowledgeable and a lot of fun!
April 2016
superior in all ways. Very Prompt. had wonderful experience

April 2016
THE TOUR GUIDE IS REALLY GOOD.
February 2016
The tour was wonderful. We felt as if we saw much of portland in 1 day.
February 2016
Great tour with just the right balance of walking and riding. Ron was an awesome tour guide - friendly, informative and an excellent driver. We really were able to see a lot in just one day. Highly recommend this tour!!
February 2016
We had a very thorough and enjoyable tour and were happy that we'd booked it.

January 2016
I had the best time! My tour guide was so sweet, and very friendly. She picked me up at my downtown hotel, and I joined a small group of 4. The 5 of us were under 40 years old, so I thought her information about all the places we visited was very fun, and age appropriate. We visited the Columbia River waterfalls, and were driven through downtown Portland.
We were driven to the River, and got to stop at the Women's Forum, and Vista Point for some beautiful views. We went to see about 12 waterfalls since the weather was so clear. It was beautiful, and out guide knew so much history about each waterfall. It was very lengthy and informative. After the first half of the tour we made a stop for lunch at Portland's Food Stall Pod and had free time to eat. The second half of the tour was a city tour, and we were driven through Downtown Portland and got to see all the neighborhoods. Nob Hill, Brewery Blocks, Old Chinatown, Pearl District, Pioneer Place, basically every neighborhood downtown. The Chinese Gardens were closed, as well as Pittock Mansion, and the Test Rose Garden, but we still got to stop at each one anyway. These locations were closed due to renovations and the timing of the year not the tour company's fault so I thought it was nice that she drove us to those locations anyway. We got a chance to get out and walk around the Rose Gardens and Pittock mansion, so it was nice to see. She drove us to so many places and knew so much about the city.
Overall I thought it was a nice tour, I got a chance to get a glimpse of Portland, and view some beautiful scenery. I got lucky with my guide, and my group- all so nice! I would recommend this tour if you want to see Portland in a short amount of time. I planned to use the tour as an idea, and return to the places I was interested in the following day. It was very helpful. All in all, I had a great time, and made some friends along the way.
January 2016
very good tour,my travel buddy seemed to get lost at one of the falls for 20 minutes past the departure time and then we agreed I should wait for him and they would pick us up after the last waterfall.
Very patient and understanding,I wanted to shoot him.

November 2015
This was a great tour. I highly recommend it for those who have only a little time in the Portland area and want to see as much as possible. Sergio was an excellent guide. He spoke enough, giving plenty of interesting facts, but did not yammer continuously. He struck a good balance and definitely enhanced the tour.
Advertisement
Advertisement