Indulge in the world-renowned wineries of Portugal's Douro Valley on this guided day trip from Porto. Visit two stunning wineries nestled into the valley, each with their own sweeping views and high-end wines. Learn about the vast array of varietals grown and fermented here, including Portugal's legendary Port wine and 'vinho verde.' Gain insider insight into the local cultivation practices from the winemakers themselves and enjoy a traditional 3-course lunch.
Highlights
Day trip to the wineries of Douro Valley from Porto

Visit two of the region's prestigious adegas, enjoying tours of each with a wine-expert guide

Explore the wine cellars at the ancient Quinta do Seixo estate
Stop in the heart of Douro Valley for a traditional 3-course lunch with local wine
Taste acclaimed Port at an 18th-century adega called Quinta do Tedo
Recent Photos of This Tour
Douro Valley Wine Tour from Porto Including Lunch
What You Can Expect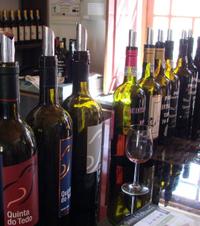 Your full-day wine country journey begins with a convenient pickup at your central Porto hotel. Settle into your luxury coach transport and kick back on the scenic drive into the Douro Valley. After approximately 1.5 hours, arrive in the lush valley, where majestic views of terraced vineyards and UNESCO-listed hilltop villages surround you.
Take in the views at your first stop, a classic Portuguese adegas, or wine estate. Tour the grounds of this stately winery, learning about the grapes it grows and how they turn it into wine. See the cellar, where the wine is stored and bottled, then sample some of the wines and learn about the different tasting notes with your guide.
Enjoy a savory 3-course lunch with wine at a traditional Portuguese restaurant in the valley. At your next winery, an 18th-century adega, learn about the wines more in-depth so that you may contrast and compare how the different terroir (soil) affects the tasting notes of the wines. You're in for a treat — this small producer specializes in fortified Port wine, which Portugal is famous for. Sample some of the different kinds they produce and, if you like, select a bottle to take home (own expense).
Hope back in your coach bus and relax on the leisurely drive back to central Porto. Your tour concludes with a drop-off at your hotel in the early evening.
May 2016
Jonata was a great tour guide. We had a wonderful day.
April 2016
Loved this day trip! Our guide was fantastic - friendly, outgoing, knowledgeable about history, wine, etc. Would definitely recommend this to anyone considering. As others noted, it also includes a 1-hour cruise on the Douro river which really completed the experience. Wish we could go back and do it again!
March 2016
Jonatas Jonathan was our tourguide and he was extraordinary! Funny, informative, personable, and a very safe driver at that, especially through the steep and winding hills of the Douro Valley. He made the trip a perfect experience.
January 2016
We loved the tour! It's a bit pricey for what we got, especially tasting-wise, but we had a great time and loved Pedro, our guide. Definitely recommend it!
December 2015
I had a wonderful time on our tour of the Douro Valley. This is a must for anyone who has an interest in learning more about the wine, terroir, and culture of this beautiful region. Our guide, Joao, was very informative and created a lovely experience for us. A great day with a lovely group!
November 2015
This tour was definitely the highlight of our 12 day Portugal trip. When we first looked at booking our trip to Porto, Algarve and Lisbon we read that a Douro Valley Wine Tour was a must so we started researching online and came across this tour for 8 people with a Douro River Cruise but we unable to get it for the date we wanted so we booked the one with lunch. We booked this from Canada and we a little nervous that everything would be booked when we arrived in Portugal. We had nothing to worry about as everything was looked after, and to our surprised we were getting the original tour we looked at. Our guide Juan John was the best and made the trip so informative and enjoyable. The fact that another group was touring with us made the friendly competition so much more fun. We learned so much about Douro Valley Wines and Ports as well as some of the history of the area. I would highly recommend this tour to anyone visiting the area. We travel a great deal and would definitely use Viator tours again. Thank you Juan

October 2015
We had a brilliant day. Pascal was awesome, he had lots of knowlege about the region and about Portugals history. We had our three year old daughter with us and Pascal kept her interested the whole day by joking around and doing a treasure hunt with her. The wine tastings were fun, as was the boatcruise. Lunch was nice too. The views were spectacular, even though it was raining.
October 2015
The tour was great even though the weather didn't cooperate initially. Our tour guide, Luis, was great - very friendly and worked really hard to make sure you were comfortable and we're having a great time. The tour included two wine estate tours, a nice 3 course lunch and a boat trip on the Duoro river. The first tour was a bit more commercial with a standard walk through the wine cellars and then to the wine tasting room. We had four tastes all of which were good but nothing exceptional. Then we went to a restaurant along the Duoro river. The food was delicious and we definitely were full after the meal. We then took a short boat ride along the river were we could see a number of vineyards along the banks. The weather improved duo g the afternoon and it was a very pleasant way to digest and enjoy the view. Then it was onto the second vineyard which was a very old family owned business with multiple generations involved. This tour was better than the first with the tour guide giving a more detailed tour, sharing more information about the wine making business and the family. The wine tasting was again four different type of Porto wine, some of which were very good. We ended up buying some from this vineyard. We headed back to Porto traveling along the river and through some narrow road along the cliffs. Overall a great day. My only complaint was that the van was not much better than a shuttle bus one takes to the airport. It was not luxury transportation. It was ok for comfort but given the price, I think that the ride out and back could have been a bit better.
October 2015
The best wine tasting tour ever, pascal made it fun nice lovely full of information as much as the two wine place we visit were excellent. Thank you pascal for this lovely day.
September 2015
My friend and I had a wonderful time on this tour. Our guide gave us a great historical and cultural review of the Douro valley region as well as many personal notes that truly enhanced the trip. Overall, the entire trip rose above expectations. From the wineries, to the lunch and river cruise, the design of the day was well thought out and fun.
Advertisement
Advertisement