Savor foods at Porto's beloved cafés and markets during this 4-hour food and wine tasting tour. Try regional delights, from sweet custard tarts to savory classics like a 'bolinho de bacalhau' codfish. Taste northern Portugal's world-renowned export of Port and learn its history and cultural impact. With interesting gastronomy facts from your local guide, this food and wine tasting tour in Porto will keep your appetite sated.
Highlights
4-hour Porto food tour led by an expert local guide
Learn about the history of Portuguese cuisine on a walk around town
Sample traditional Portuguese dishes like b

olinho de bacalhau codfish and

nata

sweet pastry

Stroll through some of Porto's best-looking neighborhoods like the historic Riberia district
Visit generations-old taverns and traditional cafes
Recent Photos of This Tour
Porto Food and Wine Tasting Tour
What You Can Expect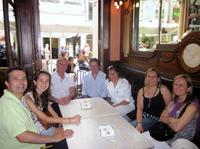 After meeting your guide, kick off your tour with a rich coffee and nata (egg custard tart). Then, learn why northern Portugal's best traditional cuisine is in Porto as you head to Bolhão Market. Enjoy the ambiance of this cheerful two storey open-air arcade where farmers sell colorful produce and clean fresh fish to order.
Wander along quaint roads to a shop that's sold smoked meat and cheese for more than a century. Learn about the shop, and then try one of its classics: a hearty pork sandwich known as a bifana. Wash down the treat with a beer, and then continue your tour to Leandro Café.
One of the oldest taverns in Porto, Leandro Café sells the signature dish of bolinhos e punheta de bacalhau, a Portuguese cod fishcake. Enjoy a sample of liquor alongside the fish and learn about the dish from your guide.
Finally, it's time for a sample of Port at a locally loved wine bar, which boasts more than 200 wines on its wine list. From there, continue to a generations-old tavern to enjoy some of the finest tapas in town.
May 2016
This was with tour guide Sid and as we were the only guests we had an excellent personalised tour. Sid was a very intelligent, well informed guide and a very nice young man who could not have done more for us. The food and wine, and the venues were great too!
February 2016
This was a really good tour and introduction to Porto. Sid was a great guide and there was plenty of variety in the places we visited and the food we tried. We got an insight into the history of the city as well as some very helpful recommendations on things to do for the rest of our stay.
February 2016
Our afternoon tasting some local Portugese food and specialties was great!! Earlier in the day we had gone on a walking tour of Porto with Virginia, and we were pleased that she also took us on the food and wine tour. No need for lunch beforehand, as the tastings are substantial enough to take you through the afternoon until dinner!! Virigina was a fabulous guide in explaining the different things we would be having. Everything from the tasty tarts, liqueurs, port wine, cheeses, sausages, ,francesinhaI think it was, and other sandwich as well were all really good and fun to have at local shops.
We would highly recommend this tour. Virginia being a native of Porto is very knowledgeable and explained the different foods and traditions to us. She is quite personable and friendly and led the tour well in a very relaxed style, and also managed time and communication with the shop owners/staff in a professional way. A must for anyone visiting Porto!!

January 2016
I absolutely loved this tour. Virginia our tour guide is from Porto and has a degree in Archeology. She was full of information about the city and the local foods. The food and wine we had was outstanding and I enjoyed everything I tried.
January 2016
We, my wife and I had a thoroughly great tour with our guide for the day. We also met two other couples on the day, and ended up all meeting the next day for a further , homemade wine and tasting!
We would recommend the tour highly and thought the tour was interesting and personalised, by our local guide.
thanks
Roger Brockbank
December 2015
Awesome food with some awesome people! This made our Porto trip!
December 2015
Fantastic guide Sid made our day truly memorable! We sampled a whole range of food, and enjoyed his company and enthusiasm! Sid was knowledgable, considerate and flexible. We spent ages trying Port and ham, and must have overrun the tour time, but Sid didnt' rush us at any point! Simply awesome!
November 2015
This tour was fantastic - Sid, the local guide, really felt like a friend, and my husband and I had a great time spending the afternoon walking around the city with him. We were both defeated by the franchesinha, haha! It was exactly what we were looking for, he took us to places we would not have found on our own.
November 2015
I booked this tour the same week I headed to Porto and was really happy with everything about it except the rain :. The gorgeous Virginia is a wonderful ambassador for the sights, food and wine of this beautiful city and it was great value. I thoroughly recommend this tour to anyone visiting Porto!
November 2015
BEST trip EVER!!! Our tour guide was wonderful and the entire group really enjoyed themselves! A
Advertisement
Advertisement