Travel to a trio of Europe's greatest capital cities on this independent 6-night Prague Vienna Budapest train trip, including 3-star or 4-star hotel accommodation. After two nights in Prague, ride a train to Vienna for two nights, and then continue by rail to Budapest for two final nights. During each city stay, enjoy ample free time to relax and explore at leisure, and take an included sightseeing tour around highlights including the Charles Bridge in Prague; the Ringstrasse and Schönbrunn Palace in Vienna; and the famous Chain Bridge in Budapest.
Highlights
6-night independent rail trip from Prague to Vienna and Budapest with 3-star plus or 4-star hotel accommodation included
Join an included 3.5-hour sightseeing tour of each city with an expert guide
See Prague's Old Town, Prague Castle and Wenceslas Square
View Vienna's highlights, including the Ringstrasse, Hofburg Palace and elegant Schönbrunn Palace
Admire the best of Budapest, including the Buda Castle District, Hungarian Parliament Building and Heroes' Square
Get ample free time to explore each city independently, with two nights in each
Enjoy comfortable, standard class inter-city rail travel
What You Can Expect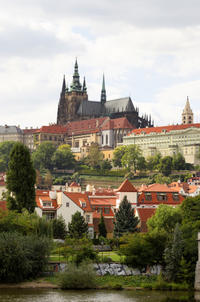 Your 6-night trip includes standard class rail travel from Prague to Vienna and to Budapest, as well as two nights of 3-star plus or 4-star hotel accommodation in each city.
Your experience then begins when you check in to your hotel in Prague, the first of the three cities on the agenda. Simply visit the reception desk to collect your train and tour tickets, and your hotel vouchers and you're all set to go.
During your stay in each city, you also enjoy a 3.5-hour guided morning tour of the main sights. Otherwise, the time is free for you to enjoy at your leisure. Breakfast is included each morning from Day 2 onward, with all other meals, drinks and activities at your own expense. 

Aside from the three included city sightseeing tours, the activities mentioned below are purely suggestions on how you might want to use your time in each city — ultimately, it's down to you!
Itinerary
Day 1: Prague
Check in at your hotel in Prague and spend the rest of the day at your leisure. Perhaps stroll around the delightful Prague Old Town or enjoy views of Prague Castle from statue-lined Charles Bridge. At some point, collect your train tickets and hotel and city tour vouchers from the hotel front desk. In the evening, take your pick from Prague's huge range of restaurants and bars, and drink in the buzzing nighttime atmosphere of the Czech Republic's capital.


Overnight: 3-star plus Axa hotel or similar in central Prague
Day 2: Prague (B)
Enjoy breakfast and head out on a 3.5-hour morning sightseeing tour of Prague, taking in its celebrated sights. Taking turns between a comfortable, air-conditioned minivan and walking with a guide, see the State Opera, National Museum and bustling Wenceslas Square, crowned by a statue of St Wenceslas, the patron saint of Bohemia.
Next, cross Charles Square and admire the ornate Charles Bridge spanning the Vltava River. Then, pass the Rudolfinum as you journey to the UNESCO World Heritage Site of Prague Castle. Wander around the treasures inside this enormous walled complex, including St Vitus Cathedral, the Royal Palace and Golden Lane, whose über-quaint, 15th-century cottages are kitted out to recreate the lives and work of the medieval artisans that resided in them.
Afterward, see the former Jewish quarter and delve into Prague Old Town. Walk around the gorgeous Old Town Square, home to St Nicholas Church and Tyn Cathedral, and admire the world-famous astronomical clock that graces the Old Town Hall.
Once your tour ends, the rest of the day is yours to explore independently. Perhaps dig into some tasty Czech recipes at lunch (own expense), visit some of Prague's intriguing museums, or dig deeper into the cobbled Prague Old Town. The evening is free for you to do as you wish, too.
Overnight: 3-star plus Axa hotel or similar in central Prague
Day 3 Prague — Vienna (B)
Following breakfast, check out of your hotel and make your own way to Prague's railway station for your train to Vienna. Relax in your standard class carriage and absorb the views over the Czech and Austrian countryside as your train speeds through central Europe. On arrival, head for your hotel in Vienna center and enjoy the rest of the day free. Perhaps use your time to get acquainted with this beautiful UNESCO-listed city and, in the evening, enjoy dinner at any one of its eclectic restaurants (own expense), perhaps finishing your night in a lively bar or pub.
Overnight: 4-star Ath Ananas hotel or similar in central Vienna
Day 4: Vienna (B)
Enjoy breakfast and join your guided morning tour of Austria's beautiful capital. The seat of the Hapsburg Empire during the 18th century, Vienna is rich in medieval and Baroque architecture, and glorious gardens and parks — all begging to be admired.
On your 3.5-hour tour, see the city's most famous historical attractions. Traveling in an air-conditioned minivan, drive along the Ringstrasse, the magnificent boulevard commissioned by Emperor Franz Joseph in the 1880s, to see the Vienna State Opera, Museum of Fine Arts, Austrian Parliament Building, City Hall and elegant Hofburg Palace, once the winter seat of the Hapsburg monarchs.

Then, continue to the majestic Schönbrunn Palace, the Hapsburgs' summer residence, and once home to Empress Maria Theresa, mother of Marie Antoinette. Head inside this Baroque masterpiece to witness the opulent state apartments, gilded with paintings, frescos and Rococo furnishings.

Leave the Schönbrunn and drive past the Belvedere Palace, one of the world's premier art museums, before your tour ends. You can use your tour ticket to gain discounted entry to the Belvedere, so keep hold of it if you want to visit this famous gallery later.
After lunch (own expense), enjoy the afternoon free to sightsee further, browse Vienna's sophisticated shops or perhaps sample some Austrian apple strudel at a traditional coffee house. Alternatively, use your tour ticket to save on admission to the Belvedere and view its vast galleries, including its famous collections of works by Gustav Klimt. Spend the evening at your leisure.
Overnight: 4-star Ath Ananas hotel or similar in central Vienna
Day 5: Vienna — Budapest (B)
Relax over breakfast and then check out of your hotel and travel to Vienna's railway station to catch your train to Budapest. Take in views of Austria's and Hungary's picturesque countryside from your comfortable standard class seat, and on arrival, make your own way to your central Budapest hotel.

The remainder of the day is yours to do as you please. Maybe get a taster of the city by visiting landmarks, such as the massive Chain Bridge, and this evening, perhaps give some traditional Hungarian cooking a trial run at any of its enticing restaurants or taverns.
Overnight: 3-star Central Basilica hotel or similar in central Budapest
Day 6: Budapest (B)
After breakfast, enjoy a guided morning tour of Hungary's intriguing capital. Straddling the Danube River, with old-world Buda on one bank and bustling Pest on the other, Budapest is brim with Baroque, neoclassical and Art Nouveau buildings that testify to its long and rich history.
Ride an air-conditioned minivan around the city's showpiece attractions, such as the Hungarian State Opera House, Erzébet Square and Erzébet Bridge. Stop for photos at Heroes' Square with its iconic Millennium Memorial, and keep your camera working at Gellért Hill, the rocky peak that commands epic views over the city. Next, take a guided walk around the UNESCO-listed Buda Castle District. Follow the cobbled lanes winding through this historical area, and see Matthias Church, the scene of many a Hungarian monarch's coronation. Soak up the views over the city from the Fisherman's Bastion, and then drive over Margaret Bridge to admire the neo-Gothic Hungarian Parliament Building sitting on the banks of the Danube River.
After your tour, the afternoon is at your leisure. Maybe return to the morning's sights that sparked your interest, immerse yourself in the city's many museums, or browse the boutiques and shops of Andrássy Avenue and Váci Street.
Spend the evening at your leisure.
Overnight: 3-star Central Basilica hotel or similar in central Budapest
Day 7: Budapest (B)
Relax over breakfast at your hotel. Your experience ends this morning, when you check out of your hotel.
July 2015
This was a great tour! I loved that everything was already set up when we got to Prague in terms of train tickets and hotels. The hotel in Prague was our least favorite as they weren't very friendly and accommodating to our request. Everything else was great though!
There are a couple things I would have liked which would have helped as well. We got a general overview of which hotels we were staying at and what time the tour would start the next morning but it would have helped to have more information about the tours picking us up in the morning. We didn't know the companies names giving the tours which created some confusion. It would have bee nice to know for example that a bus company was picking us up in Vienna then taking us to the bus to start the tour. It would have also been nice to know what sights we were going to see to help us plan the rest of our time effectively.
This tour is not for the faint of heart. It is a lot of walking and sightseeing in a short amount of time. I think it you had 7-8 nights it would have been more fun to stay in each city an extra day.
June 2015
Prague is wonderful though we had rain during our guided tour. Tour guide was busy with 2 languages and I think it was a second best arrangement. Hotel Axa is good, clean and tidy. Staff are very helpful. Breakfast is wonderful.
Dixon R. Arevalo United States of ...
October 2015
Viator in Prague through the local tour operator was not good as it was mainly a bus tour going over the same blocks over and over and driving by places quickly. There were no photo stops which is one of the reasons that I travel so much - for the photography. The hotels in Prague, Vienna and Budapest were adequate and the central location was good. The city tour guide in Vienna was better. The train rides were all very good and easy to access. The city tour in Budapest was the worst. To begin with it was supposed to start at 10:40 am and be a 3.5 hour tour which is poor planning since it was over the lunch hour. The taxi picked us up at our hotel and dropped us at another hotel to be picked up for the tour by bus. The bus never came. Anna substituted for the guide and tried to accommodate us, but she did not have a bus with loud speaker to hear her explanation. We had only one photo stop which did not include the Palace district. On being dropped at the Parliament bldg, hungry and frustrated we complained to Anna who arranged a private tour for us back to the Palace district etc. She was accommodating, but the morning was extremely frustrating. VIATOR dropped the ball with this one.
Advertisement
Advertisement