29 Reviews
Location:

Prague, Czech Republic

Duration:

10 hours

(approx.)
This full day guided coach tour from Prague combines a visit to the world-renowned Czech spas, Karlovy Vary and Marianske Lazne. Discover the rich history of Karlovy Vary and its twelve springs before stopping for lunch. In the afternoon discover Marianske Lazne, which was developed at the beginning of the 19th century in a valley where many mineral-rich healing streams spring from the ground.
Highlights
Czech Spas of Karlovy Vary and Marianske full day guided coach tour from Prague
Discover the rich history of Karlovy Vary and its twelve springs
See Marianske Lazne with its curative springs and unique historical architecture

Enjoy a delicious lunch

Walk along the Tepla (warm) River and majestic Neo-Renaissance colonnades and taste different mineral waters

Led by a professional guide

Recent Photos of This Tour
Czech Spas of Karlovy Vary and Marianske Lazne from Prague
What You Can Expect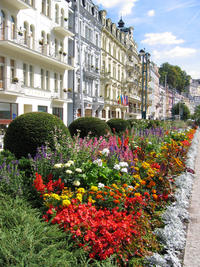 Your first stop will be the largest and best known Czech spa - Karlovy Vary. The founding of the town has been linked with the name of the Emperor Charles IV since 1358 when he had a hunting lodge built here. The spa has a 600 year tradition and is visited for health and relaxation. In years gone by, the spa was visited by rulers and many famous artists including Goethe, Chateaubriand, Chopin, Beethoven, Brahms and Dvorak.
During your walk along the Tepla (warm) River and majestic Neo-Renaissance colonnades, you will have the opportunity to taste different mineral waters and purchase souvenirs. Stop for lunch (included), before exploring the Becherovka museum.
Karlovy Vary is also famous for local china and glass manufacturing. Products are on display at a special exhibition and are sold at specialized shops. You'll visit the Moser glass shop as well as Thun porcelain shop.
Next, discover the famous Marianske Lazne with its curative springs and unique historical architecture. Sample the spa waters from the famous Cross Spring and visit ancient colonnades during your visit.
June 2015
Fascinating. Guide was excellent.
April 2015
I got lucky twice on booking group tour but getting a private, bcz of luck of tourists. Even with hall group it would be very nice trip. Worth it !!!
December 2014
Fabulous tour.. The sights of Karlovy Vary are fantastic. Such a beautiful place. The entire tour was awesome. The guide, Jan was really friendly and tried to accommodate all our requirements. I highly recommend this tour. Viator provided this tour via the tour company.
September 2012
Very nice tour, we've had a beautiful day! Karlov Vary is a wonderful barroque town and on september 4th, 2012 we've even saw the rainbow over the river that cross the town. The guide Petr was gentle, explained everything and even gave us free time. Highly recommended tour!
September 2012
This is a wonderful trip. Daniel was a terrific tour guide!. He was didn't mind talking to me all the way to Karlovy Vary and all the way back to Prague fro Marianske Lazne. There were only 5 people total on the trip. 2 spoke Spanish and had their own guide. Therefore, there were only 3 of us in the English tour. Daniel's English is VERY good. It felt very personal. We were all older and we went at our own pace and did not feel rushed at all. I'm so happy that we went both places. They are so different. Karlovy Vary seemed a bit more elegant, Marianske Lazne was my favorite. It was more laid back and seemed a bit less crowded. Overall, I would highly recommend this trip to everyone!
June 2012
March 2012
The trip was excellent. Especially I liked our team. The lunch was nice.
September 2011
Probably the best day of our trip. Would definitely recommend going to Marianske. Some people had the visit to Karlovy Vary only and had to entertain themselves while the rest of us continued on to Marianske which is a beautiful city.
Beware though, it was supposed to include pick up and drop off to hotels. The pick up occurred, however the drop off didn't. We were just dropped off at their city booth and told we had to find our own way back to the hotels, not easy when you only arrived the evening before.
August 2011
A wonderful day - very long and busy but such a good trip. Karlovy Vary was a wonderful trip into the mountains and such a pretty town with an extraordinary history. Marianske Lazne was unexpectedly beautiful. We had an orchestra playing while we were there, a visit to a beautiful church and the Royal Spa. Lunch in Karlovy Vary was substantial but not as good as it could have been.
May 2011
This was a lovely day in two very beautiful turn of the century spa towns with beautiful architecture! Tasting the variety of thermal spring waters was free. We also toured the Becherovka Museum, and got a free tasting of several varieties of liquer. The lemon was my favorite flavor.
Advertisement
Advertisement