22 Reviews
Location:

Prague, Czech Republic

Duration:

9 hours

(approx.)
Cycle from Prague to Karlstejn Castle on a guided bike tour! With your local guide, you'll enjoy a leisurely cycle along the banks of the River Vlatva, passing through beautiful Czech countryside on the 18-mile (30 km) ride. Have lunch in the village of Karlstejn (own expense), and then enjoy a guided tour of Karlstejn Castle, one of the most famous castles in the Czech Republic. Return to Prague by train, giving you a chance to rest your legs!
Highlights
Full-day bike tour to Karlstejn Castle from Prague

18-mile (30 km) one-way bike ride to the castle – you'll return to Prague by train
Cycle along the Vltava River, enjoying the scenic Czech countryside with your expert guide
Tour Karlstejn Castle
Recent Photos of This Tour
What You Can Expect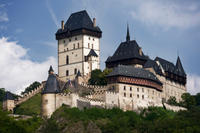 Start your bike tour in Prague, and leave the hustle and bustle of the city behind as you head southwest toward the town of Karlstejn, home to the Gothic castle of the same name. Suitable for cyclist of all abilities, the pleasant 18-mile (30 km) cycle will last approx. 4.5 hours and will take you through the flat, yet scenic countryside of the Cesky Kras area, along the Vltava and Berounka rivers.

On arrival in the village of Karlstejn, hop off your bike and re-fuel with a hearty Czech lunch (own expense) before venturing on to the famous Czech castle. Karlstejn Castle has a history of more than 650 years and houses an impressive collection of treasures from the Roman Empire, as well as a gallery featuring portraits of famous Czech rulers. During your one-hour guided tour, learn about King Charles IV's life in the castle and admire the majestic Gothic architecture.

You will return to Prague by train, where your tour will end in the early evening.
August 2015
ABSOLUTELY LOVED IT!!! I would highly recommend it if you like to bike and want to see Czech in a different view.
The tour can be up to 10 bikers but when we did it, it was only my husband and I. It was great! We bike often so we were able to keep a good pace and ended early. There are a few breaks during the bike ride. There are a few uphill sections. You go through a bunch of different terrain- smooth bike path, city cobbles stones, rocky pavement, and uneven surfaces. I wouldn't recommend it for beginner riders.
After biking 22 miles, it was a little tiring to climb the steep hills to get to the castle but worth it! Nice view. We opted not to go into the castle as we have seen others before and just spent time browsing the many shops along the way. which I found was cheaper than in Prague city center. Eg. Shirts were 150-200kc.
Jacob, our bike/tour guide, was excellent. He gave us good explanations of everything and catered to our level of biking ability. The restaurant we stopped at was excellent. Try the chicken noodle soup and chicken schnitzel. Its amazing!
The train ride back to Prague was relaxing. It was a few minutes from the castle area. There is a train car for bikes so it wasn't bad. 40 min ride and then another 5 min bike back to the shop. Praha Bike Shop is a few minutes walk from Old Town Square which was convenient for us
There was an issue on start time- Viator's voucher says 9am but they said it really starts at 9:30 and that Viator got it wrong. So we had to wait a little longer than expected. I would recommend calling the bike shop when you arrive to confirm meeting time to avoid any confusion.
August 2015
I really enjoyed this bike tour- it's the third of it's kind that I've done, but was definitely the longest. Eighteen miles in the saddle is decent length trip, especially for those unaccustomed to riding for that long. There were about 3 hills that were fairly steep that required a little extra umph to get up. Our small group of 5 elected not to tour the castle, just admire the grounds and buildings. What they neglect to tell you is that there is a pretty steep walk to get up to the castle- no moat needed to keep this place safe!
October 2014
I really enjoyed the bike tour. Before heading out to Karlstejn we rode around old town Prague. The ride along the river was really nice. Mostly flat and easy with a few easy hills. A very nice way to see the countryside. We stopped mid way for a beer break which was a nice treat. The guide was a nice young guy originally from Ukraine. I forgot his name but he was a real nice and knowledgeable guy and the info he shared about of the area was very interesting. If I get to return to Prague, I'll definitely join this bike tour company again.
October 2014
This was the highlight to our visit to Prague! Sasha was our bike guide, and he was friendly, knowledgable, and really helpful. The bikes were in great condition, with really good gears. The bike ride was beautiful! And the train ride back was a fun way to end the tour. I would do this again.
September 2014
Excellent Trip. Really enjoyed the 35k bike ride. Karlstejn Castle was a real surprise. Ride is 95% flat along river banks. Our tour guide, Sasha was excellent.
August 2014
Our guide was fantastic, very informative about history and local sites. The bike ride was beautiful, and well worth the time to experience the countryside outside of Prague. I would say that you should know that the route is not as flat as described. It can be a little challenging to ride on cobblestone streets and through some areas of heavy morning traffic in Prague, and there are inclines along the route that would be difficult for inexperienced riders. People with bad knees, like myself, may find the hilly parts of the ride challenging and the pace too fast. Our guide did adjust the pace when needed however. Overall it was a great experience which I would be willing to do again. My husband did not find the ride challenging, but he is very used to hill riding and road racing.
July 2014
Daniele our tour guide was great. It wasn't a bad ride at all so even if you are an intermediate rider you will be fine. Very happy that we took a train home.
July 2014
Great tour. Was a long and hot day, but our time was not diminished by uncooperative weather! Daniel was an excellent guide and made this trip so much fun. Lunch was good and Karlstejn Castle was beautiful!
July 2014
18 miles is a lot of biking when you're not used to it, be aware that you will probably be saddle sore for a few days afterward. That being said, biking through the countryside was beautiful. Our guide, Travis, was quite knowledgable about Czech history and culture. There were only a couple of big hills to deal with, the majority of the ride was fairly flat. The tour price does not include entrance to the interior of the castle. You can get into the exterior courtyard and look around the outside but a tour of the interior is an extra cost and the tour is conducted once an hour. We chose not to do the interior tour. The train ride back to town was quick and easy. All in all this was an excellent tour and was the highlight of our Prague vacation.
July 2014
This trip was an absolute 5 star perfect day for all (2 parents, 2 kids age 15 and 17).
Easy to find the start location. Bikes were selected for our height...and the bikes were of good quality. Brief fitting of saddle height. Then a short ride thru Prague to test the fit and a short tour of several local buildings. Then we set off along the Vltava.
The route is flat and very scenic. 32 km in distance. We stopped periodically to regroup and 1 20 minute stop for refreshments about halfway I had a beer.
At Karlstejn we had a fabulous lunch and then the castle tour which was excellent.
Then a 5 minute ride to the train station in Karlstejn, and a 45 minute train ride back to Prague. Then 5 or 10 minutes more cycling back to the start location.
The guide was excellent. Friendly, patient, informative.
Truly a fantastic day, perhaps our best day in the Czech Republic!
Advertisement
Advertisement