Visit spectacular, 14th-century Karlstejn Castle on a 4.5-hour trip from Prague. Travel by air-conditioned coach to this picturesque, hilltop palace-fortress, perched above dense green forests. Walk or ride a horse-drawn carriage to the gate, and tour the key areas, including the Imperial Palace as you learn how the castle was built by Holy Roman Emperor Charles IV to safeguard his imperial jewels. Immerse yourself in medieval times as you stroll through chambers and halls adorned with frescos, paintings and other treasures, including a replica crown, before your return to Prague.
Highlights
Half-day trip from Prague to Karlstejn Castle

Guided tour of the Gothic-style castle
Explore the unique buildings that make up the castle
Discover the largest collection of panel paintings by Master Theodoric
See the replica coronation crown
Recent Photos of This Tour
Karlstejn Castle Half-Day Trip from Prague
What You Can Expect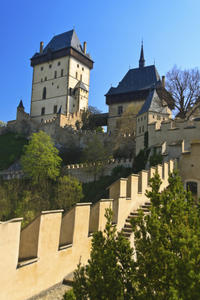 Make your own way into central Prague to meet your guide. Then, travel by air-conditioned coach to Karlstejn Castle, situated above the village of Karlstejn.

As you travel, admire the Czech countryside and hear the history of the castle, a hilltop Gothic fortress founded by Holy Roman Emperor elect, Charles IV, in 1348.

After roughly an hour, arrive and ogle the views of the storybook castle, whose turrets and towers drape a hillside surrounded by lush forests. Then, either walk or ride a horse-drawn carriage (own expense) up to the gate.

Head inside for a guided tour of the buildings as you learn how Charles IV used the castle as a treasury for his coronation jewels.
See the Burgrave's Palace and Well Tower as your guide shares the latter's gruesome secret and continue to the five-storey Imperial Palace and its nearby towers.

Step inside to view the Chapel of the Holy Cross, home to 129 exquisite panel paintings by Charles' court painter, Master Theodoric; and learn how the imperial regalia were kept safely here.

See a replica of St Wenceslas' crown, and visit the Knight's Hall, with its central late-Gothic altarpiece. Then, explore highlights such as the Chapel of St Catherine, a place of private meditation for Charles; and the Great Tower, whose walls are hung with paintings of Karlstejn and other castles.

Behold the spectacular views from the towers, and then descend back to Karlstejn village to finish your tour back in Prague.

Please note: If Karlstejn Castle is closed, the tour will visit Český Šternberk. Built in the 13th century, this fairy tale-like fortress perches above the Sázava River and town of Český Šternberk, and is famed for its rich stucco and weaponry collections.
rescos, paintings and other treasures, including a replica crown, before your return to Prague.
March 2016
This was great! I considered cancelling when I found out I was the only one on the tour, but I'm glad I stuck it out. Nora was a great guide. The castle is fascinating. Just be prepared to hike quite a bit uphill to get there.
March 2016
Sara our tour guide was amazing! Super sweet lady with a lot of valuable information. I would absolutely recommend this trip to anyone who wants to see this castle.
February 2016
Well worth the trip. Beautiful castle. Would not have done it on my own. Definitely recommend for castle enthusiasts
September 2015
August 2015
Great tour of a medieval castle. Great exterior with a somewhat spas interior, but still a great historical site. Very knowledgeable guide. Buy a carriage trip to the castle as walking on a hot day is a pain. Carriage is cheap.
June 2015
Great experience highly recommend this.
May 2015
We really enjoyed our time. We were part of a small friendly group and our guide was excellent. The castle and village nearby are great. Really worth going.
May 2015
Very enjoyable tour and very private only 6 of us. Our tour guide Helene spoke in English and Italian. She was very knowledgeable about the Czech Republic and describing the countryside along the drive. Once at the castle, we had an internal tour guide who was very knowledgeable about the castle and Charles the IV. Very interesting!
October 2014
I loved Karlstejn Castle! Our guide was very informative and told some very interesting stories about the area. It turned out that there was a wine festival going on that day so her job was made much more challenging by the crowds. However she handled it very well by setting up meeting points, waiting in strategic places to direct each of us, and got us all back to Prague again!
April 2014
The tour was almost an hour getting on the road from the Municipal Square and we had to then pick up someone at Old Town Square for some unaccountable reason. The guide on the way out was a bit loquacious but kept things moving. Everyone should be warned that the "walk" up to the castle from the parking area is not easy. And not for the faint of heart. Be warned. At the castle, there was another long wait. That said, the young man who showed us around the castle was absolutely terrific. Alas, I didn't get his name. A wonderful history lesson.
Advertisement
Advertisement