Discover the beautiful Czech town of Cesky Krumlov on an overnight trip from Prague, including 4-star hotel accommodation and return coach transport. Traveling through scenic Bohemia, visit the pretty town of Ceske Budejovice, home of Budvar beer, on route, before arriving in Cesky Krumlov. After walking tours of Cesky's majestic 13th-century castle and UNESCO-listed Old Town, sit down to a delicious included lunch. Then, enjoy the late afternoon and evening at your leisure, with ample time to savor this enchanting town at its tranquil best, with its daytime visitors gone.
Highlights
Overnight trip to Cesky Krumlov from Prague

Visit Ceske Budejovice (Budweis) en route, and see the town's Black Tower
Enjoy a guided Cesky Krumlov Castle tour

Explore the charming UNESCO World Heritage listed Old Town
Spend your evening at leisure and see Cesky Krumlov without the crowds
Overnight accommodation in a centrally located 4-star hotel
Recent Photos of This Tour
Overnight Cesky Krumlov Trip from Prague
What You Can Expect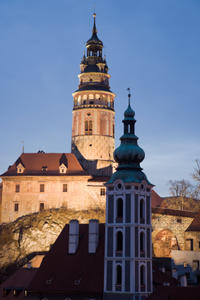 Day 1: Prague – Cesky Krumlov (L)
Board your air-conditioned coach at your central Prague hotel or in central Prague. Meet your guide and travel south through Bohemia's lovely countryside toward Cesky Krumlov, a beautiful Czech town on the winding Vltava River.

On route, visit the town of Ceske Budejovice, also known as Budweis. Centered round an elegant square, Ceske is best known for its namesake beer, Budvar, and is home to the brewery where it's made.

See some of Ceske's top attractions, including the Gothic-Renaissance Black Tower overlooking the square, and a medley of other Gothic and baroque gems.

Then, continue through Bohemia's picturesque landscapes, arriving in Cesky Krumlov at around midday. Dominated by a 13th-century castle, this pretty town resembles a miniature Prague, with Renaissance and baroque buildings radiating out from a picture-postcard square.

Take a walking tour of the castle to admire its restored buildings, gardens and moat, and learn how Cesky's rulers designed it to emulate Prague Castle to elevate their status at the Czech Royal Court.

Stretch your legs on a walking tour of the UNESCO -listed Old Town. Admire the cobbled lanes and courtyards, and after a traditional Czech lunch, check in at your hotel near the town center.

Enjoy the rest of the day free to spend as you wish. Perhaps use the late afternoon to explore more of the quaint Old Town or investigate the town's history more at one of its museums or churches.

This evening, either relax at your hotel or head out to enjoy the town as the bustle of the day subsides. Most of Cesky's visitors are day-trippers, leaving its restaurants, bars and sights wonderfully quiet come evening.

Overnight: 4-star Gold Hotel

Day 2: Cezky Krumlov – Prague
This morning, check out of your hotel and relax on your journey back to Prague, where your tour ends.
August 2014
Cesky Krumlof is really best enjoyed in two days. Unfortunately we had a very unpleasant guide named Jana on the first day who did little for us other than handling the mechanics of getting us to our destination and whose information was so excessively rote that none of us really benefited. Fortunately, there were many positives; the Gold Hotel was quite pleasant, the Castle tour included had an excellent and friendly guide, the town is so visually appealing, the town folk were welcoming, the food was delicious. Papa's and the Two Marys were very good. The Gingerbread Shop had a very good selection of special and unique souvenirs. A piece of Moldovite can be had for a very reasonable price and is mined near the area. The second day was most enjoyable on our own and the guide who picked us up for the tour operator whose name was Petr was outstanding. Petr is a credit to the organization and knows how to make visitors feel welcome. He drove a comfortable small Mercedes van that was so much better than the cramped mini-bus with hard seats and poor shock-absorbers that took us from Prague to CK on the first day. The trip takes three hours so again, you will have a much better visit if you choose to spend two days rather than one.

Crystal W USA
October 2014
I would have been upset if we had only done the day tour. We were rushed from the time we meant our guide in Prague. 15 members of the tour group requested the tour to be in Spanish, the others of us requested English. There was a lot of confusion between the tour guides and bus driver...they didn't have the right bus to transport so many people and with luggage. We had to wait for a new bus before we could depart Prague. From that point on, we were rushed through the rest of the tour. When we got to Cesky Krumlov, we were scurried through the town to our place to eat. We were seated away from the larger part of the group. We were skipped for dessert and coffee while the other group members were not. We were then quickly ushered to the Castle for a 60 minute tour. The Spanish members of our group were dissatisfied because there was not a Spanish speaking guide for our tour of the castle and our guide was not allowed to tag along for the tour. The tour of the castle was really not worth the time...It is much more beautiful from outside. The town itself was way more interesting than the castle. The time we spent in Cesky Krumlov after the guided part was great. The town is very quaint, cozy, and beautiful. Our hotel accommodations at Hotel Gold were superb. We enjoyed the next morning exploring the city on our own. Cesky Krumlov is definitely worth visiting, but the guided part of this tour was the least impressive part. We probably would have been better off traveling to the city on our own and just exploring the city and doing as we please. The disorganization of the tour company and being rushed through the day was stressful and unnecessary.
November 2012
Our tour was almost an hour late starting due to a bus problem so effective time at Cesky Krumlov was reduced. Guide was informative but hard to understand. When I booked I understood that the return trip to Prague was in the morning arriving back early afternoon. As we were flying out early the next morning we wanted another afternoon in Prague. However, maybe because it was not peak season, we were left at our hotel and told the bus would not pick us up till 4.30 pm next day. This meant we would not get back to Prague till 7.30. This was not acceptable so we had to get a local bus back to Prague leaving at 11am. The bus was cheap but the taxi from the bus stop to our hotel added to our cost. I note now that the information on the website has changed. With hindsight I would probably just do the day trip.
Advertisement
Advertisement