Special Offer
Book by July 31, 2016 and travel by September 30, 2016 to save 20% compared to the local supplier's prices!
Want to immerse yourself in the culture, food and history of Bohemia? Then, this 4-hour Prague walking tour with food and drinks tastings is ideal. With an expert guide, discover how the colorful heritage of Bohemia has shaped the fabric and folklore of Prague and the Czech Republic, inspiring its food, politics and art. Learn about the history of Bohemia at Wenceslas Square, see quirky attractions such as David Cerny's subversive sculptures; explore the gritty district of Vrsovice; and sample Bohemian classics such as sugar-dusted pastries and frothy local beers.
Highlights
4-hour Prague and Bohemian culture, history and food walking tour
View cool and quirky Prague sights such as David Cerny's statues and the Žižkov TV Tower
Explore off-the-beaten track areas such as trendy Vršovice and Vinohrady
See Prague's oldest pub and an absinthe café where the 'green fairy' inspired artists
Sample a sweet or salty Czech pastry, and tasty oblozene chlebicky sandwiches
Try two tasting beers at a microbrewery, plus Bohemian drinks and snacks at a Vršovice cafe
Learn how Bohemian culture and dissidents have shaped Prague's history through the ages
Recent Photos of This Tour
What You Can Expect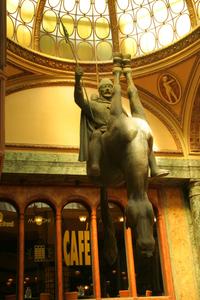 Make your own way to the starting point in Prague and greet your guide. Then, begin your 4-hour walking tour at the equestrian statue of Wenceslas I in Wenceslas Square. Learn about this hallowed king, the 10th-century Duke of Bohemia, and discover why he was eulogized in the famous Christmas carol.
While you take in the statue, listen as your guide describes Prague's role as the historical capital of Bohemia — the age-old region in the west of the Czech Republic — and how its culture is intertwined with the country's fabric and folklore.
Hear, too, about Bohemia's 20th-century dissidents, including the revered Václav Havel, the leader of the 1989 Velvet Revolution protests in Wenceslas Square who then became the Czech Republic's president.
Afterward, amble down an alleyway famous for its swirling political graffiti, and then kick off your explorations of Bohemia's signature foods along a road stuffed with artisan bakeries.
Head inside one to sample a mouth-watering pastry, such as a trdelnik, and swing by Prague's oldest pub, where the legendary local beer, Pilsner Urquell, has been a fixture since the mid-19th century.
Stroll by Prague's most controversial artworks — statues by contemporary Czech artist David Cerny — and stop to taste some much-loved oblozene chlebicky, tasty open sandwiches adorned with meat or other morsels.
Take in a café where the 'green fairy' of absinthe inspired ground-breaking artists, and travel by metro to the Vršovice district. Here, head to an eatery for more delicacies and drinks, and continue to the hip-and-happening Žižkov area, home to the communist-era Žižkov TV Tower.
Gaze at David Cerny's baby statues on the tower, and then relax with a couple of beer tastings at a Pivoteka microbrewery.
After a last food stop, your tour finishes at Old Town Square, leaving you free to continue exploring independently, perhaps with pointers on bars and eateries from your guide.
Please note: the order of activities above may alter on the day of your tour.

June 2016
This is the second time I have taken this tour and I can't believe it has gotten better. Niki gave a fabulous tour that was informative and entertaining. This tour covers many things not covered on the usual city walking tours. The addition of local foods was a highlight.

October 2015
Very well done! the guide was very passionate and you could tell he really liked what he was doing and had a love for the city. We went to different parts of the city than most tours. I loved trying all the different local foods around town.
August 2015
AMAZING. The guide was extremely knowledgeable about the past and present of Prague. It was hot, but we wouldn't have thought of quitting the tour since it was so fantastic. We walked through neighborhoods and stopped at a neighborhood outdoor market for a juice and some other food tastings. Then off to a wonderful brewery for a taste of Pilsner and some wonderful food. Would love to do another tour and cover other areas with this guide. Thank you for a great day.
August 2015
We really enjoyed this tour because we were able to explore areas inside and
outside of town center and learn about Czech culture and food. Tereza was an
excellent guide. We loved sampling delicious Czech food - traditional and newer cuisine. Tereza introduced us to an interesting Czech coke called Kofola and light, fresh open sandwiches called chlebicky, as well as, all the other activities listed. Highly recommend this tour for anyone interested in learning about Czech culture.

July 2015
Couldn't have asked for a better guide than Nikky who was very engaging and in depth in sharing the beginnings of the Velvet Revolution, up to the recent death of the beloved President Havel, to the bohemian lifestyle of Czechs. The itinerary, save for the sweltering heat, was perfect- we walked from the Wenceslas Square to some sidestreets, and took the metro to a quiet suburb, where we had lunch at a cafe with very few locals around no other tourists except us and later found our way to a farmer's market..Oh and thanks to Nikky's tip on a secluded jazz bar in Old Town! This was definitely a highlight of my Prague visit!

Housewifetravel United States of ...
April 2015
I booked group tour, but it came as private, no more people was there. Amaising!!! So my personal guide Tereza Moravkova was excellent . Great English, knowledge. She even didnt mind finish tour hour later. Always could give advise abt any aspects.
February 2015
November 2014
This tour was very interesting and informative and I would recommend it!
We were lucky in that the group only consisted on my husband, son and myself and the guide was able to tailor the tour to our interests. He showed us many interesting sites including churches, clock, parks, sites of demonstrations, Jewish quarter and provided a thorough history of the events in Czech history including the second world war, cold war and velvet revolution of which I knew very little about before.
We had lunch with our guide in a very atmospheric Czech restaurant and sampled the local food and beer!
October 2014
The tour was amazinging. The guide was enthusiastic and full of first hand knowledge. Truly an eye opener. I walked away with more information than I would have gotten from any book

Nathan C Australia
September 2014
Nikki was fantastic. Highly personalised tour!
Special Offer
$65.62 Save $13.13
Advertisement
Advertisement