Discover Prague through the lens of your camera on this 3-hour photography tour. Under the guidance of a local photographer, you'll head off the beaten path to explore some of the city's prettiest streets. Away from the crowds of Old Town Square, capture postcard-perfect photos of the charming Novy Svet, or New World, houses and other scenic sights. Plus, get tips on how to use light, shadow and color creatively as you line up shots of Charles Bridge, Prague Castle, Vltava River, the historical Malá Strana district and more.
Highlights
Prague's photography walking tour

Discover Prague's incredible scenery through the eyes of a local photographer
Capture some amazing architectural details and unique views

Enter the stunning Vrtovska gardens for some delightful photographic opportunities
Pick up tips for photographing buildings, people and city scenes
What You Can Expect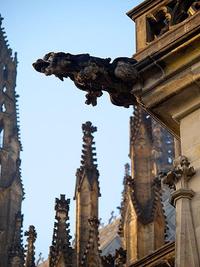 Prague is one of the gems of Eastern Europe, the picturesque houses of Novy Svet (or New World). Here you can see homes that have architectural details that are not commonly found as well as traverse the empty medieval streets that few tourists know about. From atop the hill you will then wind your way towards Hradcany and then downwards to Mala Strana.
Your vantage point here offers another unique view of the rooftops of Prague looking down towards the river. From here your journey goes towards the river along one of Prague's most architecturally stunning streets: Thunovska as well as Zamecke schody - which lie under the castle.
Along this route the photographer will show various ways to capture the magic and beauty of these famed cobblestone streets and if time allows you can enter the stunning Vrtovska gardens that offer a delight in photographing opportunities.
Your tour will then end at the other side of Charles Bridge, Novotneho Lavka where stunning views of both Charles Bridge as well as Prague Castle (Hradcany) can be found.
Some of the things you will learn:
how to use light and shadows, colours and forms in a creative way
how to use photographic techniques to create your personal vision
how to get the best photos in every situation
how to be always ready to capture the moment.
September 2012
This was an excellent tour with some interesting, practical, useful tips for taking better photos. Our guide, Vladimir, was charming, professional and knowledgeable about the city as well as being an expert photographer. He contacted us ahead of time to confirm where we were going to meet. Many of the streets we visited were a bit less travelled and that made for more time for photos and also for less cluttered photos. We felt we had seen areas of the city that we would not have seen otherwise. There was lots of chances to practice taking pictures and he made lots of helpful suggestions. I know this trip was a bit more expensive but it was well worth the cost. Vladimir was willing to use whatever we were comfortable with and work with that. His knowledge of cameras and photographic techniques and equipment is much greater than mine but he did not make me feel as if I had a lot to learn. He did not confuse or preach but showed through example. I felt I really learned something and felt more comfortable with my camera. This tour also reminded me of some things I had learned before and helped me keep those more firmly in my mind when shooting pictures. Both my companion and I agreed that this was an excellent tour. We had very different cameras but were both able to learn something and improve our picture-taking. Excellent!
July 2014
Great tour for photography buffs. We booked this as a family however the focus really is on photography. My Son and Father stayed for the entire tour and learned key photography techniques that they used through out our trip. Additionally, they saw unique views and sights that are off the beaten track. Bring your best camera and do not expect a typical city walk.
June 2016
Overpriced and the tour guide basically showed us common tourist sights. Start by Hotel Savoy, walk up the hill nearby to get a nice view of Prague, walk by streets around castle, walk over Charles Bridge. End tour. Could have easily done this myself. Tour guide didn't seem very excited either. Would not recommend for the price.
Advertisement
Advertisement