Swap Prague's medieval history for its 20th-century past on this 2.5-hour walking tour. With an expert guide, explore the places where many of the momentous events of World War II and Prague's period under communist rule occurred. Visit Wenceslas Square, scene of the 1968 Prague Spring and 1989 Velvet Revolution; see the former headquarters of the Nazis, Communist Party and KGB, and view Republic Square and other sites as your guide recounts the people and events that shaped today's city. Numbers are limited to 20 for a more personalized experience.
Highlights
Historical walking tour of Prague's Nazi and communist sites
Great tour for history buffs!

Walk through Old Town and to the old Jewish quarter
See former headquarter buildings of the Gestapo, KGB and SS
Learn about the protests that took place on National Avenue
Visit Wenceslas Square and the Square of the Republic
Small-group tour limited to 20 people ensures a more personalized experience with your guide
Recent Photos of This Tour
What You Can Expect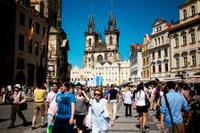 Meet your guide in central Prague and after an introduction to the city's 20th-century history, set off on your 2.5-hour small-group walking tour.

Start along Bartolomejska Street, home to a former WWII prison once used by secret police to torture prisoners. Hear about this dark chapter in Prague's history, and continue to National Avenue, a grand thoroughfare that divides the Old and New Towns.

Stroll along the avenue as your guide describes the student protests staged here against the occupying Nazis in 1939, and then against Soviet rule in 1989.

Continue to Wenceslas Square, one of Prague's most famous squares, and the historical focal point of the Czech people's struggle against foreign occupation.

Pause to imagine the square as it was in 1968 and early 1969, when Soviet tanks rolled in to crush the Prague Spring — a period of Czech liberalization that would ultimately presage the revolution of 1989.

Then, visit Republic Square, named after the 1918 proclamation of an independent Czechoslovakia. Hear about the square during WWII and how the Czech resistance established secret broadcast stations that ultimately led to the 1945 Prague Uprising. Learn how these struggles ended, ironically, when the square became home to the Communist Party three years later.

Wander into the Old Town and see other important sites, including the balcony from where the communist leader Klement Gottwald declared the takeover of the Czech government in 1948.

See where Albert Einstein lived during his work at Prague's Charles University, and hear how his theories led to the invention of the atom bomb. Then, view the Old Jewish Cemetery and other landmarks, including the former headquarters of the Nazi SS and communist-era KGB.

Cap your tour at Letna Park on the Vltava River. Stroll along the riverside and hear about the world's largest statue of Stalin, built here in 1955 and then destroyed in 1962.

Your tour then ends in central Prague.
September 2015
An excellent tour for those wanting to learn about the 20th century history of the area. Our guide Yonas was great! He was friendly, knowledgeable, patient, courteous and helpful. We learned a lot from him.
September 2015
An excellent comfortable walking tour led by a very knowledgeable guide who was present during the Velvet Resolution. A great history refresher. The guide has very good insight into issues then as well as today. I highly recommend this as one of your initial tours as it also helps orient you to the city as well.
March 2015
The tour was excellent. Mikel was passionate and knowledgeable about Czech 20th century history. Our 19 year old and we really enjoyed the tour.
June 2014
Martin, our guide, was fantastic. Knew lots of history. He took us into the public library of the city of Prague because I am a librarian and he thought I would be interested. I was! Very thoughtful, educated young man. Great Tour guide.
June 2014
Our guide was incredibly knkowledgeable and brought along additional materials to help us understand the history. This tour was unexpectedly my favorite tour in Prague. Highly recommended if you have any interest in the communis or WWII eras.
June 2014
Mike was a great guide who gave a lot perspective to the stories of what life was like under both Nazi and Communist rule. We did quite a lot of walking to many of the important sites and heard the major stories of Czech history under these regimes. I definitely want to learn more.
April 2014
Mike was first class, young, enthusiastic and knew masses of background information. Responded very well to all our areas of special interest. We enjoyed discussing many historical issues with him. Fabulous.
January 2014
The guide was excellent and very knowledgeable, with a real enthusiasm for the subject which was very specialist. He brought the tour alive with old photos and articles on his tablet.
A walking tour such as this is a great way to see some of the hidden aspects of Prague, highly recommended

January 2014
Our layover flight was cancelled so we missed our originally scheduled small tour. For a small additional fee, they booked us a private tour and it was well worth it! We very much appreciated Max working to fit us in as we only had 2 full days in Prague. Michael was our tour guide and was very knowledgeable. The most interesting part for us was learning about Reinhard Heydrich's assassination right in Prague. We LOVED Prague
January 2014
The guide was excellent. He had a real enthusiasm for the subject which is specialist. He complemented the tour with old photos on his tablet which really brought the trip,alive.
Advertisement
Advertisement