Follow in the steps of Czech kings on a guided walking tour through Prague. The tower marks the beginning of the Royal Route, a silver plate path which was originally used by medieval Bohemian monarchs during coronation ceremonies, which took place in Prague Castle's St Vitus Cathedral.
Highlights
Walk along Prague's Royal Route

Discover many of Prague's historical buildings and monuments

Witness some of Prague's most majestic architecture

Learn about Prague's interesting history

Recent Photos of This Tour
Walking Tour of Prague's Royal Route
What You Can Expect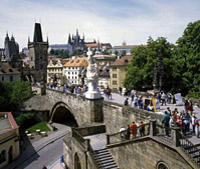 During your walking tour you will encounter one of the most largest and important gothic inspired churchs in the Czech Republic, St. Vitus Cathedral, is home to the Archbishop of Prague. As you continue to walk along the Royal Route you will pass through the beautiful Wenceslas Square which is home to many historical events and is named after Saint Wencelas, the patron saint of Bohemia. Through the Old Town Square you will uncover several historical buildings and monuments such as the Tyn Church, St. Nicholas Church and the Astronomical clock which are shrouded in Beroque and gothic inspired architecture.

Further down the Royal Route you will discover the Charles Bridge, Lesser Town and the majestic Municipal House, one of Prague's most prestigious Art Nouveau buildings. Municipal Houses, built in 1911 was formerly used as the Royal court palace, but today houses an array of attractions.
December 2014
There was only us the two of us and Marc our tour guide on the tour which was very good .Marc was very knowledgable about Prague and even made a diversion to look around the Jewish area of Prague at our request,we felt very at ease with Marc and felt able to ask questions. The 3 hours passed without us noticing.
We would definitely recommend taking this walking tour if you like history.
July 2014
July 2013
Another excellent tour!
The tour starts at the Powder Tower and ends at the Castle. 3 hours passed so fast that we have not even noticed. You'd see everything that is important to see and know about in Old Town and New Town, then you'd walk over Charls' bridge, then to the Castle.
Very rich history, various architecture styles well preserved, a lot of interesting facts. All kudos to the guide who was extremely knowledgable and accomodating: if the group expressed an interest to learn more about particular thing or to sneak into a site that was along our path but not necesserely part of the tour, she would not only allow that but provide all detail about the subject in question like that was part of the tour.
Highly recommended!
July 2010
The Prague tour meeting point is hard to find.
May 2015
Well it started alright but the guide was in some hurry! Infact after the tour finished she just started walking fastly and next thing I see from distance is the guide running for the bus and she vanished! That was horrible. I was left with no info in the middle of The city! -_-
February 2015
This tour was terrible the tour guide was very unprofessional. First she wanted to drive us in her private car because she didn't want to walk up the hill! we declined this and wanted to actually experience the walking tour! The woman was talking about lots of things and there was some history in her speech but most often she spoke of illegal drugs, getting her son drunk on absinthe when he was a toddler, and making racist, sexist and bigoted comments about the people surrounding us. We found it highly embarrassing to be walking with her and couldnt wait to leave. There were only three people on the tour and all of us couldn't actually believe this womans conduct. When we finally got up to the castle the tour guide then stopped to eat lunch at a cafe while we waited for her to continue the tour. The tour went an hour and a half over the recommended time because she stopped every 5-10minutes to have a rest as we were walking. We would not recommend this tour.
Advertisement
Advertisement