Pair a tour of Brazil's Iguaçu National Park with a visit to Itaipu Dam during this full-day sightseeing tour from Puerto Iguazú. Cross the border from Argentina into Brazil to take a guided tour of the Brazilian side of Iguassu Falls, including the best views of Devil's Throat. Head over to Itaipu Dam to view the biggest hydroelectric power plant in the world.
Highlights
Full-day sightseeing tour of the Brazilian side of Iguassu Falls and the Itaipu Dam from Puerto Iguazú

Enjoy a guided visit of Iguaçu National Park and Devil's Throat

Explore Itaipu Dam, the largest operational hydroelectric power plant in the world

Complimentary hotel pickup and drop-off included

Recent Photos of This Tour
Brazilian Side of Iguassu Falls and Itaipu Dam Full-Day Sightseeing Tour from Puerto Iguazú
What You Can Expect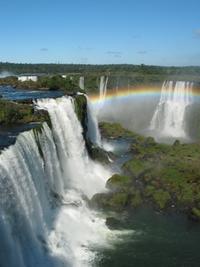 After pickup from your Puerto Iguazú hotel, cross the border to Iguassu Falls on the Brazilian side with your expert guide for this full-day sightseeing trip.
Enter Iguaçu National Park and view what are arguably the best views of the tremendous Devil's Throat waterfall. Watch as 14 falls drop 350 feet (107 meters) over a precipice with impressive, thunderous force. Be sure to bring your foul-weather gear, because the water plummets with such magnitude that it creates a 100-foot (30-meter) cloud of mist that is suspended permanently overhead. This cloud is host to a steady rainbow, so get ready to snap lots of photos.
During the rainy season from November to March, water can flow over Iguassu Falls at 450,000 cubic feet (12,750 cubic meters) per second. For an up-close view of the falls, trek through the forest to the bottom of Salto Floriano. After admiring that view, ride the park's elevator to the top of the falls, or meander out over the falls at Salto Union.
Continue to your next stop at Itaipu Dam, the world's largest hydroelectric power plant. Built on the Paraná River, the plant provides part of Brazil's and almost all of Paraguay's electricity. View the dam itself up close and learn about the history and logistics of its operation from your knowledgable guide. End your day's adventure in Brazil with drop-off back at your hotel in Puerto Iguazú.
February 2014
Best tour we did whilst in South America. So different from the Argentinian side. Trip to the power station was just mind boggling, so big, just opened your eyes to what man is capable of.
Guides helpful and friendly plus good English.
May 2014
The falls from this side are exciting. Remember to dress well because you will get wet. The Itaipu dam is very interesting and inpressive mainly for technical people. Other people will find it a bit boring.
January 2014
After seeing the Iguassu Falls from the Argentinian side the day before it was still worth to also visit the Brazilian side. We found that the overall views were actually better from the Brazilian side compared to the Argentinian side. This is due to the fact that on the Argentinian side you are basically "in" or "on top" of the falls and from the Brazilian side you can take the better pictures as you are slightly further away. We would not have wanted to miss on or the other side and strongly recommend to visit both sides.
As for the trip to the Argentinian side that we had booked through "viator" as well we did not know in advance that the entrance fee to the falls is not included in the tour price which was somewhat disappointing. But in comparison to the Argentinian side we could pay with a foreign credit card.
Also the visit to the dam was really interesting and impressing.
Between the two parts of the trip we stopped for lunch which was included in the tour price (except for drinks). Although it was a lunch place where only tourist groups are brought to we were surpised how good the food was and how much variety was offered.
December 2013
Awesome day in Brazil at iguazu Falls and itaipu powerplant. Perfect guide!
September 2015
Went to Iguazu falls but no Dam visit ,guide said closed,he did not seem to know why, only that it was closed.
January 2014
But don't be surprised by 2 hour wait at the border.
February 2012
Itaipu Dam can be skiped from your trips. You can find better things to do.

September 2014
This tour wasn't really a tour as such and I'm sure you could spend your money better on a driver or a local bus to take you to the falls. We were the only English speaking tourists and felt as though we missed out on facts and things you would expect in a tour. Don't bother with the dam either.

February 2016
I was very disappointed! It is basically a drive-through of a 1 and 1/2 hours. Not enough stops...the stops they had was for 5 minutes. And then there is the stop at the Catamaran harbour!! What a complete and utter waste of time. The whole problem started with the useless Grey Line website that did not explain clearly enough what was going to happen. They also did not give other options. I only discovered at the dam that there are more detailed tours.
January 2013
This was the worst so-called tour that I have taken. The coach which arrived half and hour late spent another half hour picking up other clients. It was actually a feeder coach connecting 4 different tours and an airport dropoff. There was no guided tour merely a dropoff at the falls.
Advertisement
Advertisement