Enjoy an evening of Brazilian music, folkloric dance and cuisine in this 4-hour excursion from Puerto Iguazú. Cross the border from Argentina to Foz do Iguaçu, Brazil, for an evening of South American culture and food. Choose from over 200 dishes before settling in for a 2-hour show featuring traditional salsa, samba, tango and Brazilian folkloric songs.
Highlights
Dinner and show in Foz do Iguaçu, Brazil, with transport from Puerto Iguazú

Enjoy an all-you-can-eat Brazilian buffet dinner
Choose from more than 200 hot and cold dishes
Watch a two-hour Latin American folkloric show
See the tango and salsa and hear traditional songs
A great way to end a day at Iguassu Falls!

What You Can Expect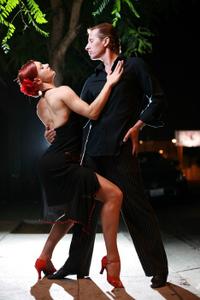 After pickup from your Puerto Iguazú hotel, take a brief ride over the border to Foz do Iguaçu, Brazil, for an evening of dance, music and feasting. Enjoy the extensive Brazilian spread at Rafain Churrascaria, which features over 200 dishes including grilled meats, salads, Argentine and Brazilian specialties, and decadent desserts. Save room for seconds, since this culinary experience is all-you-can-eat and you're sure to have worked up an appetite trekking around waterfalls all day.
Get comfortable in your seat and marvel at the following 2-hour musical extravaganza. The show hosts almost four dozen musicians and dancers performing traditional South American arts. Take in the brightly colored costumes of the athletic dancers and the unusual traditional instruments of the indigenous musicians. Watch tango, samba, mariachi and folkloric dance as you listen to traditional rhythms from Paraguay and Bolivia as well as Chilean and Peruvian music.
When you've had your fill of food, music and dance, your evening will end with a return to your Puerto Iguazú hotel.
March 2015
February 2015
The pickup and drop off occured on time. I was staying on the Brazilian side, and they had no issue with picking me up from my hotel. Excellent buffet with a lot of choices and a great sampler show of Latin American dance as well. My one issue was I thought the drinks were a little bit on the pricey side, but others said he drink prices were pretty much in line with what you would pay in other places at Foz do Iguazu, so this put my mind at ease.
LH United Kingdom
August 2013
They only spoke in Portugese but not English. This is a bit disappointed.

March 2014
dancing was good dinner was fine but was missing something.
February 2013
Arrived just as show was starting, so had to get food and eat while show on, had to twist neck, poor view, not full so moved. No English commentary. Variety of acts, Brazilian bias, audience participation, some embarrassing. Food: much salty meat, salads, puddings, etc, little that seemed ethnic.
March 2014
I wish I would have heeded the reviews before trying my luck on this tour... I would definitely avoid this tour if I could go back. The bus came late despite calling ahead to say they needed to pick us up early. We arrived to the venue after the show had started and were yelled at by several very rude people because we were blocking their view as we sat. The venue was extremely overcrowded and would be considered a fire hazard by any standard. The food was mediocre at best and the lines were ridiculously long, especially for the quality of meat being served. The wait staff was SLOW and forgot my order four times (a simple water without gas) before bringing me the wrong drink, yet still expected me to pay for it since drinks are not included in the price. The show was interesting, but very short! We arrived at 9:15 and it was over just before 10:15pm. It was no where near the 2 hours that are advertised.
Overall, this food was the worst I had during my two weeks in Brazil and Argentina. In my opinion, it was not worth $25 (US dollars) let alone the $112.99 being charged. I would have much rather redirected the money to another restaurant in the area where the bill would have been far less than the cost for one person on this excursion. Save your money for something more worthwhile!
Advertisement
Advertisement