Visit Punta Tombo, a penguin preservation area, on this private shore excursion from Puerto Madryn. When your ship pulls into port, walk among Magellanic penguins while learning about their habits, migration and breeding patterns from your informative guide. During this unique day trip, you'll get up close and enjoy the antics of these entertaining birds — an unforgettable experience. Port pickup and drop-off is included.
Highlights
Puerto Madryn shore excursion to Punta Tombo

Take a private day trip to Punta Tombo, home to Patagonia's most important Magellanic penguins colony

Walk among the penguins and witness their habits up close!
Learn about the penguins' migration and breeding patterns from your knowledgeable guide

Port pickup and drop-off
Covered by Viator's worry-free policy: guaranteed on-time return to your ship
What You Can Expect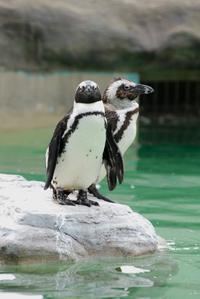 Meet your guide and driver when your cruise ship docks at Puerto Madryn. Ride approximately 3.5 hours south to Punta Tombo, Patagonia's most important colony of Magellanic penguins.
Puerto Tombo, founded in 1979, is a wildlife preserve dedicated to the Magellan penguins. Upon arrival, follow your guide down the 2-mile (3-km) beach trail to the center of the penguin colony. The first penguins arrive in September and generally stay until April, but plan your trip for after November to view the penguins tending their chicks.
Learn about the history and behavior of these fascinating creatures, who arrive one million strong at Puerto Tombo every year. Listen to your guide explain their migration to Puerto Tombo and its purpose: breeding with their partners, incubating their eggs and preparing offspring for the return migration. View the waddling black and white animals as they fight for territory, build nests and feed their babies.
Get up close with these animated, entertaining animals in their natural habitat on this full-day private guided tour, an experience you will not soon forget. After your memorable experience with Patagonian wildlife, return to your vehicle for the transfer back to Puerto Madryn.
Worry-Free Shore Excursion
We will ensure your timely return to Puerto Madryn after this activity. In the rare event that your ship has departed, we will arrange transportation to your next port of call. If your ship is delayed in its arrival and you are unable to attend this activity, your money will be refunded. See our conditions and terms for full details.
April 2016
Brilliant trip, really enjoyed being able to get so close to the penguins. An very good tour, definitely recommend
March 2016
Tour was amazing, seeing the penguins in their native habitat. It was great to walk so close among them.
A D Nicholson United Kingdom
March 2016
Three of us went on a private tour with our guide Maria and her driver.
There was a little confusion on the pick up at the port but we eventually got under way.
It's about 180 km to the colony and the scenery is consistently boring but unique to this part of the world. Our guide spoke excellent English and was friendly, knowledgeable and engaging, which made the long trip pass quickly.
Our driver drove fast but safe and being in a private party we decided to skip the long line of tour buses at the service stations and hot foot it straight through to the colony. Because of this we were there ahead of the bulk of visitors which we were grateful for.
The colony is well organised with a museum, toilets, gift shop and snack bars.
You follow a one way track across land to the main colony at the ocean. There are penguins all along the track and although you can't wander from this path the photo opportunities are continual without other tourists getting in the way of your subjects.
It's a long journey but worth it to see the penguins, having been I wouldn't want to go again however I would recommend the trip to anyone who loves penguins.
Without doubt our trip was made by the friendliness of our young guide and her willingness to chat about anything we were interested in on the long journey.
March 2016
Guide excellent and tour fun
February 2016
The penguin park was absolutely pretty, and all the penguins were very awesome to be around. The walk was a total of about 1.5 miles, but the drive to and from the park totaled 4 hours. Otherwise it would be higher rated. Also, the guide was very quiet so it was hard to understand him most of the time.
February 2015
I got a bit nervous because the guide and driver were late as it happened to me that I booked a tour and the representatives never showed up but they finally arrived and everything was very nice. We had a good guide and driver, we were given a lot of brochures and verbal information. Punta Tomba was absolutely spectacular!
February 2014
Excellent tour guide. Comfortable private tour for six was an excellent value. Would recommend to anyone.
February 2016
Our driver and tour guide were nice but the vehicle was not up to driving worth. Windshield was broken and we had flat tire on our way back to ship. The road pavement gave way to the lifting jack and the driver just could not change the tire because the tire also sunken into the road and could not be moved. Fortunately, the guide waved down the passing Crystal tour bus who gave us ride back to the pier in time for the departure. The guide was very nice to call the guide of the bus to make sure we were okay. If you need we can submit the pictures to prove it.
Advertisement
Advertisement