12 Reviews
Location:

Puerto Plata, Dominican Republic

Duration:

30 minutes
For a fun way for the entire family to enjoy the breathtaking, once in a lifetime experience of an up close and personal dolphin encounter, book Ocean World's Dolphin Encounter Interaction Program! This program is suitable for all ages and offers guests the opportunity to touch, kiss, hug and dance with these beautiful mammals!
Highlights
Encounter with dolphins
Up-close opportunity to touch, feed and play with the animals
Snorkeling adventure
Professional trainers
Hotel pickup and dropoff
Recent Photos of This Tour
Dolphin Encounter at Ocean World
What You Can Expect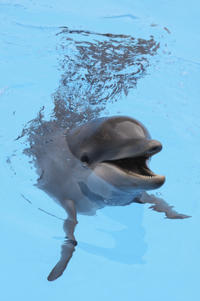 This interactive program enables participants to stand comfortably on a platform, approximately three feet below the water, and experience the magic of the dolphin world.

Although not a swim program, the Dolphin Encounter offers an up-close-and-personal opportunity for guests of all ages to meet these incredible mammals in the safety and comfort of waist deep water.

While professional animal trainers supervise, guests and dolphins will share kisses, hugs, and 'dances.' Participants have the chance to touch the dolphin's smooth, rubbery skin and feed their new people-loving friends some fishy treats, all while posing for some once in a lifetime photos!

Admission is included when you book this interaction program.
Itinerary
Park Schedule (subject to change)

9:30am - 5:30pm: Caribbean Snorkel Reef, and the Love Bird Encounter Tropical Bird Sanctuary, all run continually throughout the day
9:30am: Stingray Encounter; Sea Lion Encounter
10:00am: Dolphin Swim and Encounter; Shark Feeding Show and Encounter
11:00am: Sea Lion Show; Dolphin Swim and Encounter
11:30am: Sea Lion Encounter
12:00pm: Dolphin Swim and Encounter; Stingray Encounter
12:30pm: Shark Feeding Show and Encounter
1:00pm: Dolphin Swim and Encounter
1:30pm: Sea Lion Encounter
2:00pm: Dolphin Swim and Encounter; Stingray Encounter
2:30pm: Shark Feeding Show and Encounter
3:00pm: Dolphin Swim and Encounter; Sea Lion Show
3:30pm: Sea Lion Encounter
4:00pm: Dolphin Swim and Encounter; Stingray Encounter
4:30pm: Shark Feeding Show and Encounter
5:00pm: Dolphin Swim and Encounter
December 2013
My bf and I went to ocean world in September it was amazing!!! My life long dream was to swim with dolphins it was the best expierence I've had in my life! Would do it again and upgrade to the hour long swim!
September 2012
To be honest I gave 5 stars to the Dolphin (Chico from cuba). I would give to the trainer 3 stars because the intructions were not clear before the encounter with the Dolphin and they can be misleading to do something confusing. I was the first to be called to participate of a group of 4. I was seated across the trainer with a pool and the Dolphin in the middle. The trainer just called me and asked me to join him. He did not explain if the pool was deep or shallow, if I had to swim next to him or to walk around the pool. During the confusion, I jumped in the pool and I found out it was very deep. After making attempts to go back to my previous place, I decided that it was better to swim across the pool. I was a little worried about how the Dolphin would behave having me there inside the pool with him. I would highly recommend to the trainer to tell the people with clear words " stand up, walk around the pood and seat next to me". Those simple words would simplify and enrich the experience. Clear communication is very important!
January 2011
Dolphins are well cared for and extremely friendly, funny mammals. My wife and I were very impressed with our encounter.
August 2010
we had the most amazing time you could have, the souvenier photos and the shop are expensive but it is something you just have to have so be prepared for that. Everything there was fantastic, love birds eating out of your hair and being kissed by a parrot in the bird enclosure!! meeting the dolphins is something we will never forget and well worth the money.
June 2010
It was a wonderful experience and would do it again...Everyone should encounter the dolphins once in their lifetime...Would definitely book with Viator....
April 2010
It's expensive but incredible. If you can afford it, do the sea lion encounter too.
February 2010
This excursion was awesome! I would highly recommend it. It was an experience I will never forget!
November 2015
I did the Dolphin encounter with my 9 year old granddaughter, whilst she is a good swimmer I unfortunately am not and this activity meant we could both enjoy it together, it was a lovely experience and we have some nice photo's.
March 2012
I really enjoyed the dolphin encounter. The only downfall was not being able to have my family there to watch this experience with me. I understand the policy of not wanting pictures to be taken so you can purchase ones taken from Ocean World but family members should be able to watch this take place. The rest of Ocean World was great. The tiger exhibit was awesome. The other shows were all very entertaining and informative. The buffet lunch was not good at all. I recommend not eating here, just eat a big breakfast before you leave your resort and then wait to eat supper when you return to your resort. The ride there and back was good, no problems with pick up or drop off. The bus was on time each way the the guide was very friendly and informative and spoke english very well.
November 2009
Was good but Ocean World charged me 10 dollars for transportation when my hotel was not listed. I was not happy about this.
Advertisement
Advertisement