Enhance your Dominican vacation with a family-friendly Dolphin Encounter at Ocean World. Get up close and personal with a lovable dolphin that's trained to kiss, hug and even dance for your delight. This 30-minute interactive program, suitable for all ages, provides the opportunity to touch one of these beloved sea mammals while you stand in waist-deep water. Round-trip hotel bus transfer, safety briefing with an expert trainer, and Ocean World admission with snorkeling in the Tropical Reef Aquarium are all included.
Highlights
Encounter with dolphins
Up-close opportunity to touch, feed and play with the animals
Snorkeling adventure
Professional trainers
Hotel pickup and dropoff
Recent Photos of This Tour
Dolphin Encounter at Ocean World
What You Can Expect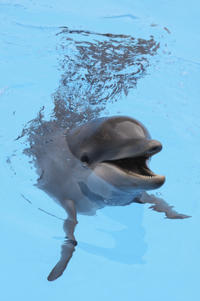 Use your complimentary bus transfer (departing from most Puerto Plata, Playa Dorada, Cofresi and Maimon hotels) to reach Ocean World in Puerto Plata and check in prior to your prebooked Dolphin Encounter.
At your selected time, start the 30-minute program with an orientation and safety briefing given by an expert dolphin trainer. You'll stand comfortably on a shallow platform situated approx. 3 feet (.9 meters) below the water, and enjoy an interactive experience with a playful dolphin.
Although not a swim program, the Dolphin Encounter offers an up-close-and-personal opportunity for participants of all ages to touch these intelligent mammals in the safety and comfort of waist-deep water. (Children up to 12 years old can participate when accompanied by an adult.) Under the trainer's supervision, enjoy kisses, hugs and 'dances' from your dolphin friend. You can touch a dolphin's smooth skin and feed them some fishy treats, all while posing for once-in-a-lifetime photos.
Admission to Ocean World is included; venture to the Aquaglide Water Playground, go swimming in Tiger Grotto or use provided snorkeling equipment to explore the Tropical Reef Aquarium, check out the exhibits and wildlife programs, or simply relax on a provided lounge chair at Dolphin Beach.
When you're ready to depart, use your bus transfer for return hotel transport.
Itinerary
Park Schedule (subject to change)

9:30am - 5:30pm: Caribbean Snorkel Reef, and the Love Bird Encounter Tropical Bird Sanctuary, all run continually throughout the day
9:30am: Stingray Encounter; Sea Lion Encounter
10:00am: Dolphin Swim and Encounter; Shark Feeding Show and Encounter
11:00am: Sea Lion Show; Dolphin Swim and Encounter
11:30am: Sea Lion Encounter
12:00pm: Dolphin Swim and Encounter; Stingray Encounter
12:30pm: Shark Feeding Show and Encounter
1:00pm: Dolphin Swim and Encounter
1:30pm: Sea Lion Encounter
2:00pm: Dolphin Swim and Encounter; Stingray Encounter
2:30pm: Shark Feeding Show and Encounter
3:00pm: Dolphin Swim and Encounter; Sea Lion Show
3:30pm: Sea Lion Encounter
4:00pm: Dolphin Swim and Encounter; Stingray Encounter
4:30pm: Shark Feeding Show and Encounter
5:00pm: Dolphin Swim and Encounter
Andrea S Canada
February 2016
I bought this tour as a 70th birthday present for my dad. My parents told me that they were very impressed with how well the day was organized. They were picked up exactly on time at their hotel and everything went like clockwork all through the day. Ocean World works like a well oiled machine. They even went back another night for the Bravissimo show and loved both the dinner and the show.
December 2013
My bf and I went to ocean world in September it was amazing!!! My life long dream was to swim with dolphins it was the best expierence I've had in my life! Would do it again and upgrade to the hour long swim!
September 2012
To be honest I gave 5 stars to the Dolphin (Chico from cuba). I would give to the trainer 3 stars because the intructions were not clear before the encounter with the Dolphin and they can be misleading to do something confusing. I was the first to be called to participate of a group of 4. I was seated across the trainer with a pool and the Dolphin in the middle. The trainer just called me and asked me to join him. He did not explain if the pool was deep or shallow, if I had to swim next to him or to walk around the pool. During the confusion, I jumped in the pool and I found out it was very deep. After making attempts to go back to my previous place, I decided that it was better to swim across the pool. I was a little worried about how the Dolphin would behave having me there inside the pool with him. I would highly recommend to the trainer to tell the people with clear words " stand up, walk around the pood and seat next to me". Those simple words would simplify and enrich the experience. Clear communication is very important!
January 2011
Dolphins are well cared for and extremely friendly, funny mammals. My wife and I were very impressed with our encounter.
Victoria B United Kingdom
August 2010
we had the most amazing time you could have, the souvenier photos and the shop are expensive but it is something you just have to have so be prepared for that. Everything there was fantastic, love birds eating out of your hair and being kissed by a parrot in the bird enclosure!! meeting the dolphins is something we will never forget and well worth the money.
Michele T USA
June 2010
It was a wonderful experience and would do it again...Everyone should encounter the dolphins once in their lifetime...Would definitely book with Viator....
Shawn M Canada
April 2010
It's expensive but incredible. If you can afford it, do the sea lion encounter too.
Michelle S Canada
February 2010
This excursion was awesome! I would highly recommend it. It was an experience I will never forget!
November 2015
I did the Dolphin encounter with my 9 year old granddaughter, whilst she is a good swimmer I unfortunately am not and this activity meant we could both enjoy it together, it was a lovely experience and we have some nice photo's.
March 2012
I really enjoyed the dolphin encounter. The only downfall was not being able to have my family there to watch this experience with me. I understand the policy of not wanting pictures to be taken so you can purchase ones taken from Ocean World but family members should be able to watch this take place. The rest of Ocean World was great. The tiger exhibit was awesome. The other shows were all very entertaining and informative. The buffet lunch was not good at all. I recommend not eating here, just eat a big breakfast before you leave your resort and then wait to eat supper when you return to your resort. The ride there and back was good, no problems with pick up or drop off. The bus was on time each way the the guide was very friendly and informative and spoke english very well.
Advertisement
Advertisement