Experience the wonder of a 30-minute dolphin encounter during one of Ocean World's most popular programs! Hug, swim, pet and play with these friendly marine mammals and enjoy what's sure to be the most memorable part of your Puerto Plata holiday.
Highlights
Swim with dolphins at Ocean World
Up-close opportunity to touch, feed and play with the animals
Snorkeling adventure
Professional trainers
Hotel pickup and dropoff
Recent Photos of This Tour
What You Can Expect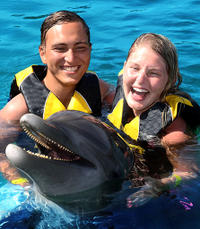 This incredible Ocean World Dolphin Swim is sure to be a highlight of your Puerto Plata vacation, thanks to an up close and playful look at these loveable marine mammals.

Your expert dolphin trainer will provide you with an informative and educational introduction, where you'll learn fun facts while you receive an important safety briefing. You'll be provided with a life jacket to make floating freely a breeze. And a maximum of two dolphins and 10 participants insures that the dolphin encounter is truly personal.

Choose to upgrade to the Royal Dolphin Swim option, which will allow a full hour of fun with these incredible creatures. You'll spend 30 minutes floating in deep waters and another half hour on the shores, where it's possible to have one-on-one interactions. Whether it's playing ball, a pectoral ride or foot-push on the boogey board, your Ocean World Dolphin Swim is guaranteed to be memorable!

Other activities at Ocean World include:
Snorkeling in the Tropical Reef Aquarium
Swimming in Tiger Grotto
Sea lion show, Dolphin Show, Shark Show and Bird Show
Rainforest and bird exhibits
Use of Dolphin Beach (beach lounge chairs included)
Itinerary
Park Schedule (subject to change)

9:30am - 5:30pm: Caribbean Snorkel Reef, and the Love Bird Encounter Tropical Bird Sanctuary, all run continually throughout the day
9:30am: Stingray Encounter; Sea Lion Encounter
10:00am: Dolphin Swim and Encounter; Shark Feeding Show and Encounter
11:00am: Sea Lion Show; Dolphin Swim and Encounter
11:30am: Sea Lion Encounter
12:00pm: Dolphin Swim and Encounter; Stingray Encounter
12:30pm: Shark Feeding Show and Encounter
1:00pm: Dolphin Swim and Encounter
1:30pm: Sea Lion Encounter
2:00pm: Dolphin Swim and Encounter; Stingray Encounter
2:30pm: Shark Feeding Show and Encounter
3:00pm: Dolphin Swim and Encounter; Sea Lion Show
3:30pm: Sea Lion Encounter
4:00pm: Dolphin Swim and Encounter; Stingray Encounter
4:30pm: Shark Feeding Show and Encounter
5:00pm: Dolphin Swim and Encounter
December 2014
IT WAS GREAT!!! The staff was great and very friendly... It was everything i hope it could be....
November 2014
Swimming with the dolphins was AMAZING!!! When I found out it was 22 feet of water, I was a little (well, a lot) nervous because I can't swim, but the life jackets they supply held me up. I think the price was very reasonable considering you get transportation to and from Ocean World, lunch, admission to the park and all the other shows. Everyone was great, making this a wonderful experience. If you ever get the opportunity, I would definitely recommend swimming with the dolphins.
May 2014
Awesome, wonderful!! I have been going to Puerto Plata for 6 years and never visited Ocean World.It was amazing!!! I never thought I would have enjoyed swimming with the ddolphind s as much as I did. Great!!Worth upgrading to the Royal Swim..
April 2013
The Dolphin swim was simply amazing. It was well worth the upgrade to the Royal swim The trainers instructed us very well and it will be a day I will remember for sure. Just amazing

January 2013
WOW.....A once in alifetime experience. Finally ticked this one off my bucket list. A must do if in the Dominican Repuplic. Don't skimp either. Go for the ROYAL Dolphin swim, a little more expensive but well worth it. One on one with the trainer and a dolphin and when it's time to buy your pictures, I recommend $100 for the total package (over 300 pics and a DVD) $100 sounds expensive but again it's a once in a lifetime thing.
April 2012
most amazing experience ever! if you all know of marinland in niagra falls canada ,its 100 times better!!! they have other animals and lots of shows for free. Ocean world is a must see! you have access to the park for the whole day!
November 2011
May 2011
What a great place. The staff really takes care of the grounds and the people. You can tell the trainers all love their animals. We swam with the Dolphins. If you have the chance do it go for it !!! It's been on my bucket list forever and I finally did it. What an experince. The best part was I got to share it with my 12 year old son. He loved it too. The shows and other animals were also fantastic. Thank you for a wonderfyl experience.
Jen Megaw
Anonymous
April 2011
We had such a blast! Swimming with the dolphins was the highlight of our trip. We really got to interact with the dolphins. Not only did we get to swim with these beautiful creatures we hugged them, kissed them and played with them. The whole park was incredible! We had such an enjoyable time throughout the whole day. They had so many things to explore there. It truly was an experience of a lifetime. Thank you for this wonderful opportunity, it made our trip one to remember.
January 2011
le dolphin swim est superbe les entraineursmet les dauphins font de cette experience qui valent le coup.
Advertisement
Advertisement