Get a true taste of paradise on this exciting day trip from Puerto Plata. Cruise through the crystal blue waters of the Caribbean aboard a luxury yacht, take off like the wind on a speedboat and test your balance on a banana boat as part of this fun-filled day. You'll visit two stunning beaches at Punta Rusia and Caya Paraiso, and enjoy plenty of time for swimming, sunbathing and snorkeling—plus take a trip through Monte Cristi National Park with a local guide. This tour is the perfect opportunity to soak up the sun while you kick back and relax with unlimited drinks and a light breakfast included.
Highlights
Puerto Plata day trip including Cayo Paraiso and Monte Cristi National Park
Sail for two hours along the north coast aboard a luxury yacht
Take a wild ride by banana boat from the shore of Punta Rusia
Find starfish, sea turtles and spotted eels as you snorkel around Cayo Paraiso
Speed through mangroves in Monte Cristi National Park and see the limestone mesa of El Morro
Enjoy breakfast with sparkling wine, lunch on the beach and unlimited drinks
Round-trip hotel transport included
What You Can Expect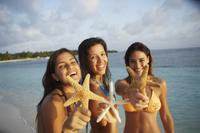 Your Puerto Plata luxury yacht cruise to Punta Rusia and Cayo Paraiso kicks off with hotel pick up in Puerto Plata. Meet your friendly guide and professional driver in the early morning and make your way to the marina, where you'll board a luxury yacht for a two-hour cruise. Light breakfast and sparkling wine are the perfect addition to this already idyllic morning on the water.

You'll cruise past the village of La Isabela—the first settlement of Christopher Columbus. Your guide will point out several of the sites as you listen to the colorful history of this tragic archeological and historical park.

Next, you'll disembark in the fishing village of Punta Rusia, where you'll hop aboard an inflatable yellow tube (lifejackets provided) known as a banana boat. After the thrilling ride you'll enjoy lunch at a restaurant on the beach.

With full bellies you'll make your way to Cayo Paraiso aboard a high-speed boat. The 25-minute ride transports you over epic turquoise waters to a sun-lover's paradise complete with white sandy beaches and tiki huts. Snorkel in the quiet lagoon and see incredible tropical fish, sea turtles and stingrays up close.

After relaxing in this unforgettable paradise you'll head to the island's driest region—Monte Cristi National Park (Parque National Monte Cristi) by speedboat. You'll follow your guide through coastal regions, sub-tropical forests and dense mangrove swamps. Keep your eyes peeled for indigenous birds that call this preserved area home! Your guide will point out El Morro—a 777-foot (237-meter) limestone mesa, as well as several islands that are home to reptiles as you make your way through the waters.
Your boat tour ends with a return trip to Puerto Plata by coach and hotel drop off around 5:30 p.m.

Leah D United States of ...
June 2016
my friends and I had an amazing time with Andy, Pinky, and Mimo!
The boozy cruise with music, snorkeling around Paradise Island, swimming with Pinky delivering drinks with a floating bar, lunch on the sandy beaches of Punta Rusia - all made an unforgettable amazing day! make sure you bring enough sunscreen!
October 2015
Beautiful BOAT. Delicious food. Amazing water. The island was extremely busy, but the snorkeling was out of this world! Our tour guide was extremely knowledgeable and relaxed, which made everyone so comfortable! I would do this again in a heartbeat, worth every penny!
August 2015
June 2015
I bought this trip for my boyfriend's birthday.
His words were: " this is the best gift Ever" :)
Amazing experience, the tour guides explain everything and treat you like royalty. Hopefully you get to ride with Andy Flores and his crew!! We had soooo much fun we went back two days later :)
May 2015
December 2013
Beautiful!!!! Paradise island was really a paradise. Snorkeling was awesome. The lunch was good. There was unlimited drinks the while time. I don't drink but my husband does and he enjoyed that part. The workers were very pleasant and kind, always serving with a smile.
May 2016
Very fun. The Cayo Paraiso part was the best. We didn't do the speed boat or banana boat as advertised, and it was a catamaran not a yacht... But that stuff didn't matter as I think we got extra swim/snorkel time on Cayo Paraiso. They were on time picking us up and the trip lasted all day. Food was decent. Only alcohol they had at the open bar was rum not surprising or beer. In any event, would definitely recommend.
We had a relatively overcast day, so it wasn't too hot and there wasn't too much direct sun. Only warning I would give is that if it is not overcast, BRING SUNSCREEN. I got a bit of color with the sun not being out, I would have been a lobster if it was really sunny.

March 2015
December 2015
This was a great tour, but not at all as described. There was no luxury yacht, but a catamaran. No information about any early settlement, but a very enjoyable ride in the ocean. No banana boat at all. We did anchor and swim for a while, in beautiful water. No speedboat, we stayed on the catamaran the entire trip. No El Morro -- or if we saw it, we didn't know it.
This would've been a great tour if it had been advertised as it was. VERY incorrect description. When I asked about it, they discounted it, saying the info was just way out of date on the website. I was upset for having been mislead however, we did truly enjoy the day once we got over the disappointment of false advertising.
June 2015
The only reason this tour gets 1 stars is because the crew on the boat was amazing and paradise island was so beautiful. Let me start with this is not a 12 hour tour we were not even picked up till 830 am then over an hour bus ride. Only on the water 10a-3p. And NOT a YACHT just a regular boat.
Advertisement
Advertisement