Enjoy a full day of sightseeing and bountiful scenery as you take in the history of Santiago, followed by a visit to the Jarabacoa Waterfalls. You'll visit a cigar factory and ceramics factory for a firsthand look at production, then head to the Dominican Alps where you'll ride on horseback and journey on foot to tremendous cascades flowing through lush canyons. Lunch and round-trip transport from Puerto Plata and Playa Dorada hotels are included.
Highlights
Day trip to Santiago and Jarabacoa Waterfalls
Go sightseeing in Santiago, with historical commentary from an informative guide
Visit a ceramics factory and a cigar factory for Dominican souvenirs
Ride on horseback to the wondrous waterfalls at Jarabacoa
Round-trip transport from from Puerto Plata and Playa Dorada hotels
Recent Photos of This Tour
What You Can Expect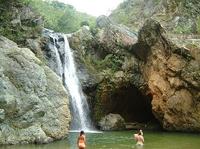 Meet your guide at your selected hotel upon pickup and relax during the approximate 2-hour drive to Santiago. On arrival, you'll learn about the first capital of the Dominican Republic during a sightseeing tour. Listen to informative narration from your guide on local sights and regional history, with stops along the way.
Visit a cigar factory to watch cigars rolled by hand, and take advantage of factory prices if you'd like to purchase some to take home. You'll also find great souvenirs at a local ceramics factory, where you'll witness the production of faceless dolls, shot glasses, bowls and other pottery.
After lunch, your guide transports you through the scenic Dominican Alps. Pass clear streams and green valleys as you take in the gorgeous landscapes en route to Jarabacoa. Your day trip includes foot crossings over bridges traversing a stream to the Jarabacoa Waterfalls, which include the cascades of El Salto de Baiguate, Salto Jimenoa Uno and Salto Jimenoa Dos.
After spending some time at some of these natural wonders, you'll return to the vehicle for return transport to your hotel.
April 2011
I loved this excursion!! I only had 5 days (3 full days) in Puerto Plata, so I didn't really have much time to do much and I wanted to get the most out of the resort I was staying at, but this sounded very interesting. Our tour guide (Lidio...?) was really informative and funny! There were 8 of us on the trip (6 were German, so our tour was in German and English, which was good for brushing up on my very dusty German).
I really liked the horse back riding. Everyone else had a Dominican kid on the back of their horse to help control the horse, but there wasn't one for me, so I got to ride solo, but I think I did pretty well. It was so interesting to travel through that area. The waterfall was pretty, but wasn't that special (I've seen better), but the scenery and the bridges were pretty. The meal we had at the ranch was very tasty and fresh. The cigar shop was informative and smelled really nice. I liked the ceramic factory too. Side note: stock up on souvenirs at the ceramic store because everything was very nicely priced (they even had magnets, shot glasses, and other typical souvenirs in addition to the neat pottery).
I highly recommend this tour. It was a great deal for the price. We did so much! The driver was very erratic and fast (like most other drivers down there), but it added to the experience!
November 2010
This trip was really good. The guide was really informative. The walk back up from waterfall was very hard. Also, if going horse riding make sure you have long socks on to cover your ankles
Pamela M USA
August 2010
i had a great time with this tour the tour guide was very nice and kept us well informed during all stops great experience!
Michael George B United Kingdom
July 2010
Informative, wonderful location for lunch. Opportunity to see the inland scenery and people.
April 2016
This was a really nice tour and what made it the best was the tour guide, Pedro! He was so informative and although he was translating both English and German, he made sure that no one felt left out at any point. When communicating with the company to verify my accommodations they responded right away and my hotel pick up was right on time. The reason I did not give it 5 stars is because I purchased this tour because of the horseback riding, which not only did they not do, the company said they did not offer it and to contact Viator. I'm awaiting a response from Viator now.
J & L USA
November 2010
Waterfall was beautiful, food was delicious. Downfall was we were the only 2 English speakers on the bus. And felt left out of a lot of the information that was being shared with the German speakers. Felt misinformed.
Claudia H Germany
July 2010
One day before the tour started we got a fax that the tour was cancelled because it was not sold out. The next day at 7 oclock we got a phone call stating that the bus to Santiago was waiting at the hotel lobby. We had 10 minutes to get out of bed and to have a wash including teeth brush and get dressed. Than we walked really fast to the bus without breakfast. We explained that the day before we had gotten a fax that the tour was cancelled and they told us sometimes that can happen. That was not a nice start for a tour. The Tour was okay but we saw not so much of Santiago, just the monuments and some streets in Santiago. That's the reason why we are disappointed in the tour.
Advertisement
Advertisement