Glide across the surface of a pool with a mask and snorkel as you are surrounded by a small school of nurse sharks. Reach out and touch the backs of these friendly sea creatures! These magnificent creatures look fearsome but are friendly, so you're perfectly safe to swim and enjoy the sensation of the sharks moving around you.
Highlights
Encounter with nurse sharks
Up-close opportunity to touch, feed and play with the animals
Snorkeling adventure
Professional trainers
Hotel pickup and dropoff
Recent Photos of This Tour
Shark Encounter at Ocean World
What You Can Expect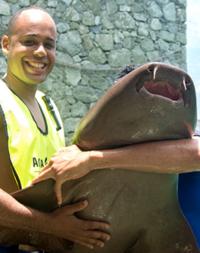 Ever dreamt of getting up close with an ocean predator? Book a Shark Encounter today to experience what very few people are fortunate enough to encounter in the wild! This tour is something only few people get to experience!
Of all marine creatures, none is more fascinating than the shark! Ocean World is the only marine park in the world to offer guests the chance to hold, to touch and to explore the deep sea secrets of the nurse shark. Under the close supervision of trained staff members, you will touch, hold, feed and ultimately swim with a small school of adult nurse sharks. These magnificent creatures, some as long as 7 feet, will amaze you with their sandpapery skin, their fearsome teeth and their relaxed attitude towards humans, giving you an understanding and an appreciation of this beautiful and awe-inspiring creature that very few people will ever share! This is truly the adventure of a lifetime and a rare opportunity to meet nature on its own breathtaking terms.
Combine with a Dolphin Swim Program

Dolphin Swim: The Dolphin Swim is the most popular program at Ocean World, it ultimately gives you the chance to experience a truly personal encounter with the dolphins. For 30 minutes you will spend some special moments in the water with the dolphins, sharing a kiss, hugging, dancing, feeding, petting and swimming. A 'human hurdle' and a spectacular dorsal fin tow will finish off the program!
Admission is included when you book this interaction program.
Itinerary
Park Schedule (subject to change)

9:30am - 5:30pm: Caribbean Snorkel Reef, and the Love Bird Encounter Tropical Bird Sanctuary, all run continually throughout the day
9:30am: Stingray Encounter; Sea Lion Encounter
10:00am: Dolphin Swim and Encounter; Shark Feeding Show and Encounter
11:00am: Sea Lion Show; Dolphin Swim and Encounter
11:30am: Sea Lion Encounter
12:00pm: Dolphin Swim and Encounter; Stingray Encounter
12:30pm: Shark Feeding Show and Encounter
1:00pm: Dolphin Swim and Encounter
1:30pm: Sea Lion Encounter
2:00pm: Dolphin Swim and Encounter; Stingray Encounter
2:30pm: Shark Feeding Show and Encounter
3:00pm: Dolphin Swim and Encounter; Sea Lion Show
3:30pm: Sea Lion Encounter
4:00pm: Dolphin Swim and Encounter; Stingray Encounter
4:30pm: Shark Feeding Show and Encounter
5:00pm: Dolphin Swim and Encounter
June 2012
This was a once in a lifetime experience. Well worth the money and a shuttle picked us up at the lobby of our hotel, dropped us off at the front of ocean world, and returned us the same way. Everyone was extremely friendly and we even paid $60 to upgrade. On top of that, our pictures and DVD were delivered to our hotel the following day. Would definitely do it again.
June 2011
An absolutely incredible experience. The Stingrays were surprisingly forceful creatures, yet jelly like and elegant. Be warned, you may end up being part of the shark show, but it is an enjoyable experience. I would do it again. Worth every penny!
Jaki G United Kingdom
January 2010
The whole experience from booking to the actual experience was fantastic. I would highly recommend the trip to anyone visiting the north Dominican Republic. It was one of the best days of our lives.
June 2013
It sure was fun. Had a good time with the sharks and sting rays. I like the animal shows too..
Fiona C United Kingdom
January 2010
A totally different experience!
Advertisement
Advertisement