Explore the curvaceous coastline and iridescent waters of Banderas Bay on a half-day sailing tour from Puerto Vallarta. Sail upon the shimmering sea; swim in crystal clear blue water; and discover the incredible natural wonders of Banderas Bay. Snorkel in a secluded cove and enjoy complimentary beverages and delicious lunch as you cruise on your luxurious vessel. Combine the unadulterated pleasure of sailing with pampering on this delightful excursion.
Highlights
Sailing adventure on Banderas Bay
Swim and snorkel in Banderas Bay
Chance of seeing humpback whales, wild dolphins, manta rays and sea turtles
Lunch, snacks and beverages
Friendly crew
Recent Photos of This Tour
Day Sailing on Banderas Bay
What You Can Expect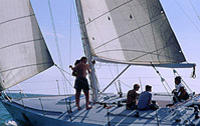 Depart from Marina Vallarta and begin your aquatic odyssey on the iridescent waters of Banderas Bay. Listen to an informative safety briefing before you board your stylish sailboat and discover the spectacular selection of activities available throughout the day.
Sail around the blissful Banderas Bay, admiring rugged rock formations and feeling the gentle ocean breeze on your skin. Stop at a beautiful beach and plunge into the transparent waters to see the magnificent marine life with your experienced guide. Enjoy a refreshing swim in the protected waters of a secluded cove before lying on the soft white sands of the beach.
Lie back on a cushioned onboard mattress as you sip an ice-cold beverage and awaken your senses to the serene sounds of the sea. Observe the water for dolphins, humpback whales, manta rays and turtles as you cruise gently across the ocean. Feast upon a delicious lunch during your return journey to Marina Vallarta, enjoying the scrupulous service of the courteous crewmembers.
October 2014
Enjoyed the day sailing. Our guide was very knowledgeable, courteous and attended to our every need. Saw lots of beautiful fish when we went snorkeling. Very relaxing day.

April 2014
Fun all around! Fantastic food, drinks, and sights. Sailing was so relaxing and beautiful. The staff was very attentive and took care of all our wants and needs.
July 2012
What a great experience. We had a wonderful crew both by the name of Carlos. They were quick, attentive, nice and showed our group a great time. We ended up needing two boats to accommodate our group and their crew was equally as great. We saw dolphins right away, and had a great day of sailing.
The food was beautifully presented (while I am weary of seafood - they served shrimp and some sushi rolls). The chips and guac were great and the rest of lunch was nice.
There are no complaints - the entire process was seamless - the check in desk was friendly and quick.
OVERALL HIGHLY RECOMMENDED!!! worth the money.
Anonymous
September 2008
This was probably my favorite excursion we did. It was so relaxing. The crew was absolutely wonderful. We were on a 40' sailboat with a crew of three and 10 passengers. We sailed about 11 miles out and saw dolphins, stingrays and turtles as we sailed. The service was phenomenal. We were served a light snack (chips, guacamole) on the way out and a wonderful lunch platter on the way back. Drinks were included and we never had to ask for more, they just kept bringing them! We stopped at a private cove area, where you could get off the boat if you wanted and snorkel or just relax and swim. This was a 6 hour sail and worth every penny! They played great music on the boat and encouraged everyone to relax, sit back and enjoy the beautiful day. Can't say enough about it and would definitely recommend this as a must do when in Puerto Vallarta!
Robert A USA
August 2008
This is the second time we've taken this excursion. Can't wait to do it AGAIN! It was the most relaxing part of our entire vacation!!
Barry S USA
August 2008
Nice boat. Great crew. Good food & drinks. Great whale & dolphin closeup experiences. The trip was better than I expected.
April 2015
Crew were fantastic. Food was good, drinks flowed. Unfortunately the didn't cooperate for snorkeling but saw whales and dolphins. Unfortunately fellow passengers much heavier than pictured. :
August 2013
March 2013
The service was good and the staff on and off the boat were great. Our crew was Johnny, Julio, and Carlos and they took very good care of us. I think they should encourage travelers to bring motion-sickness medicine with them. After 4 hours of rocking, most of the people were longing for dry land. Still, the tour provided great up-close visits with whales, great swimming at Los Arcos, and (as advertised) sailing only on wind power. I would definitely recommend this tour (Vallarta Adventures)
July 2012
I had an absolute blast! Great food and drinks, great weather, awesome crew! Actually got to see dolphins and sea turtles!
Advertisement
Advertisement