Perfect your diving skills in Puerto Vallarta. Delve into the region's renowned waters to explore undersea tunnels, hidden caves and reefs brimming with tropical fish. Experienced certified divers have several dedicated dives to choose from, including the technical El Morro and a night dive at Los Arcos National Marine Park.
Highlights
Diving adventure in Banderas Bay
Renowned diving spots
Explore caves, tunnels and reefs
Eco-reserves filled with tropical fish
Professional guide and top of the line equipment
Lunch
What You Can Expect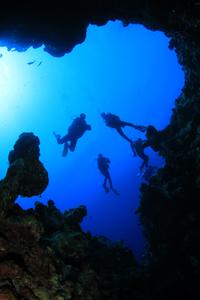 You'll be provided with unsurpassed diving experiences from wall diving and exploring caves, tunnels and reefs, to discovering underwater eco-reserves filled with a dazzling array of marine life and tropical fish. With professional diving guides who know these waters better than anyone, get ready to be taken on the dive adventure of a lifetime!
Popular and Dedicated Dives:
Las Caletas
Marietas Islands
El Morro (Advanced divers or 25 logged dives required)
Los Anegados (25 logged dives required)
Los Arcos Night Dive
March 2016
The tour operators Vallarta Adventures and the staff were phenomenal. The courtesy, service and engagement was professional grade. Unfortunately, Mother Nature did not cooperate too much with us on our dives to Marietas Island as the visibility was extremely poor. The staff however, did a great job maintaining safety and giving us the best experience possible given the conditions. Jose Luis and Charlie were great!
Advertisement
Advertisement