Special Offer
Book with us and save 10% compared to another travel site!
Explore the magnificent marine life of the Mexican Pacific and the Bay of Banderas on an exciting full-day tour from Puerta Vallerta. Snorkel to observe an incredible underwater wonderland; kayak in the warm waters of the Marietas Islands; and watch for exotic birds flying in their natural habitat. Look out for dolphins, whales, giant manta rays and sea turtles as an experienced guide directs your attention to the wonders of nature on this eco-adventure.
Highlights
Day Trip from Puerto Vallarta
Marietas Islands
Kayaking, snorkeling and scuba diving
Bottlenose, spotted and spinner dolphins
Whales, manta rays, tropical fish and indigenous birds
Professional guide
Breakfast, lunch and open bar
Recent Photos of This Tour
What You Can Expect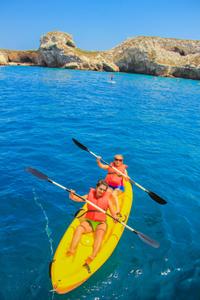 Depart from the Maritime Terminal in Puerto Vallerta to begin your aquatic adventure. Sail on a stylish vessel to the Bay of Banderas, enjoying a fresh and fruity continental breakfast as you cruise over the gentle water of the Pacific Ocean. Arrive at the bay and observe the sea for Pacific Bottlenose dolphins, spotted dolphins and spinner dolphins, watching them frolic in their luxurious habitat. Listen as your knowledgeable guide offers a captivating commentary on these majestic mammals.
Sip refreshing beverages from the open onboard bar as you sail to the Northern tip of Banderas Bay to encounter more diverse species of marine life; look out for whales, giant manta rays and indigenous birds such as the blue-footed booby and red-billed tropicbird.
Continue to explore the rugged rock formations and fish of the Marietas Islands as you select your aquatic activity. Select from kayaking, snorkeling and even scuba diving to ensure you thoroughly explore the intricate habitat beneath you. Your experienced eco-guides are always on hand to ensure upmost safety and confidence during your adventurous cruise.
After discovering the ocean, venture to a secluded beach to spend the afternoon relaxing on the silken sands. Swim in the sea or snooze on the soft sand before returning to the tour's original departure point.
June 2016
This was a great tour. We were on Boat 5 and the crew couldn and #39;t have been nicer and more entertaining. Great pictures and we were out on the water just enough to have a good time and then get back to PV.

Carmel United States of ...
June 2016
The crew of boat 2 were great---provided impeccable customer service, very accommodating, and very knowledgeable. Even though we didn't get to do any cavern swimming and the snorkeling was cut short by the rough waters and presence of jellyfish, it was still an enjoyable time. Thank you for providing wetsuits to protect us from the jellyfish. I appreciated the length of time available to kayak and do SUP. There was even enough time to also go birdwatching. Lunch was plentiful and the open bar was much appreciated. The crew's musical performance as we headed back to Puerto Vallarta was very entertaining.
June 2016
Fun time! Entertaining crew! Nice lunch and plenty of beverages on the way back.
May 2016
Great trip to Mariettas. Water a bit cold and rough , but we were well cared for. Think we were the oldest of the group..good narration, fun and polite crew, great lunch. I was quite impressed. Saw lots of boobys...blue footed, yellow footer, and red footed..no need to go to Galapogas now. Thanks to the local tour operator.

April 2016
Definitely deserved 5 stars. Each crew member was very professional and friendly! The tour itself was extremely organized. The provided breakfast and lunch was great. Nothing else to say except, I would love to do this again!!
March 2016
Soooooo much fun!!! Poncho and crew were hilarious! I'd totally buy this again!
March 2016
Well organized, friendly guides, great lunch. I felt well cared for, well fed and thoroughly entertained. Great day out.

March 2016
Amazing tour!!!
Im not a big swimmer so at first i was a lttle bit scared but everythin is very secured.
You'll have the chance to see beatiful fish if you do some snorkeling or scuba diving.
The crew take good care of you and are really entertaining.
You can also do some kayak, paddle bord and if you have a chance see some dolphins.
February 2016
This was so much fun and the boat crew was amazing! Would recommend this trip to everyone!
January 2016
Well organized trip with a crew that goes above and beyond to make it an adventure of your life time. We've enjoyed every second of it, scenery, treatment and entertainment.
Special Offer
$94.99 Save $10.00
Advertisement
Advertisement