Dolphin Adventure Center in Nuevo Vallarta, Mexico is home to more than 25 Pacific Bottlenose dolphins. This swim experience gives you the opportunity to talk, touch, play and swim with these gentle and amazing marine mammals. An exciting family friendly adventure that will leave everyone with unforgettable memories!
Highlights
Dolphin swim experience in Nuevo Vallarta
Talk, touch, play and swim with dolphins
One-on-one swim and belly ride
Interactive presentation
Professional trainers
What You Can Expect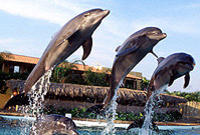 The 60 minute Nuevo Vallarta dolphin program begins with various guidelines so as to ensure a safe experience for all. Then, you'll receive an interactive presentation on dolphin characteristics, as well as how to use hand signals and positive reinforcement to communicate with your dolphin.
Next, you and your group of no more than 8 guests head to the Dolphin Lagoon where you'll wade into the shallow, clear waters to start your exclusive dolphin swim experience.
Here, you'll meet and play with a dolphin for 30 minutes, getting to know each other through hugs, kisses and rubdowns. Ultimately, enjoy a one-on-one swim with your new friend, before going on an exciting belly ride!
January 2014
Anonymous
February 2010
This was a once in a lifetime experience. Upon arrival, the service was wonderful. We were advised as to what the experience was going to include, given life jackets and off we went! We were in a group of 6 and had one guide. He was very informative and educated us on the dolphins, their habits, and was wonderful with "Nacho", our dolphin. We all got to feed the dolphin, watch him play and was kissed by him! The best part was actually getting to ride with the dolphin. You hold on to his fins and take a ride around the dolphin pool. You don't realize how fast they can go! It was truly amazing. We were in the water with the dolphins for about 45 minutes, much longer than any of us expected. This was an incredible experience and one that you MUST do! Highly recommended to all.
Advertisement
Advertisement