Nestled in the heart of the Sierra Madre Mountains, San Sebastian's remote location and historic appeal have made it one of Mexico's last great getaways. As the road weaves through the mountains, you'll enjoy fantastic scenery and typical scenes of rural Mexican life, making this journey both breathtaking and relaxing.
Highlights
Day trip to San Sebastian from Puerto Vallarta
Breathtaking natural scenery and views
Colonial church and buildings
Lunch and beverages
Knowledgeable guide
Recent Photos of This Tour
Best San Sebastian Tour from Puerto Vallarta
What You Can Expect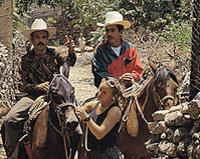 Over the years, the town's population fluctuated wildly as gold and silver were mined intermittently between the 1600s and the 1930s. Today, although the "gold fever" has subsided and the people afflicted by it have long since departed, this beautiful mountain village of 600 residents retains its colonial heritage as an outstanding example of the traditional ways of living and working in a remote Mexican village. In addition to the traditional corn and cattle raising procedures, local folks still cultivate coffee and agave on the mountainside.

It is a joy to wander around in this very peaceful town, which has changed so little in hundreds of years. With an 18th century church dedicated to San Sebastián, a classic Porifian bandstand and a quaint cobblestone plaza lined by dignified white buildings, San Sebastián remains a living museum untouched by time.
Full with culture, history and amazing natural beauty, this truly is an experience difficult to surpass.
June 2015
We were looking forward to our tour of San Sebastion and were not disappointed. The first stop on the tour was for a downed tree. The road was a narrow two lane road up the mountain and a tree was laying across the road. We had to get off the bus while the driver maneuvered around the tree. No problems were encountered but it was an unusual diversion. Next stop was an old hacienda on the outskirts of San Sebastion. The hacienda was the location of an old silver mine and smelter. It turns out that John Huston used this as his residence while filming Treasure of the Sierra Madre. The property is still in use as a hotel.
In San Sebastian, we toured the church and the town. Also on the tour is an elderly gentleman making and selling hand rolled cigars. The town is worth visiting and in is good condition. On the return trip we visited a tequilla factory.
October 2012
Because of a local bad road, if you have a motion sickness, you should not go.
But it if are OK for motion sickness, you can learn many things about Mexico and history. Cool air and Nice guide and local people.
Maria Ines G USA
May 2011
January 2012
Excellent trup..guide knew all that was needed for the trip...The meal could have been better...only aveerage...have done this trip before and enjoyed it both times
January 2013
I expected much more from this tour, maybe seeing an old town in Mexico can be more interesting for non-Europeans, also, not much left of the town's history. The guide and the visitors were very nice so anyway I had a better time than if I had stayed at the hotel on the beach on this rainy day.
Advertisement
Advertisement