Explore the Mexican outback and its villages on a 4WD jeep tour through the Sierra Madre. Embark on this adventurous off-road journey aboard a specially designed vehicle, stopping first at the high-mountain town of El Tuito for a guided walking tour. Visit botanical gardens and then enjoy a barbecue lunch—complete with an open bar—at a local organic farm. Continue on to a distillery specializing in raicilla and see how this favorite local spirit is made before sampling some of your own. Then, head back toward Puerto Vallarta on more spectacular mountain trails.
Highlights
Jeep tour in the Sierra Madre region of Mexico
Traditional Mexican villages
Mercedes Benz all terrain vehicles
Stunning views and natural surrounds
Knowledgeable guide
BBQ lunch and open bar

Recent Photos of This Tour
Sierra Madre Jeep Adventure Tour
What You Can Expect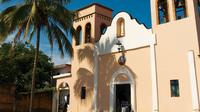 If getting off the beaten path while looking for a little adventure is appealing to you, take this opportunity to travel back in time, when life was less hectic and the simple events of each day had greater significance. Venturing away from the suburbs of Vallarta in your specially designed Mercedes Benz all-terrain vehicles, your off-road voyage of discovery begins as you are taken to the Vallarta Botanical Gardens. Admire Mexico's rich flora including cacti, delicate orchids and even strangler figs and discover fascinating examples of unique plants.

You will continue the tour to the 16th-century village of El Tuito. Take in the sights of El Tuito on a short guided walking tour. Admire the colorful facades of the buildings and learn about the history and culture of this small mountain village. Then, stop by an organic farm to relax and enjoy a delicious BBQ lunch and an open bar.

Afterwards, visit a local distillery specializing in raicilla - a well known spirit among Puerto Vallarata and the villages surrounding the Sierra Madre. Enjoy a guided tour and sample some raicilla - similar to tequila, while admiring the beautiful mountain scenery, before heading back to Puerto Vallarta.

Don't miss this eye-opening day that will invigorate your senses and offer you a window of discovery within a safe, fun-filled environment.
October 2015
Our driver Enrique and guide Adriana were great. The tour was a full day but had many different activities to keep us entertained.
March 2015
We loved the Sierra Madre Jeep Adventure tour! We had our two boys, ages 14 and 11 along with us and we all learned so much about Mexico, it's culture, people and history. Our guide Gabriel and driver Fluffy were awesome, very knowledgeable and made the adventure even more fun. Definitely recommend this tour and our special guide and driver!
March 2014
We had a great time --- seeing the Mexican people as they live was fantastic. The ride was great but the star was our guide Samantha --- she answered our questions and told us about the history of the villages that we visited. The Mexican people we met and their way of life, although simple, was beautiful.
David and Susan
June 2013
Great tour, great guide and lots of fun
Joseph N USA
March 2009
A great day. Tour guide was incredibly knowledgeable and informative about many, many aspects of the environment and culture.
March 2009
It was one of the funnest days ever. We really liked our tour guide, spoke very good English and was a lot of fun. He knew so much about the areas we went to. Saw a lot of neat places and learned a lot. I would recommend this tour as a must.
March 2016
The trip took us to many interesting little spots we would have never stopped at on our own. Be prepared to ride in a bumpy, hot, noisy truck, but it was all part of the adventure. The entire day was very enjoyable. The food was great and we got to meet a lot of interesting people along the way. A very nice way to spend a day while in Puerta Vallarta if you want to get away from the crowds on the beach for a day.
July 2014
The guide, ride, food were good, but I wanted to see more of life in small towns.
Advertisement
Advertisement