Snorkel in the crystal clear waters of Los Arcos on a full-day snorkeling expedition from Puerta Vallarta. Discover the scenic surroundings of the ocean as you cruise on a stylish catamaran, enjoying a fresh and fruity onboard breakfast. Marvel at rugged rock formations and natural sculptures as you glide over the calm waters of the Pacific Ocean. Enjoy local specialties on a beautiful beach as you experience one of the areas most popular tourist activities.
Highlights
Enjoy a leisurely snorkeling adventure at Los Arcos from Puerto Vallarta, Mexico
Breathtaking scenic views and surrounds
Indulge in a delicious breakfast on a catamaran with views of downtown Puerto Vallarta
Snorkel in a remote environment and gaze at colorful fish and steep rock walls
What You Can Expect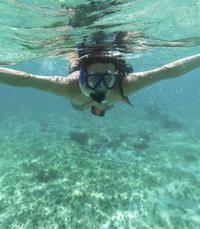 Depart from the Puerto Vallarta Marina onboard your stylish catamaran. Feast upon a delicious breakfast of sweet rolls, fresh fruit and aromatic coffee as you cruise the curvaceous Puerto Vallarta coast.
Stop approximately 330 feet (100 meters) offshore in the scenic and shimmering bay of Los Arcos (The Arches). Admire the gorgeous granite rock formations of the arches, marveling at how the ocean has skillfully sculpted the rugged rock. Don your snorkeling gear and submerge to explore an underwater wonderland of brightly colored fish and magnificent marine life.
Next, sail to the luscious Las Animals Beach to sink your toes into soft sand and enjoy a leisurely swim. Dry off in the warm sunshine and savor a fulfilling local lunch; choose from spicy chicken fajitas, fresh fish, cheesy quesadillas and a selection of soft drinks. Return to your catamaran and enjoy a smooth sail back to Puerta Vallarta Marina, where your tour concludes.
March 2011
We had such a great time. Water was unseasonably cold but only mother natures fault! Crew was amazing. The kids had fun! Adults had fun...drinks flowed freely. Can't beat the price vs. the Cruise ship deals! Thank you!
June 2016
On the whole a very good day. Crew was especially nice and worked very hard. Raphael led the crew, and he was terrific. There was a little too much hurry up and wait in the morning boarding process for my taste, and the snorkeling, though beautiful, was very short 30 minutes only and had to be done as a whole group of the participants.
Drinks on board the boat were plentiful, though predictably not very strong. The beach they took us to was very nice. Lunch that was included was served there. It was okay.
Kim H USA
July 2010
The crew was very friendly. This was a fun and relaxing tour. The lunch was satisfying and the alcoholic drinks were free flowing on the catamaran. We snorkeled in 2 different spots - one of which was Los Arcos. When we got there we were the only boat there which made it a pleasant snorkeling experience. It wasn't overcrowded and there was a variety of fish to see. In addition, we went parasailing and jet skiing - additional charges applied for those activities. The only negative was that we were also expecting fishing which was advertised in the tour but was not actually part of the tour.
June 2016
Some of these are problems with the Viator booking service, not the operator.
1. The directions provided to me were terrible-- there are numerous tour operators in there and I was not given any clue about which operator to use. The voucher says that Olympus tours is the contact, but they are not the operators or even at the marina. There is no way to know where to go.
2. I asked a question when I was booking and the answer did not answer my question. It was an answer to a different question.
3. During the entire board ride there and back, there was a guy yelling into a microphone line a sports announcer the entire time. It was so grating that I would have left if I had any way to get off the boat.
March 2016
Worst experience of our whole vacation. From start to finish it was confusing, crowded, stressful, awful and horrible. We paid for a water taxi 100 usd to take us back from the beach so we didn't have to step food back on the boat
March 2016
Too crowed, the food quality was poor and no place to seat. I won't recommend it.
August 2015
It really was pathetic to say the least - the boat operator Vallarta by Boat - just packed us like sardines on a big boat - left the dock almost 40 min late, and the worst part - snorkeling which was supposed to be the highlight was a byline - we got to spend about 15 min before we were herded back to the boat.
May 2015
Awful awful awful! do not book! gross muddy water and thousands of jelly fish. they also abandon us on a little beach when we requested to get off the boat due to the fact that we could not snorkel with children in jelly fish central. they did not help us find a taxi back or anything. left stranded! run from this tour!
Advertisement
Advertisement