Snorkeling at Los Arcos is one of the most popular tourist activities and it's not hard to see why! Nature has provided wonderful scenic surroundings for your snorkeling expedition, with arches and caves that have been sculpted by the forge of the ocean for thousands of years!
Highlights
Enjoy a leisurely snorkeling adventure at Los Arcos from Puerto Vallarta, Mexico
Breathtaking scenic views and surrounds
Indulge in a delicious breakfast on a catamaran with views of downtown Puerto Vallarta
Snorkel in a remote environment and gaze at colorful fish and steep rock walls
What You Can Expect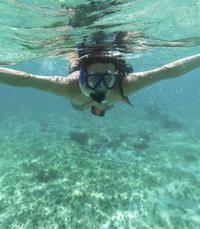 Departing from the Puerto Vallarta Marina, your friendly crew will have breakfast ready for you as the catamaran passes close to the shoreline, with views of downtown Puerto Vallarta.
Snorkel approximately 330 feet (100 meters) offshore in the warm and scenic bay of Los Arcos, otherwise known as 'The Arches', where granite rock formations of arches and caves have been sculpted by the forge of the ocean. All things natural are protected here so that you can have the amazing opportunity to snorkel in a rare environment and explore the brightly colored fish and steep rock walls that engulf this marine area.
Afterwards, you'll be taken to Las Animas Beach where you can enjoy a leisurely swim.
March 2011
We had such a great time. Water was unseasonably cold but only mother natures fault! Crew was amazing. The kids had fun! Adults had fun...drinks flowed freely. Can't beat the price vs. the Cruise ship deals! Thank you!
July 2010
The crew was very friendly. This was a fun and relaxing tour. The lunch was satisfying and the alcoholic drinks were free flowing on the catamaran. We snorkeled in 2 different spots - one of which was Los Arcos. When we got there we were the only boat there which made it a pleasant snorkeling experience. It wasn't overcrowded and there was a variety of fish to see. In addition, we went parasailing and jet skiing - additional charges applied for those activities. The only negative was that we were also expecting fishing which was advertised in the tour but was not actually part of the tour.
August 2015
It really was pathetic to say the least - the boat operator Vallarta by Boat - just packed us like sardines on a big boat - left the dock almost 40 min late, and the worst part - snorkeling which was supposed to be the highlight was a byline - we got to spend about 15 min before we were herded back to the boat.
May 2015
Awful awful awful! do not book! gross muddy water and thousands of jelly fish. they also abandon us on a little beach when we requested to get off the boat due to the fact that we could not snorkel with children in jelly fish central. they did not help us find a taxi back or anything. left stranded! run from this tour!
Advertisement
Advertisement