Explore Lake Titicaca on a full-day catamaran cruise from Puno! First, travel across the border into Bolivia where you'll board a catamaran that will take you across Lake Titicaca, the sacred lake of the Incas. Then, visit Sun Island and Inti Wata before lounging on the boat and enjoying a delicious lunch. There's no better way to experience Peru than on a relaxing sightseeing cruise on Lake Titicaca!

Highlights
Lake Titicaca catamaran cruise and Sun Island adventure
Enjoy a relaxing cruise from Puno aboard a well-equipped catamaran
Explore the cultural and historical site of Sun Island

Admire stunning scenic views from the water
Delicious lunch included
Complimentary hotel pickup and drop-off included

Recent Photos of This Tour
What You Can Expect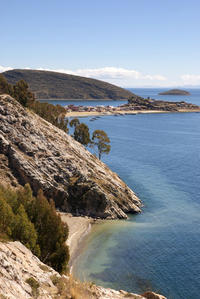 Depart from your Puno hotel and cross the border into Copacabana, Bolivia. Take a brief sightseeing visit of Copacabana's main square before heading towards the marina. Board the impressive catamaran, specifically built for your enjoyment, and depart on your relaxing cruise. Some of the amenities include an outdoor deck, a fully stocked bar, panoramic windows and a TV lounge.

Lake Titicaca is the world's highest navigable lake and stands at an impressive 12,500 feet (3,800 meters) above sea level. According to legend, it was on this lake that the Sun God commanded his children, Mama Ocllo and Manco Cápac, to birth the Inca civilization.

Cruise across Lake Titicaca and dock at Sun Island (Isla del Sol) to explore its pre-Columbian remains. The Inti Wata complex boasts a fascinating underground museum site, agricultural terraces, Inca remains and various indigenous species of flora and fauna. Enjoy free time on Sun Island to explore the area's high-plateau plants, llamas, alpacas and guanacos.

On your way back to Copacabana, enjoy a delicious lunch aboard the catamaran before being transported back to your Puno hotel.
July 2015
Great cruise and tour of the Sun Island. Several bonuses were unexpected, such as a great museum tour on Sun Island. Super-friendly and helpful staff.
FYI: I was unaware of the fees for US Citizens for me, 160 to receive a Bolivian Passport. Also, make sure that the staff know to take you back to Puno -- the default destination for this tour is La Paz, Bolivia.
July 2014
Wow! Amazing! Probably my favorite day on my trip in Peru. I needed to get from Puno to La Paz and I'm so glad I booked the catamaran cruise! Of course there is the option to travel on land via bus, but that's boring! You may as well do a sightseeing cruise and see Lake Titicaca. Sun Island was beautiful and the highlight - it's a bit of a climb to high altitudes, but so worth it. Lunch was great, the catamaran very comfortable and the guide was extremely friendly and knowledgeable. 5 stars! Thank you!
February 2014
Wonderful day, Isle del Sol was beautiful, lunch and catamaran were great.
September 2013
From Puno, we travelled to Bolivia to take the Catamaran to Sun Island. The tourguide is very knowledgeable but not boring. We didn't expect to have sandwiches, freshly squeeze juices and snack on our way to Sun Island (11 am).
The Island itself was mesmerising... it was so exquisite and breath-taking! we also witnessed an ancient ritual which is quite special. Then we had a lovely ride on their traditional boat. Finally, on our way back to mainland, we had a late lunch (3 pm) that is very delicious.
There are only 8 of us in the tour but all of us were properly looked after. The activities, the tour and the food, it's worth every penny.
December 2014
This tour was very expensive for what actually happened. We had a three hour drive to Copacabana, Bolivia. the only real tour was of a church there. I was not interested in the tour, and even though I went along with it, I was very allergic to the flowers in the church. The catamaran part of our tour was late -the boat was not there. Our market 'tour' was a quick walk through a couple of streets, with no time to stop and shop. The catamaran was lovely, and the service became very good. I enjoyed the little that I saw of Isla del Sol. I would recommend changing the itinerary on this tour. I would skip the reed boat, which most of us in our group had already done at Uros, and instead make time to actually tour the Temple of the Sun. It was not the tour's fault that the day we went to Bolivia, there was a strike in Bolivia. It made us a couple of hours late. (a 14 hour day) I highly recommend also, that Viator offer the option which some other guests chose, of staying on the catamaran overnight so that they could see Isla del Sol completely. I would have loved to do that, and I think that this is the main reason I am only giving this a 3 star. All of the options are not offered. Saying all of this, I am grateful to have had the chance to get to the Isla del Sol, with help at the border.
September 2014
The worst trip I've ever. A 2 hour bus ride to start with bus transfer, no consistency in respect to guests, loud, obnoxious guids that also kept changing... A 1 hour wait and foot walk over the boarder in a terrifying neighbourhood. Then another 1 hour to just get to the catamaran. Don't do it!
Advertisement
Advertisement