Explore the idyllic floating islands of Lake Titcaca on an exciting full-day tour from Puno. Visit Uros and Taquil to gain insight into the indigenous inhabitants of the unique islands; ride the gentle waters of the world's highest lake on a boat; and enjoy an authentic experience of culture untouched by mainland modernity. Convenient hotel pickup and drop-off is included in this tour.
Highlights
Full-day trip to the islands of Uros and Taquile from Puno

Meet local Uru people and learn about their customs and traditions

Visit Taquile, an island known for its tranquility and authenticity

Delicious lunch included


Complimentary hotel pickup and drop-off

Recent Photos of This Tour
Uros and Taquile Islands Day Trip from Puno
What You Can Expect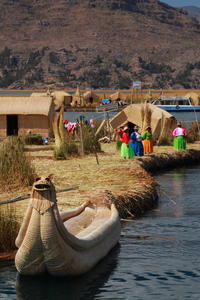 After hotel pick up in Puno, relax during a scenic drive parallel to the glittering Lake Titcaca. Climb aboard a small boat and set sail for the islands of Uros and Taquille, man-made structures made entirely of reeds.

Enjoy a warm greeting by the friendly locals, who show you round their rustic homes while your knowledgeable guide explains the fascinating history of the islands; originally built as a defense mechanism, the islands were designed with flexible reeds in order to move easily during attack. Learn about the logistical problems of the rotting reed foundations, then return to the boat for the next leg of your voyage.

Disembark at the island of Taquile, a place that has avoided the metropolitan development of the modern world; the women still wear traditional woven clothes and artisan treasures are created using ancient methods. Learn about the reversals in stereotypical gender roles and feast upon a light lunch inspired by regional recipes.
After your culturally enriching exploration, return to the mainland and venture back to your hotel in Puno.
May 2016
This was a great trip, but quite strenuous maybe there should be a note about this. We learned so much about the Uros and Taquile people. I', so glad we added Lake Titicaca to our Peru trip.
April 2016
Loved this day trip! While most of the tourists onboard were Spanish-speaking, our guide, Jorge, made sure to repeat everything in English to ensure I understood.
The trip to Uros was great - we learned from the locals about life on the island and how the island is made. We then got to play dress up with a local lady and try on some of her traditional garb! Be sure to bring plenty of cash. The locals make their living on selling their wares after the island tour - it's a bit of a hustle but well worth the nominal price for a fantastic souvenir.
Taquile was so beautiful! Lunch was delicious and it was great to learn about their heritage in textiles and the unique meaning the various apparel has in their community and traditions.
September 2015
interaction with the locals was amazing!
June 2015
We had a 10-hour boat tour of 2 floating islands and a trip to Taquilos Island for lunch and a demonstration of local customs and crafts. While the tour operator spoke English with a heavy accent, he was personable and described a wide array of topics. The trip was quite informative and enjoyable!
October 2014
It's a fantastic experience, you'll see a different culture, a folk who lives in a floating island. You'll have lunch in a rustic big table facing beatiful landscape view.
August 2014
We were very pleased with this tour an our guide, from Kontiki, Abel, he was very good. We could not communicate with Viator before our arrival in Puno and we were a bit worried about the location and pick-up time. However, when we arrived at our hotel in Puno, we learned that Viator already arranged everything, the time of the pick-up, the location (our hotel), all functioned so good ! Thanks Viator !

Bandit USA
July 2014
Great tour! You are able to see two completely different cultures - those of the Uros and the local who live on Taquile. A fun day out and a glimpse into some of the various cultures and people that call Peru home. Definitely not to be missed when in Puno!
January 2014
I would say this was my second favorite tour in Peru (after Machu Picchu). The Uros island were informative and unlike anything that I have ever seen. They sold beautiful handcrafts as well. The Taquile islands and its people were also interesting and worth the trip. We ate our lunch under the shade overlooking lake Titicaca which was beautiful and serene. So what would I change about this tour? Well I understand Lake Titicaca is ginormous, but it took 2.5 hours to get from Uros to Taquile and then 3.5 to get from Taquile back to Puno. Maybe a faster boat or something informative and fun for us to do while taking these trips. We spent more time on the boat than in either of the places we paid to go. Apart from this, I would highly recommend this trip; a must do in Puno!

fdik Russian Federation
May 2013
Excellent excursion by means of which it is possible to get acquainted with Lake Titicaca. Many thanks to the guide of Samuel for interesting day
November 2012
This tour was well-coordinated and very interesting. It provided a great lunch and very enjoyable scenery throughout the day. I would definitely recommend it to anyone visiting the area!
Advertisement
Advertisement