22 Reviews
Location:

Punta Cana, Dominican Republic

Duration:

Varies
Enjoy a thrilling eco-tour at Cap Cana's Scape Park, where you can drive a 2-person buggy or combine the buggy tour with a 2-hour zipline adventure option for the ultimate jungle adventure! Follow your guide down back roads on your ATV beach buggy, with a pitstop a a beach to enjoy the beautiful Caribbean scenery, and soar through the canopy on eight ziplines and climb a suspension bridge. If you opt for a combo tour, you'll have six hours to spend, including lunch. Choose from morning or afternoon departure times.
Highlights
Scape Park eco-adventure in Cap Cana
Explore the Cap Cana jungle in your 2-person beach buggy
Enjoy panoramic views as you ride an 8-circuit zipline (if option 2 is selected)
Rappel past a small cave and climb a suspension bridge (if option 2 is selected)
Enjoy a sandwich and chips for lunch (if option 2 selected)
Bottled water, soft drinks and round-trip hotel transport included
What You Can Expect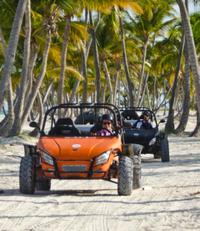 Cap Cana, situated on the eastern tip of the Dominican Republic, is an approximate 7-minute drive from the Punta Cana Airport. After hotel pickup, your guide will transport you to Scape Park, an eco-adventure park that blends easily into the surrounding natural landscape.
Depending on which option you've selected, hop on your buggy for an exciting ride, harness up for your zipline tour or embark on both through the jungle! Your trained guide will ensure your safety at all times, and stop for a break for bottled water and soft drinks (or lunch if selected). (See Itinerary below for full descriptions of each tour.)
Photos, videos and souvenirs of your adventure are available for purchase (own expense). You'll have a chance to buy snacks and additional beverages at the cafeteria before return transport to your Punta Cana hotel.
Itinerary
Option 1: Buggy Tour (2.5 hours)
Feel your adrenaline rush on a 2-person buggy, driving through the tropical forest past ocean cliffs to the beach! The natural paradise of Cap Cana is a perfect place to explore back roads abundant with wildlife and spectacular scenery.
Following a briefing on how to drive your ATV beach buggy, put on your safety belt and helmet and enjoy the ride! You'll head out from Scape Park on your buggy adventure, stopping at the beach to enjoy the breathtaking view of the Caribbean. Then you'll head to Scape Park on your buggy.

Option 2: Combo Adventure Tour (6 hours)
Enjoy a combined 6-hour adventure tour at Scape Park! First, you'll speed through the treetops at high velocity for the ultimate thrill on a series of eight ziplines and a suspension bridge. After a quick lunch of sandwiches and chips, climb aboard your ATV beach buggy to drive along the sands and stop to enjoy breathtaking views of the Caribbean ocean!

November 2015
We chose the 1/2 day Zip-line and 1/2 day Buggies.
The zip-line was fantastic and the safety crew well trained.
The stations take you across the face of a shear rock cliff as you work your way up to the summit for the final 1000 ft. long zip-line all the way back down to the start tower. It was very cool.
The adventure buggies are getting old and pretty beat up. There were a few new raptor style 4x4s mixed in there but the old school dune buggies need some serious repairs. The one we used had tires where you could see multiple glue plugs sticking out of them, the steering had a full half turn of slop before it would react, the engine ran like crap, had no power for climbing even a small hill and the automatic wouldn't shift itself half the time. With that said we still had a blast. I can't imagine how much more fun it would have been with a good buggy. We even got a chance to see the underground pool for a swim or cooling soak of the feet.
Overall a great time and would do it again.
November 2015
This was fantastic! I would definitely recommend buying the picture pack between your two adventures as they take great specialized photos of you after!
September 2015
It was a great experience! We went through Scape Park and they were so organized and professional, it made everything perfect! I highly recommend!!
August 2015
Very exciting, I recommend it to anyone.
August 2015
An Amazing experience. Staff was great
June 2015
April 2015
The zip line was amazing. The buggy ride was fun, but very dusty!
March 2015
Amazing trip and staff was super funny and friendly!!
December 2014
Tour guides were fun and well informed.
September 2014
It was an amazing tour! The highlight of our trip.
Advertisement
Advertisement