This incredible excursion from Punta Cana takes you to some of Dominican Republic's most pristine dive sites. You'll have the opportunity to check out colorful corals and tropical fish at a place known as 'The Wall' and even swim with lobsters and stingrays at a spot known as the Aquarium. This trip is perfect for all levels of divers and an expert guide and dive master will be available the entire time! Enjoy stunning beaches of Catalina Island and savor a barbecue lunch on the beach during this memorable day of tropical adventure.
Highlights
2-tank diving excursion to Catalina Island from Punta Cana
Dive among Caribbean corals at 'The Wall' drop-off
Swim with lobsters, stingrays and moray eels in the Aquarium
Have a barbecue lunch at a private beach club on Catalina Island
Use of dive equipment and hotel pickup and drop-off included
What You Can Expect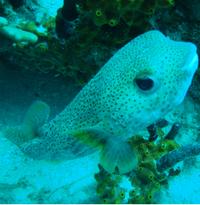 Your Catalina Island two-tank dive package from Punta Cana kicks off with pick up from your hotel and a scenic catamaran trip from La Romana.
You'll venture into protected Caribbean waters near the Catalina Island National Park, where you'll get an up-close look at an area known as 'The Wall'. Recognizes as one of the nation's most pristine dive sites, 'The Wall' is ideal for divers of all levels. You'll have the chance to dip below the surface and navigate crystal clear waters filled with colorful coral and tropical fish.
Your second dive takes place in the shallow waters of a spot known by locals as the Aquarium. You'll swim among yellow stingrays, lobsters and eels in this popular destination. Once you've had your fill of underwater wildlife, tuck into a savory lunch before enjoying free time to relax on the shores of Catalina Island or swim and snorkel in the nearby waters. You'll return to Punta Cana aboard your catamaran with music and dancing to pass the time.
April 2014
The tour company was great! Especially Wilson our Dive Master. The company in general, we had some issues with arrival to our resort and were not able to make our scheduled excursion date, but when I was able to get a hold of someone at the company they said, no problem and booked us on the next date available. Then Wilson who was there when we were picked up was great! Full of personality and really nice. We had some hiccups with some of the other people being picked up on the excursion and our travel time was longer than expected, but Wilson did what he could to minimize the issue and we were finally on our way. Once we were on the boat, the boat crew were fun and friendly, even in the downpour of rain we were getting that day! The dives were awesome, Wilson was so helpful as it had been a number of years since I went diving and he helped me feel very comfortable. I had a GREAT time on this excursion even with our series of issues we encountered. I would recommend them for diving any day! Oh and the food on the island was great! Especially the beans, LOVED the beans!!!! Thanks Wilson for making it a great day for Jody and me!
April 2014
There should be a better description with this:
-It was an hours' worth of pickups
-It was another hour to the pier
-It was a 1/2 hour to the first dive site
The diving was ok. The food was ok. There was too much time after lunch, everyone was exhausted and I think would've preferred to head back.
After almost 12 hours, and dives lasting less than an hour total, I wish I had done better research before booking--or I wouldn'tve booked.
The staff was phenomenal, all super nice, and very high energy and friendly.
But be prepared for a VERY long day.
October 2014
I tried to get ahold of the dive operators you listed in Punt Cana, but they didn't answer their phones, so I had to arrange a different dive through another operator. So your deal didn't work out. I don't know why you didn't arrange the dive pick up on your end (with my input), and left it up to me to make the arrangements.
So, I will be instructing my credit card to not pay you
Advertisement
Advertisement