This excursion to Catalina Island highlights the best of this tropical destination. See the popular snorkeling spot known as 'The Wall' and check out some of Dominican Republic's best underwater landscapes, where travelers can swim amid colorful coral and bright tropical fish. Enjoy free time to relax on the sandy shores of Catalina Island and savor a typical barbecue-lunch on the island under the shade of coconut trees.
Highlights
Snorkel excursion to Catalina Island from Punta Cana
See tropical fish and corals as you snorkel 'The Wall'
Enjoy lunch at a private Catalina Island beach club
Use of snorkel equipment and hotel pickup and drop-off included
Why Our Insiders Chose This Tour
This tour offers you a chance to experience one of Catalina Islands most famous snorkel and diving spots. Lunch and beach time are also included - making this a perfect experience for the whole family!
Recent Photos of This Tour
Catalina Island Snorkel Excursion from Punta Cana
What You Can Expect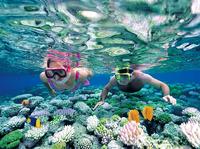 Enjoy the convenience of hotel pick up and travel from Punta Cana to La Romana on this best Catalina Island snorkel excursion from Punta Cana. Travel by catamaran through the stunning Caribbean sea and sip on complimentary beverages as you take in the surrounding landscapes.
Upon arrival at Catalina Island, choose to relax on the ship's deck, or strap on provided equipment and take a dip below the water's surface where you can snorkel amid colorful coral and tropical fish. Check out 'The Wall'—an area known for its incredible marine life—during this excursion that's perfect for snorkelers of all levels.
When you come up for air, enjoy time on a private beach with tropical cocktail in hand, as you listen to Caribbean music and savor island fare during a barbecue lunch served on the beach. Continue to snorkel, swim or simply relax before making your way back to Punta Cana aboard a festive boat with music and dancing to complete the trip.
April 2016
This tour was amazing! We got picked up at our hotel first thing in the morning and then all put onto a larger bus off to La Romana which was 1.5 hours w a little history on the way so it really flew by! We stopped at a little tourist shop to purchase gifts etc on our way. Proceeds of your purchase go to education so try to find something if you can! Gabriel was our photographer for the day and he was so much fun! We had an amazing time snorkeling and you get to snorkel at The Wall for about an hour, then once you get to the beach depending on the day there is maybe 30 or 40 people on the entire beach. The water is so clear and beautiful and there's even more snorkeling to be had once you're at the beach. There was a gentleman selling lobster to eat to go with the buffet lunch if you wanted. I would recommend this to everyone!
Only tip I have is the pictures are a bit pricey but well worth the money and the shops they have on the island are nice so bring some money for the lobster, the pictures and some nice casual shopping if you can!
March 2016
March 2016
Great trip overall, highly recommended. Be prepared for the 1.25 hour bus ride. The beach on Catalina was well worth the trip.
February 2016
This was a great tour, there is no doubt about it. The two snorkeling spots are incredible with a vast array of fish to observe. The smooth trunkfish was a particular favourite. You are given a good amount of time to snorkel at each location. The second destination is great but I would advise wearing rock shoes or surf shoes or some sort as the coral is shallow and the experience will be better if you are able to stand. Great times and good hosts
January 2016
What a great deal this excursion was. We were picked up on time and taken to our boat. When we boarded the boat the drinks were flowing and everyone was very nice. The snorkeling was great and Catalina Island was beautiful. One of the nicest beaches I and #39;ve ever seen! Highly recommend!
November 2015
This was a great trip - snorkeling was great, the island was beautiful and the food was great. The staff - from the pick-up, Sea Pro Divers were always very friendly and helpful! Then the crew of boat, ParadisePassion/PassionParadise were also very friendly, entertaining and helpful. They made the boat ride a great adventure and the drinks were always flowing. But I can't say enough about their helpfulness and sincerity when I lost my phone - they went above and beyond trying to help me find and recover it. All of the staff we dealt with were truly amazing and kind!!! I would definitely recommend them!!!
July 2015
The first stop was a little choppy as they drop you off in the middle of the ocean to snorkel. On the second stop you arrive at the beautiful island of Catalina. The lunch was amazing beans, meat, fruit, etc.. The water was absolutely beautiful and there was a lot of fish swimming right around you. I had a wonderful time!

July 2015
This tour and its crew we're great! I did the snorkeling portion of the tour. The first stop was definitely not for snorkelers as the water was too choppy. But the island was perfect for snorkeling and the lunch was delicious. They do come around at the end with a box for tips. Definitely recommend!
April 2015
March 2015
Great day! Good timing at spots. Excellent beach with drinks and lunch. Great crew!
Advertisement
Advertisement