If you're looking for family-friendly fun in the Dominican Republic, head to Manatí Park for a 2-hour tour of animal exhibits with an informative guide. This theme park includes a selection of animal shows and cultural performances throughout the day. Be entertained by sea lions, dolphins and parrots, and watch Taino dancers and artisans recreate the life of their indigenous ancestors. For a more interactive experience, upgrade your tour with a Dolphin Swim! You'll frolic in the dolphin pool alongside these intelligent marine mammals.
Highlights
Entry to Manatí Park with optional dolphin swim
Experience the flora and fauna of the Dominic Republic firsthand
See amazing animal shows and learn about the island's endangered species
Visit a Taino village and watch a folkloric dance performance
Upgrade your tour to include swimming with a dolphin – an incredible experience!
Round-trip hotel transport included
Recent Photos of This Tour
Manati Park with Optional Dolphin Swim
What You Can Expect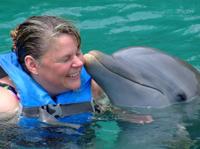 Once you're picked up from your hotel in Punta Cana and arrive at Manatí Park, your knowledgeable guide leads you on a 2-hour tour of the landscaped theme park. You'll be introduced to native fauna including orchids and other tropical plants. Stop by animal exhibits featuring fauna of the Dominican Republic such as caimans, iguanas, tropical birds, flamingos and snakes, and learn about their behaviors from the keepers.
You can opt to see several animal shows scheduled throughout the day. Watch dolphins follow the commands of their trainer, see horses perform equestrian tricks and be amused by the antics of comical parrots.
Immerse yourself in the indigenous culture of the Dominican Republic at the Taino Village. Observe the choreographed steps of Taino dances that showcase their rituals and folklore, and see craftspeople fashioning the art of their ancestors—with paintings, statues and traditional clothing on display at the museum.
Upgrade: Dolphin Swim
Book a Dolphin Swim for a memorable experience. Head to the dolphin pool for a safety briefing from expert trainers before you slip into the water with these incredible marine mammals. During this interactive program—available for adults and children eight years and older—you'll have the opportunity to play and swim alongside dolphins while under close supervision. You'll get right up close and even receive a dolphin kiss!
Itinerary
Manatí Park show times:

Dolphin and Sea Lion show - 11:15am, 4:15pm

Parrot show - 12:45pm, 5:15pm

Horse show - 1:15pm

Taino show - 10:30am, 3:30pm

Dolphin swim - 9am, 2pm, 5:15pm
June 2015
This was the cheapest tour we did, and one of our favorites
June 2015
March 2015
The tour was amazing. Our personal tour guide, Antonio Banderes, showed us every exhibit of the park. He also made sure that we were on time for all of the shows. We also swam with the Dolphins which was an extraordinary experience. The staff was very helpful and the Dolphins were so pleasant
May 2014
the grounds were breath taking- the shows were amazing- i especially loved the parrot show and the sea lion show - they were very entertaining
this trip was well worth the money
January 2016
Interesting few hours.
Friendly park staff who were kinda and informative.
Good shows and a variety of animals to see.
November 2015
I enjoyed the park and it was actually better than I expected. I didn't expect to have our own park guide but it was nice and Willie was fun and with his bit of English and our bit of Spanish, we were able to communicate. The dolphin show was a bit shorter than expected but loved the unexpected parrot show. I enjoyed the experience and glad that I went. However due to the lack of communication from our bus driver he was the only person that was not tipped. He didn't even greet us after we greeted him...he looked a bit annoyed by the whole process of picking up from the various resorts and dropping us off. NoBueno
July 2015
Great for kids and such - otherwise informative and OK
June 2015
Swimming with the dolphins was awesome which makes the experience rate a 4 star. We were also given a VIP tour with Antonio Bandares who was extremely entertaining. The horse show and the Native dancing was just ok.
August 2013
Tour guide was great. Park could have been a little more updated
November 2015
Wow, not what we were expecting. The bus will drop you off and you are trapped there for 4 hours with no way out. You're expected to go to all the animal shows which last about 15 minutes each and are spread out with time in between for wandering around looking at the animal displays. Problem is a Guide will latch onto you and steer you around to places where they very aggressively try to sell you junk.
There are some cool displays and a lot to see, but the aggressive vendors really turned us off. They will not go away until you get almost rude with them.
Be warned, I read a couple of reviews before we went and wondered how bad can it be.
IT'S PRETTY BAD, YOU ARE A TARGET AS SOON AS YOU WALK IN.
Advertisement
Advertisement