32 Reviews
Location:

Punta Cana, Dominican Republic

Duration:

5 hours

(approx.)
Discover the beauty of the underwater world as you snorkel and swim along the biggest coral reefs of Punta Cana, making friends with the giant sting rays and nurse sharks. Then its on to some natural pools where you can enjoy a beautiful cocktail as you relax in the water! With something for everyone, this family friendly excursion is a must do when visiting the Dominican Republic!
Highlights
Trip to the Marinarium from Punta Cana or Bayahibe
Swim with sting rays and nurse sharks
Scenic cruise with stunning views of the coral reefs
Professional instructors
Cocktails and refreshments
Hotel pickup and dropoff
Recent Photos of This Tour
What You Can Expect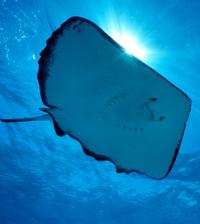 Take a gentle coastal cruise along the beaches of Bavaro to the Marinarium for your exciting underwater adventure. After an introduction to the native marine life, you'll receive snorkeling equipment and safety instructions from the Marinarium Park supervisors. Start by snorkeling with some of the friendlier creatures of the deep before taking the plunge and entering the domain of the sharks!
Enjoy an adrenaline packed swim with nurse sharks and sting rays as these fascinating creatures glide majestically below you. It's not often you'll get the opportunity to swim amongst the bigger creatures of the deep, so don't miss out on this chance!

Cruising back from the Marinarium you can take a bartending lessons on how to make cocktails. Or, simply sit back and enjoy the sun - cocktail in hand of course!
June 2015
This was a really awesome experience! I'd probably not recommend it for kids just because it is more of a booze cruise. Everyone was super nice and friendly
September 2014
What a blast! Lots of fun on the boat and a very thrilling snorkeling experience.
August 2014
My husband and I had a WONDERFUL time on this excursion. The water is beautifully clear!! We got LOADS of underwater pictures with our camera...The staff were genuinely friendly and made sure we all had a great time. We bought the CD package and LOVED it!!! WOULD DEFINITELY ENCOURAGE ANYONE TO GO!!
May 2014
WOW! Totally loved this trip. Fantastic snorkeling on the reef first then into the Marinarium to snorkel with the nurse sharks and rays followed by a party in the ocean at a beautiful shallow area safely away from the reef. The staff were all great. Ecellent day out. It was totally fine to use your own camera apart from a staged picture oppertunity with a ray.
January 2014
It was excellent! The views, the boat ride, the sting rays and sharks and the crew were all great!
I am not the best of swimmer so I wasn't too sure about getting off the boat with my family to adventure off to see the sting rays and sharks, but Jefferson (one of the staff) helped me the entire time. There were fish all around us and then when we entered the shark and sting ray area, it was amazing. They were right there in front of you. Then they help you hold one of the sting rays to take a picture. I didn't like that we couldn't use our own cameras, but of course I paid the $15 for the 4x6 picture! After snorkeling, we took a boat ride down the coast - gorgeous! Then we stopped at an area that was like party boat central. Everyone was in the water and had a great time. Then there was some dancing on the boat on the way back. The staff was great and I am so thankful that Jefferson helped me because it was definitely an experience! I would highly recommend this excursion.
October 2013
We did this during our honeymoon and it was our favorite tour. It wasn't too long or too short, we had great weather so we were able to snorkel and swim for a long time. We also were lucky enough to get paired with a fantastic tour guide - while everyone else lined up to hold a sting ray we stayed back and got to pet the sharks and rays with the guide. He took charge of our underwater camera and got a ton of great photos for us too! After the crowd started heading back to the boat he let us feed the fish and extend our snorkeling time. The entire staff was friendly and kept the drinks flowing, but the personal attention we received from him truly made this tour great. We also got our first taste of coco loco on this tour. I would highly recommend this trip for anyone looking to have a unique snorkeling experience and likes to have a good time, probably not the best excursion for children since it is a party atmosphere. I would also recommend making friends with your guide, you'll get a much better experience if you do! Oh, we also purchased their picture cd and it so-so, but we got better photos on our own camera thanks to the guide. We did not purchase the sting ray picture - it was $15 for ONE photo - didn't seem worth it to us. (disclaimer - the tour company does not encourage or condone what our guide let us do and our experience is not typical... however, if you are an experienced swimmer and befriend your guide you might get the little extra... don't forget to tip generously, guides can get in trouble for those sort of things!!!)
June 2013
So so fun and professional
January 2013
December 2012
This was by far the best excursion we have taken in a long time. The staff was extremely helpful and fun and swimming in the ocean with the sting rays and nurse sharks and other fish was very cool and memorable. Everything from the transportation to the cataraman were excellent.
October 2012
I still give this 5 stars although it was raining ....very scary to be out in the ocean with lightning and thunderstorm going on. Our snorkel time was cut short due to that ...we re boarded the boat and basically cruised along the shore line for 2 hrs. Lots of booze, loud music and fresh fruit and make your own finger sandwich. This is not an excursion for families. My boyfriend and I are in our 30's so we had a blast.
Advertisement
Advertisement