Have you ever dreamed of driving a Mini Cooper convertible? Take the wheel of your own 4-person classic car and put the top down during a full-day or half-day tour from Punta Cana! You'll cruise in style along country roads, feeling the breeze on your face and stopping at local attractions with your guide. During the full-day tour, pass by Casa de Campo, stop at Altos de Chavón and the Regional Museum of Archaeology, and visit a cigar factory. On the half-day option, head to the busy historical city of Higuey, where you'll see the largest church in the country, Basilica de la Altagracia, and visit the Altagracia Museum.
Highlights
Full-day or half-day tour from Punta Cana by convertible Mini Cooper
Drive a 4-person classic Mini Cooper in style
Visit Atlos de Chavón and La Flor Dominicano cigar factory on the full-day tour

Enjoy a buffet lunch at a restaurant overlooking the Caribbean Sea on the full-day tour

Explore the historical city of Higuey during the half-day tour

See the Basilica de la Altagracia, the largest church in the country, during the half-day tour
What You Can Expect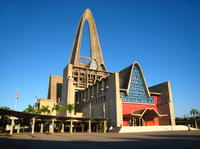 After hotel pickup in Punta Cana, hop into your very own convertible Mini Cooper and follow your guide in a fleet of stylish, classic cars. Each car can carry a maximum of three passengers, so you can choose whether to get behind the wheel or just relax for the ride. With the top down, you'll enjoy the ocean breeze as you tour the highlights en route.

Full-Day Tour (9 hours):

Drive to Boca de Yuma, a seaside old fishing village, where you will visit a primary local school and meet the children. Continue your drive to La Romana on the southeast coast of the Dominican Republic and pass by Casa de Campo, a tropical seaside resort. This prestigious community, built on the site of a former sugar mill, boasts 1,700 private villas against a backdrop of plazas and terraces. Follow your guide on foot along cobblestone walkways atop the picturesque cliffs, where you'll find Altos de Chavón, a 16th-century replica of a medieval Mediterranean village.
Explore the enchanting buildings of this architectural wonder perched above the Chavón River, including hand-cut stone pathways and detailed ironwork handcrafted by Dominican artisans. Peek into the numerous boutiques and art galleries on your way to a local cigar factory, La Flor Dominicano. Here, you'll have the opportunity to learn about how Dominican cigars are manufactured.


After a delicious Dominican-style buffet lunch at Altos de Chavón, your guide will take you to the Regional Museum of Archaeology, located behind the Church of St Stanislaus. This archeological museum, dedicated to the study of the island's pre-Columbian heritage, is a must-see. You'll find more than 3,000 artifacts that document the Taino people — the region's original inhabitants — on display. Then, your guide will drop you off at your hotel.

Half-Day Tour (5 hours):
Drive about 45 minutes inland from Punta Cana to the city of Higuey, home to some of the Dominican Republic's most important religious landmarks. First up, learn about the country's cultural and religious heritage at the Altagracia Museum (Museo de la Altagracia), where you can browse its collection of religious artifacts.

Next, visit the largest church in the country, the Basilica de la Altagracia, dedicated to Our Lady of Altagracia, the country's patroness. Then stop by a 500-year-old church, the Church of San Dionisio, before you head back to your hotel.

July 2015
It was a great ride! The only thing that i would recommend for half trip at least some snacks or sandwich.
June 2015
We did the half day, and it was great!
June 2015
What a great way to see the country! This tour was fun and my wife and I had a blast in the mini-convertible.
June 2015
OUR GUIDE WAS FUN. THE TOUR WAS GREAT WE GOT TO SEE ALOT OF THE COUNTRYSIDE AS WELL AS DRIVE THRU SEVERAL SMALLER CITIES. NICE EXPERIENCE
May 2015
Very nice activity!
Our guide was very interesting, the location we visited have been very appreciated, the cars were very clean.
Thanks!
April 2015
This Tour was the best Tour in DR take it from me! We traveled the country and got to see what I believed was every part of DR we only did a Half day but I could imagine a full day would have been even better!!!!
October 2014
This was an awesome experience. I would recommend it to anyone who wants to escape from an all exclusive environment to see some of the countryside, people, and culture of the area.
LOTs Of FUN!!
January 2014
This tour was amazing. I loved the drive it was smooth and easy and the tour guide Leo was great. She was was very sweet and kind. The places we went were nice. I took a lot of pictures I highly recommend it.
May 2015
Great tour and lots of fun......
Advertisement
Advertisement