Put the top down and take off in your own personal Mini Cooper. Explore the landscapes of Punta Cana and cruise in style on country roads during this full-day tour with expert local guide. You'll see Casa de Campo and make stops at a local cigar factory, the Regional Museum of Archaeology and other key destinations—including a savory traditional Dominican lunch—as you navigate the roads with the wind in your hair.
Highlights
Full-day tour from Punta Cana by convertible Mini Cooper
Visit Atlos de Chavón and La Flor Dominicano cigar factory

Enjoy a buffet lunch at a restaurant overlooking the Caribbean Sea

What You Can Expect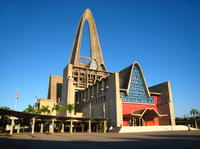 This Mini Cooper Convertible Tour from Punta Cana puts you in the driver's seat as you navigate country roads and city streets in one of the Dominican Republic's most beloved destinations. A friendly guide will collect you from your hotel before you hop inside your won convertible Mini Cooper. You'll follow your guide in a fleet of vehicles (maximum three passengers each) to all of the highlights.

Make your way to the picturesque seaside fishing village of Boca de Yuma and make a stop at a small school where you'll have a chance to interact with some local children. Continue on to La Romana, past Casa de Campo. You'll find 1,700 private villas in this elite community that was once a sugar mill. Take time to follow your guide on foot through the cobblestone streets, epic cliffs and Altos de Chavon—a replica of a 16th century Mediterranean village. You'll have the opportunity to visit galleries, shops and even a local cigar factory on your stop here.

Once you've worked up an appetite enjoy a Dominica-style lunch. Then make your way to the Regional Museum of Archaeology near the Church of St Stanislaus. Explore the halls of this impressive museum and check out some 3,000 pre-Columbian artifacts—including items from the Taino people.

Your tour ends with transport back to you hotel.
January 2016
Excellent!! This is something that I would do again.
December 2015
We had a brilliant half day, celebrating my husband's birthday. We were glad that there were only 2 cars, plus the guide as I think it would have been difficult navigating the traffic with many more. We visited a rural cigar factory, a well preserved cave, a local rum factory and the splendid cathedral and museum in Higuey.
The driving involved country roads some very holey, Higuey's busy streets, and then a fast run on the dual carriageway.
A well recommended tour.

October 2015
This was one of the best experience ever!!! The staff was very honest and friendly. We loved the photagrapher and our guide. I can definitely say that the how tour was great riding though the country and the local streets was amazing, visiting the cathedral of guadalupe was by absolute favorite. A must do when visiting punta cana!!!
September 2015
Awesome totally Awesome. I want one of those cars, best experience to date. Driving threw the country side and listening to our guide in our cars was great. Driving threw the town not so much. LOTS of traffic, but still very exciting. Next time I am doing the all day tour
September 2015
My friends and I enjoyed this tour...We did the full day.. This a must do in the DR!!!
July 2015
It was a great ride! The only thing that i would recommend for half trip at least some snacks or sandwich.
June 2015
We did the half day, and it was great!
June 2015
What a great way to see the country! This tour was fun and my wife and I had a blast in the mini-convertible.
June 2015
OUR GUIDE WAS FUN. THE TOUR WAS GREAT WE GOT TO SEE ALOT OF THE COUNTRYSIDE AS WELL AS DRIVE THRU SEVERAL SMALLER CITIES. NICE EXPERIENCE
May 2015
Very nice activity!
Our guide was very interesting, the location we visited have been very appreciated, the cars were very clean.
Thanks!
Advertisement
Advertisement