11 Reviews
Location:

Punta Cana, Dominican Republic

Duration:

4 hours 30 minutes

(approx.)
Venture off-road on an eco-adventure aboard a 4x4 buggy in Punta Cana! Drive an exclusive route through the Indigenous Eyes Ecological Park, an impressive private reserve with a network of trails and freshwater lagoons. Stop at the white-sand beach of Playa Blanca and take a dip in a crystal-clear lagoon as you delight in this majestic natural setting. Choose a morning or afternoon tour, opting for one or two passengers per buggy.
Highlights
Half-day 4x4 buggy eco-tour in Punta Cana
Drive your own Club Car 4x4 buggy off-road at Indigenous Eyes Ecological Park and Reserve
Follow your experienced guide over interpretive trails within the nature reserve
Relax at the pristine beach of Playa Blanca
Swim in one of 12 freshwater lagoons maintained by the Ecological Foundation
Learn about the iguanas and other wildlife in this protected habitat
Bottled water, soft drinks and round-trip transport included
What You Can Expect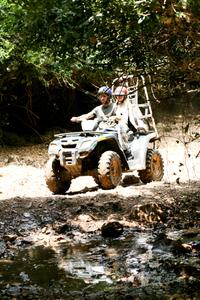 Your professional guide will pick you up from your Punta Cana hotel and transfer you to Indigenous Eyes Ecological Park and Reserve, a protected 1,500-acre (600-hectare) park privately owned and maintained by the Punta Cana Ecological Foundation. Learn from your guide about the foundation's work in scientific research and the conservation of native and endangered species.
After a safety briefing, ensuring a safe and fun adventure for all, hop aboard your Club Car 4x4 buggy – a small-wheel, zero-emissions electric vehicle that's a pleasure to operate! Drive (or ride, if you opt to be a passenger) your two-person buggy down a network of park trails, following your guide through the tropical forest until you reach the spectacular and unspoiled beach of Playa Blanca.
Here, you'll have the opportunity to swim and play on a white-sand beach shaded by coconut palms. Wade into the crystal-clear water in this tropical paradise or take a break from the excitement with an ice-cold soft drink or bottled water in hand.
Then, follow interpretive trails back through the reserve and head to one of 12 freshwater lagoons – habitat for many birds, reptiles and insects. Pass an iguana habitat, a fruit tree garden, petting zoo and sugarcane exhibit, and learn about the natural and cultural history of the Dominican Republic along the way.
When you arrive at one of five lagoons available to visitors, dip into the refreshing, clear waters for a delectable swim. Learn about the Taino Indians who first inhabited the island and called the lagoons 'eyes' because of their distinctive shape. Discover more about the native flora and fauna from your guide, or just relax in this magical setting, before your adventure ends with drop-off at your hotel.
March 2015
Nice excursion, well priced. Very knowledgeable guide. We had a ball.
March 2015
This tour was amazing the clear water lagoon was one of the best parts.
May 2014
We had 6 people in our family that did this excursion. Absolutely loved it. The buggy ride was fun and exciting and the beach and natural lagoon were both gorgeous! We would all do this again. Loved our guide as well.
July 2015
Awesome tour. Everything from the shuttle pick-up to the tour guides was very professional. We had a two person buggy Note, it doesn't look like the red one in the photo and had no issues with it. Swimming in the lagoon was a great experience, cold at first but you quickly get used to it. The private beach at the end was hit or miss for me, it's at a hotel so not exactly a private beach, and we only got a rushed 20 minutes there.
Overall we had a great morning out and would definitely recommend to anyone interested. Excellent value for money!
June 2015
It was easy to book via the telephone, but when we got the confirmation email we were told we had to call the local tour company to book transportation. We did that, and it was quite difficult. We booked about 24 hours ahead of time, and we wanted the morning booking. When we called to book transportation the lady said that it was too late to book the morning, because it was less than 24 hours, so we had to do the afternoon. I told her that we wanted the morning, so could we just go the next day..no biggy. She repeatedly told me no and then put me on hold. When she came back, she said that our pick up time would be 10:30am the day we originally wanted. Magically she was able to book it on time and the day we wanted. It was odd.
The excursion itself was amazing. The dune buggies go fast and although it's not quite the self-guided tour it acts like it is, it was great. You don't go to the lagoons though, you stop at a reservation parking lot and walk through the forest to get to the lagoon. It's a beautiful spot. The water was amazing.
October 2013
this was amazing stoping at the beach where they filmed some of the pirates of the carribean was beautiful
October 2013
July 2014
More time at the beach and lagoon would be great. ANY cultural information would be nice. the description said we would learn why the lagoons are called "eyes" never did. the tour guides were more concerned about selling $5 bandana's (that you don't need) and $35 picture cd's, don't say yes rightaway the price will come down to $20. The driver who picked us up at the hotel didn't speak English he walked up to us and pointed at the voucher. the bellhop came over to interpret. the drive pull over at a shopping center made a phone call, 15 minutes later two teenage girls get out of a car get on our bus (without vouchers) sat up front. Once we were at the tour the girls stayed on the bus and left with the driver.
June 2014
Comparing this tour to others we have done, even those in Punta Cana and Cap Cana, this tour was lacking. We drove around a trail to a temporarily-closed resort and had 10 minutes to swim at the beach. We then drove to a lagoon at the Indigenous Eyes Park and had 15 minutes to swim in the lagoon. We have done tours that were a lot more fun and incorporated more of the landscape and culture of the Dominican Republic. Although, driving the 4x4s was ok, I would not recommend this tour to others, especially those who have done other tours. In addition, we made a reservation for a Thursday tour only to be told that there were no Thursday tours. Viator needs to coordinate a little better with the companies they book for, in my opinion. We ended up doing a Friday afternoon tour, which got us back so late due to problems on the tour, that we didn't get to dinner until 9 pm. Also, keep in mind the photo of this tour on Viator is a dune buggy, not a 4x4. The 4x4s look like mini jeeps with a flatbed back for your stuff. Bring a bandana if you chose to do this tour, or pay $5 for one when you are there. It is very dusty during dry season.
May 2015
Viator did not respond to important issues that I did a Friday, weekend and Monday to Wednesday morning, the day of departure of the tour. when no longer served me.
Nexus tour caribeanThey did the same. I had to call the hotel to tour caribbean nexus (euro 15-minute minute to tell me only the departure time, the rush is not going with them) because they did not respond to emails ... and they have responded. the day of the tour had to wait for each bus one hours became eternal. in the park do not explain anything. boogie not working properly. Hull was with the broken strap ... a disaster.
Advertisement
Advertisement