Head to a private ecological reserve for an off-road buggy adventure combined with a catamaran ride in the Caribbean Sea. Amp up your Punta Cana experience aboard a 4x4 Club Car and feel the adrenaline rush as you roar down a jungle path. Stop for a beachside stroll and wash off in a freshwater lagoon before boarding your catamaran to a seaside restaurant for lunch. You'll have plenty of opportunities to swim and enjoy rum, beer, soda and snacks during this full-day tour. Round-trip hotel transport included.
Highlights
Full-day buggy and catamaran combo tour in Punta Cana
Drive a Club Car 4x4 buggy along a jungle path at Indigenous Eyes Ecological Park
Unwind at the gorgeous white-sand beach of Playa Blanca
Swim in a crystal-clear natural lagoon and in the Caribbean Sea
Enjoy a delicious lunch at a seaside restaurant
Bottled water, beverages and round-trip hotel transport included
Recent Photos of This Tour
What You Can Expect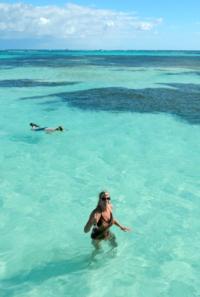 After pickup from your Punta Cana hotel, you're transferred to the Indigenous Eyes Ecological Park, a private 1,500-acre (600-hectare) reserve. On arrival at this pristine Caribbean setting, your professional guide provides a safety briefing in preparation for your off-road adventure.
Climb inside your two-person Club Car, a small-wheel, zero-emissions electric vehicle that's easy to drive. Settle in behind the driver's seat of the 4x4 or opt to be a passenger while your guide leads a caravan of vehicles bumping along the network of nature trails.
Make a swim stop at Playa Blanca, aptly translated as White Beach for its sugar-white sands and unspoiled waters. Frolic in the sun, splash into the sea or rest under the shade of a coconut palm before continuing your tour.
Follow your guide along the reserve's interpretive trails to swim in one of a dozen freshwater lagoons located in this tropical paradise. Keep an eye out for iguanas and some 80 species of birds and other fauna that inhabit the protected area.
When it's time, board your catamaran for a short and smooth boat ride to a seaside eatery. Enjoy lunch and more free time at the beach or another swimming lagoon before continuing by catamaran to a final stop: a refreshing dip in the waist-deep waters of a natural pool in the Caribbean.
Toast your companions with complimentary rum, beer, soda and snacks before your full-day tour ends with drop-off at your hotel.

June 2016
I highly recommend this tour!! It was seriously such a blast! I dont know if the tours are assigned to different companies but we had Side by Side and they were great! They give you huge glasses for the beer and rum and coke on the boat....and seriously filled the cup 3/4 with rum! I would suggest getting the CD of pictures taken, we didnt and I regret it after seeing that the photographers would almost give you a whole photo shoot with the gorgeous surroundings. It was a party on that boat for sure!! We almost wanted to do the same tour twice!
May 2016
Amazing tour, could not fault this. All the hosts were helpful and friendly and made us feel welcome. Amazing lunch supplied on a beautiful beach, was truly a wonderful setting.
May 2016

February 2016
Was a really fun trip.. exceeded expectations and had a great time!
October 2015
Awesome Tour!!
The Off Road Buggy Tour was fun. The ground was dry but still fun to ride around. Make sure to bring a bandanna, they charge 5.00 per bandanna. After the buggy ride we walked through a path to the beautiful, refreshing lagoon. Took a dip, and headed back on the buggies.
There was a car ready for us to head over to the Catamaran. We were greeted upon arrival with a glass of Champagne.
After a short ride to Playa Blanca we were seated under tropical palm trees for a delicious lunch.
After lunch we had time for pictures and a quick dip in the ocean. We then headed back on the Catamaran to sail to the Natural Pool. Were we enjoyed drinksBeer,Rum and Champagne in the water which was waist deep, and enjoyed the awesome afternoon. Great trip!!
September 2015
really great day out. the off road buggys were quite the trip and yes, we got very muddy but that was part of the fun. Lunch on Playa Blanca was OK, not great but OK and then we swam and lounged and chatted with the other guestsbefore heading out on the catamaran. That was a fun afternoon, not totally over thetop drinking but just enough that we all had a great time
July 2015
So much fun! Even though the ground was dry and there werent any mud puddles to splash through the off-road buggy adventure was a blast with ALOT of bouncing around. The cool dip in the natural spring was a great refresher and the catamaran ride, champagne, and a 7-course I think lunch served on the beach was amazing! This excursion is definitely worth the money!
July 2015
Best trip I have ever done!
June 2015
Tour was amazing, would recommend it. Buggy's where amazing fun. Catamaran was not a long cruise more of a stop in the sea for a padle, though had music and rum to keep you happy :-)
June 2015
Advertisement
Advertisement