Set sail on the clear blue waters beyond Punta Cana's coast and enjoy a savory lunch and open bar while you snorkel in one the country's most prized areas. Get an up-close look at tropical fish and stingrays as you dip below the surface and soak up plenty of sun as you lay out on the decks. Enjoy onboard entertainment on this family-friendly cruise that's perfect for travelers of all kinds.
Highlights
Enjoy a cruise off the waters of Punta Cana

Snorkel in the crystal clear Caribbean waters

Enjoy a lunch and open bar onboard the ship

Roundtrip hotel transportation and snorkel equipment included

Recent Photos of This Tour
Punta Cana Day Cruise with Snorkeling
What You Can Expect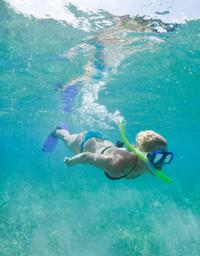 Take to the sea on this Punta Cana Day Cruise with snorkeling that's perfect for the entire family. Relax aboard your picture-perfect ship and soak up the sun as you make your way through the crystal waters of the Caribbean. Make a stop at the sunken freighter known as Aston, and snorkel through the ruins as you look for tropical fish, barracuda and stingrays.

Next, make your way to a natural swimming pool and kick back and relax as you take in the natural beauty that surrounds you. Daredevils can take a go on the biggest slide in Bavaro and snorkeling equipment with instruction is available on the ship. Once you've worked up an appetite, tuck into a delicious lunch onboard you ship before heading back into the shallow waters with a drink in hand before returning back to your Punta Cana hotel.
March 2015
The day was amazing! We spent an hour snorkeling and several hours on the catamaran, sailing off the coast and stopping on a sand bar. The guys were very entertaining and attentive and made our day very enjoyable. We always had a drink in our hand.
The only downside - We pre-booked this excursion and had to call and confirm our room number and get a pick-up time. Two calls and over an hour on the phone with our spanish speaking concierge and we finally were set. We tried emailing before calling but received no response. I wouldnt recommend pre-booking this excursion unless you want to be frustrated with the confirmation process.
July 2014
Absolutely amazing......Crew was great, friendly, and helpful. This is a must to do.
June 2013
Great excursion!
We are a couple, both 25 and enjoyed our trip.
We had our hotel concierge (we stayed at the majestic colonial) call the number provided to us by our confirmation to set up the hotel pick up, the ride to the dock took about 40 minutes with us picking up family at another resort.
The trip we took was the Marinarium Sunny Day Cruise.The snorkeling is very minimal, lasted about 40 minutes, and wasn't particularly good, so if you're looking for a good snorkeling trip this isn't the one.
After the snorkeling, the booze was broken out and the party started. We were on the trip with about 5 couples from Alabama, a couple from Indiana, and a family of five. The family of five actually left the boat about 2 hours into the trip and took a cab back to their resort.
The drinks flow all day and the crew takes very good care of you. They do dances, get you drinks, and facilitate an all around good time. We ended up drinking the boat of of beer- twice!
We were supposed to go to a large inflatable slide, but the weather didn't permit it, so we just got to wade around at a beach for a little while to boat restocked the beer.
We then went to the "natural pool" which was just a area of the ocean that was shallow to wade around in and drink and have lunch. The lunch was simple, but good. They have sandwiches, chicken wings, kabobs, potato salad and other simple picnic-esque foods. They put drinks of a tray and bring it into the water for you to have.
Then we cruised around some more and kept the drinks flowing.
Bottom Line:
This isn't a snorkeling trip, its a booze cruise.
This isn't a family trip.
The boat moves slowly, which the family that left complained about, but you're on vacation, so just sit back enjoy it and drink some booze!
The crew was AWESOME, they really provided a good trip.
Would highly recommend to 20-somethings and young 30 somethings.
October 2012
Trip was great. Crew was extremely friendly and involved, most guests were a little reluctant to open up, crew got all involved in having a good time. Cruise was a little close to shore and snorkeling was shallow but it worked. Lunch was simple and seemed to be homemade, it was also very good and perfect for this trip. I highly recommend this trip for a simple yet great time.
September 2012
Awesome. I am a mid-20s male who went with friends in summer of 2012. Crew were amazing; constantly feeding us booze and helping us with any issues. Snorkeling was for about an hour and half, maybe 2. Rode along the coast for a few hours. Stopped and slid down the biggest inflatable slide I've ever seen (30 - 40 feet high). Stopped in a lagoon to enjoy shallow water + played some games / dance party. All in all, I was very happy with this excursion; a great day spent off the resort. The only negative was maybe having to wake up so early to catch the bus.
June 2012
Loved it!! Can't wait to SNUBA again :)
May 2012
we had a great time from the pick up at hotel till the end the staff was very profetional and alot of fun. we would do it again.
May 2012
This was my best excursion! Everyone was so polite. My mom had a cast on her foot and they treated her like a queen. She was unable to get in the water, but they made participate in the fun. Every part of the trip was relaxing. I was frightened of the whole snorkeling thing, but they made me feel at ease. I would do this over and over again. At first I thought that I should have when on the party boat, but this was on point. Not crowded and the company was awesome! Traveling in the DR I felt that it was always a hustle to get my money. THERE WAS NO SOB STORY TO GET MORE TIPS. Very pleasant! I would give more stars if I could.
May 2012
(ALL CAPS). I HAVE TO TELL YOU ALL...THIS WAS THE PINNACLE OF OUR STAY. BIG SHOUT OUT TO JULIE AND CREW. IT WAS AWESOME. THE SNORKLING, THE STAFF, THE DRINKS, THE DRINKS AND THE STAFF...DID I SAY STAFF ALREADY? WE TOOK MORE PICTURES ON THIS TOUR THAN WE DID THE WHOLE TIME WE WERE IN D.R. IF ANYONE GOES, I HIGHLY ENCOURAGE YOU TO ASK FOR JULIE AND CREW. BEST TIME EVER!!!!! THANKS FOR THE BEST TRIP OF A LIFE TIME. 5 STARS..I RATE IN 1000 STARS!!!!
April 2012
Brought a group and everyone said this excursion was one of their highlights of the trip.
Advertisement
Advertisement