This full-day dune buggy adventure highlights the best of Punta Cana. You'll navigate through rice fields, forests, along scenic roads and near Playa La Vacama in your four-passenger manual transmission vehicle. The tour includes lunch at Hotel La Cueva at Lemon Lagoon, refreshments, and even a short guided horseback ride. With a maximum of12 people per tour, you're sure to get personalized attention from your friendly and professional guide.
Highlights
Full-day dune buggy adventure in Punta Cana
Visit Uvero Alto, Playa La Vacama and Zandanja by stick-shift buggy
Choose from two or four passengers to ride in your 4-person vehicle (depending on option selected)
Take a short horseback ride along the shore
Enjoy complimentary refreshments and snacks plus lunch at Hotel La Cueva
Hotel pickup and drop-off included
Small-group tour limited to 12 ensures a more personalized experience
Recent Photos of This Tour
Punta Cana Full-Day Dune Buggy Adventure to Lemon Lagoon Bay
What You Can Expect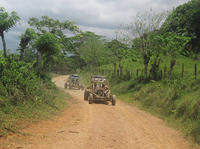 Your friendly and professional guide will collect you from your Punta Cana hotel and transport you to your dune buggy as part of this Punta Cana Full-Day Dune Buggy Adventure to Lemon Lagoon Bay. Upon arrival you'll receive a safety and rules briefing before taking off on the trip of a lifetime!
These speedy vehicles, complete with stick-shift transmission and VW engines, have unmatched agility. Choose from a four-person buggy with other travelers or steering solo as you make your way through 115 miles (190 km) of Dominican Republic landscapes.
You'll make your way through the famous beach town of Uvero Alto, then on to the rice fields of Nissibon. Make a stop at one of the local colmados for an ice-cold soft drink.
Once you're feeling refreshed, take off through Playa La Vacama, through a secluded 9-mile (15 km) palm-lined beach. Take a dip in the ocean before a savory lunch at Hotel La Cueva near Lemon Lagoon.
Enjoy the amenities of this striking hotel before saddling up for a 10-minute horseback ride along the stunning sandy beach. After the ride, you'll cruise in your dune buggy to Zadanja. Quench your thirst with another cold drink and snack from the colmado before returning to Punta Cana and your hotel of choice.
Please note: Dune buggies have manual transmissions and operate with a 4-speed stick shift. No training is available and drivers must know how to drive a manual transmission.
February 2016
Great adventure and lots of fun. Great way to see the countryside.
July 2015
This was an EXCELLENT excursion! This was by far the best handled excursion we took the entire week, from beginning to end. This family owned business took care of everything! Transporttion, lunch, horsback riding....it all went extremely smooth! What a great excursion, this on is a must do!
May 2015
The best excursion ever! I would reccomend this to everyone! You will get really dirty (duh riding an open buggy) but worth every minute! Guides were fun and so informative. They showed us more than I ever expected; the real culture of DR. This is a must do if you are planning a trip! Thank you!!!
April 2015
This is a must do tour. lots to see throughout the island and very educational.
March 2015
This trip was so great Charlie was a wonderful guide and he took us and showed us how Dominicans really live. You dont see this on your resort. You get muddy and dirty but I LOVED it We went in late Jan 2015 We had lot to eat and at Hotel La Cueva was great. It was in the middle of nowhere amazing. We were able to swim in the ocean, horseback rideshort drank coconut water in ate coconut Charlie took a bunch of pictures and videos at the end of tour asked if we wanted them we would pay 20, no pressure. I took them even though I had my own camera and am I ever glad Charlie took some great pics. Would recommend this tour to everyone.
December 2014
We all had a super time.
Charlie is a great host and guide, made the trip very enjoyable.
Don't miss out on this experience of a lifetime...
If you don't know how to drive a standard VW don't drive, just be a passenger.
the views are fantastic.
Cityfarm USA
August 2014
We did the full day Dune buggy adventure with Charlie and his crew back in 2012. Loved it so much we came back in July 2014 and brought my 8 year old son. You learn so much about the culture and see the way of life there. Love the countryside that we saw and the stop off and great food at Lemon Lagoon. Definitely recommend to anyone traveling to Punta Cana. Only dislike has nothing to do with the trip but how much the industrial roads have grown out in the countryside.

June 2014
Words are not enough to describe the great time we had! (Need more than 300 characters to describe it). A visit to a small town store, great traditional lunch, horseback riding to "Lemon Lagoon", snacks and a stupendous tour guide left us breathless! I recommend it 100% Must take the tour again!
March 2014
If you want to truly see the Dominican Republic, this is HANDS DOWN, the way to go. You MUST be very efficient with a manual transmission and not afraid to drive somewhat aggressively. The locals do, so you can't be tentative about pulling out into traffic, passing, etc. You can also expect to be covered in dust and mud, depending on recent weather. The entire vehicle is open around you with only a floor board. The buggies perform great and are a lot of fun to drive. That being said, the trip from start to finish was outstanding. Due to construction and road closures, we travelled about 150 miles thru the day and saw so much of the interior...thru villages, towns, roads thru the backcountry, the mountains, etc. For an extra $20.00, you could purchase a cd of about 150 pictures taken by a great guide and that was well worth it. If you bring a camera, it must be water and dust proof. GREAT time..........Thanks Charlie and Karl!
March 2014
We loved this adventure! Many firsts for me, and you really get to see some of this island away from the tourist/resort area. The owners and tourist guides were fun and friendly, definitely book early and full day.
Advertisement
Advertisement