Start your engines and prepare for some outdoor excitement on this Punta Cana Half-Day Dune Buggy Adventure! Zip across the Dominican countryside in a four-seat manual transmission dune buggy, over paved roads, farmland, beaches and plantations. This adrenaline-pumping experience is a chance to explore the real Dominican Republic!
Highlights
Half-day stick-shift dune buggy adventure from Punta Cana

Drive the buggy on paved roads, beaches and across farmland and plantations

Enjoy an authentic Dominican coffee

Hotel pickup and drop off, snacks and drinks included

Recent Photos of This Tour
Punta Cana Half-Day Dune Buggy Adventure
What You Can Expect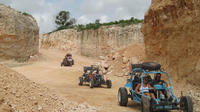 Your friendly and professional guide will collect you from your Punta Cana hotel and transport you to your dune buggy as part of this Punta Cana Half-Day Dune Buggy Adventure. Upon arrival you'll receive a safety and rules briefing before taking off on the trip of a lifetime!
These speedy vehicles, complete with stick-shift transmission and VW engines, have unmatched agility. Choose from a four-person buggy with other travelers or steering solo as you make your way through the stunning and diverse landscapes of Dominican Republic.
Pass colorful Caribbean houses en route to sample real Dominican coffee. Then follow along the natural paths lined with palm trees and banana plantations towards an authentic limestone mine. You'll return using a paved road through La Caiba and Macao, where you'll visit a local colmado (grocery store) and interact with residents while you sip on cold drinks and enjoy savory snacks.
This trip includes an epic stretch of white sand near Macao Beach, complete with stunning ocean views. There's even time to take a dip before returning to Punta Cana.
Please note: Dune buggies have manual transmissions and operate with a 4-speed stick shift. No training is available and drivers must know how to drive a manual transmission.
June 2016
Mark was the ultimate guide...fun and informative. My family of four enjoyed the trip tremendously. Bring bandanas and be prepared for mud as well. The buggies are fast, fun and challenging to drive over the various terrain. Small groups. We had 3 buggies on our half day trip.
Enjoy! Best by far.
June 2016
This tour was one of the best I have been on. Our tour guide from Canada was excellent! He knew so much about the way of living and was so informative. It is great to get a guide that not only loves what they do but also knows what they are doing. He made us feel very safe and comfortable. Can't wait to do it again. Beautiful views, and you really get a taste of the what the country is actually like outside of the resort.
June 2016
This tour was amazing!! You got to see and experience the culture in the countryside by going to the market and having Dominican coffee and chocolate. Continued on the tour through an old limestone quarry on through the small towns around the area, stopping for a small snack again in one of the local towns of meat and cheese. Our tour ended at Macao Beach where the scenery was amazing. I highly recommend this company. They do not instruct you how to drive a stick at all so if you don't know how you better find something else. And they do expect you to follow the instructions given, if not you might get a little stern talking to. Our English speaking guide who I've totally blanked on his name was awesome!! Very knowledgeable. Overall a ton of fun and I would definitely do it again!
June 2016
The local tour operator was excellent. The guide made the difference. We saw many interesting and beautiful places. The guide explained the places. We stopped at 3-4 different locations on the 1/2 day excursion. The guide is in the attached picture.
May 2016
Great people! The tour is small and you really get to learn about the DR. Be prepared to get dirty! So much fun!!

May 2016
This was the best! Mark Jarand, our guide, was a delight. He was extremely knowledgeable about Punta Cana and made sure we had the best time! We were able to see the real island and we could experience it first hand. We had so much fun and got very muddy! I highly recommend this tour...so much better than the other hotel tours our friends took. TIP: Bring hard, wrapped candy for the children, don't wear anything you don't want to get really dirty and just have fun. Worth every penny and more!
April 2016
I'm usually not one to write a review, but this trip was amazing! Would highly recommend to anyone that knows how to drive a manual, likes to have fun and wants to see the countryside of the Dominican Republic!!

April 2016
This was a great experience! Montreal Mark was our guide and gave great explanations to all of our questions and fantastic directions throughout the DR countryside. Our group of 8 ages 7-44 were all completely satisfied! You WILL get dirty with clay mud, so wear clothes you're not too traumatized if stained. Bring sunscreen and a smile. They provide everything else! Our favorite was the local home and the beach. Would do it again in a heartbeat!
April 2016
This was a AWESOME time! The men running it are great at their job. There is a lot of beautiful land to see on this island. Highly recommend this island and this excursion.
March 2016
this was a great tour the people running it were great highly recommend
Advertisement
Advertisement