Experience power snorkeling, paddleboarding or kayaking on a half-day tour to Punta Cana's Reef Explorer, a floating 'island' in the heart of an unspoiled marine park. Enjoy the serenity of a shady lounge chair, soak up the Caribbean sun or join a guide and head out on the water. Explore a thriving coral reef, watch for reef sharks and stingrays, and learn to steer your board, boat or handheld power snorkel, then head to the Reef Explorer's floating health bar for juice and a snack.
Highlights
Half-day trip to Reef Explorer in Punta Cana
Power snorkel on a coral reef in search of sharks and stingrays

Ride a paddleboard or kayak over reef waves
Sunbathe and lounge on a floating dock
Enjoy a healthy snack and fruit juice
Round-trip transport by coach and catamaran included
Recent Photos of This Tour
What You Can Expect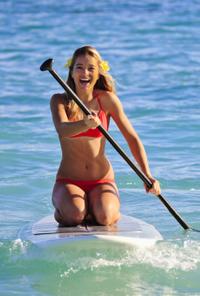 Departing from your Punta Cana hotel, board an air-conditioned coach to the pier for a catamaran ride the Reef Explorer. Situated amid a marine park, including a pristine reef teeming with tropical fish, the large floating deck includes plenty of lounge chairs to stretch out in before and after your water activities.

When you arrive, catch some sun or dip into the clear water for a swim, where reef sharks and stingrays glide along the sandy bottom. Your friendly guide will help you select from 11 spectacular activities, including surfing the reef waves by kayak or paddleboard.
Your guide will provide you with a power snorkel and demonstrate how to safely use the handheld device. Then, grasp hold of your portable power snorkel and let it propel you underwater, allowing you to cover more distance than usual. Once you get the hang of it, you'll feel like a marine biologist as you observe the sharks swimming in the reef. For a real adrenaline rush, enjoy a close encounter with a stingray as your guide brings it up close for a kiss!
When you're hungry, visit the health bar for complimentary fruit juice to and a snack, including sandwiches and vegetables with various dips. Or, if you'd like, choose an optional activity such as a visit to a reflexology therapist for a rejuvenating massage – using a stone or shell – or relax with a glass of wine (each at an additional cost). After a half day of fun in the sun, you'll be retuned to your hotel.
July 2015
Great excursion! No sheep hurding! You get 3-4 hours to relax and enjoy all they offer. Most other excurions give you 15 minutes and move on. Here you relax and enjoy. Highly recommend!

April 2015
Punta Cana Reef Explorer was an amazing experience! This excursion far exceeding my expectations and made my trip truly unforgettable.
October 2014
Fun excursion - the massages were amazing! We were able to hold the stingrays and really enjoyed snorkeling over the coral reef. We used the power snorkels briefly but didn't really need them in order to enjoy the animals. Tour guides were also really friendly - had no troubles with pickups, reservations, etc... as mentioned in earlier reviews.
August 2014
15 min complimentary massage. freedom to do whatever whenever. the overall tour is very well accustomed to non-spanish speaking tourists, so you will feel comfortable and secure.

July 2013
This was one of the better tours on our trip because you get to relax while choosing from the different activities you want to do, when you want to do them, No schedule, no rush. We got to do everything as described from swimming with the stingrays (stingrays are de-barbed) to exploring the reef further out on a guided tour. And the massage was included as well, no extra cost. For those who can't swim (like myself), everyone was required to wear a floatation bubble while in the water and for lunch there were some finger foods and blended drinks (no alcohol) so eat before you go. The staff was friendly and accommodating and if all the activities aren't quite your thing there is always the option to relax on a lounge chair, soak in the scenery and read a book. Perfect for the family.
March 2015
Plenty of activities to keep you busy. Activities can be done at your own pace or with an organized group. Friendly and helpful staff. Very cool to swim so close to the sharks and stingrays. Food was okay. Massage was nice. I got a foot massage and my husband the stone massage. I was glad to be the first to get a foot massage, as the massagers did not wash their hands in between customers. Overall a good time, but felt like it was a little over priced.
June 2014
They never announce who they are...they didn't pick us up the first time so we had to go later in the day. the sharks swam on the outer edge so you really don't see them...they motorized part is only in the shark tank...not any fun in that regard. then you go on a guided tour around the outer edge of the man made island and they take you so fast you can't enjoy it. The massage was nice...food was ok but not great. you can kayak or paddle board...it's ok if you have nothing else to do....go on pirate cruise you won't regret that...or buggies or horse play those are the greatest.
Advertisement
Advertisement