Special Offer
Book by July 31 to save 10% off our previously offered price!
Experience the beauty of Punta Cana on this incredible adventure that pairs horseback riding and ziplining for a day of adrenaline pumping fun! Walk, trot or gallop through some of Punta Cana's most stunning scenery as you make your way along the Anamya River. Then, join your guide at a cigar plantation before soaring through the treetops on an amazing zipline ride. Choose to upgrade your tour and participate in a real-life cattle drive. Whatever you choose, this tour is sure to entertain, and includes a typical Dominican meal, plus a tour of a coffee, vanilla and cocoa plantation (samples included!).
Highlights
6-hour Punta Cana horseback ride and zipline adventure
Ride on horseback through the scenic Dominican countryside
Take part in a cattle drive along the Anamuya River (if upgrade selected)
Soar over the river with treetop vistas as you zipline
Enjoy a delicious lunch with local specialties and sample cocoa on the farm
Hotel pickup and drop-off included

Recent Photos of This Tour
Punta Cana River Horseback Riding and Zipline Tour
What You Can Expect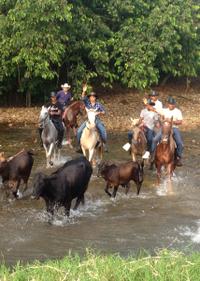 Saddle up for a day of adventure on this Punta Cana River Horseback Riding and Zipline Tour. Your friendly guide and driver will collect you from your hotel, then deliver you to meet your horse for a morning riding trip. Whether you're a seasoned horseman or a new rider, there's an animal to suit your need and level. You'll follow your guide along scenic trails and through the Anamuya River. Pick up the pace if you'd like, or just meander through the natural beauty, depending on your level of comfort and experience.
You'll ride through a mountain oasis and rural village, where you'll pay a visit to a local cigar plantation. Enjoy a cigar rolled before your eyes and take a moment to refresh with a cold drink. Make your way back to the ranch after a bit of relaxing and either test your herding skills during an epic cattle drive (additional expense) or take a breather.
After a break, prepare to soar through the treetops on an incredible zipline adventure. Your professional guide will be on hand to help as you make your way over the river as many times as you'd like. Once you've worked up an appetite, tuck into a traditional meal prepared by locals, and sample fresh coffee from the nearby ranch. Relax poolside or take a dip before touring the ranch, where you'll have a chance to sample cocoa and vanilla grown on site. Your tour ends with a return trip to your hotel after a day full of memory making in one of Dominican Republic's most prized landscapes.
Optional Upgrade:
Horseback ride with cattle drive
An extension of your ride on the Anamuya River, the cattle drive provides you with the opportunity to help herd cattle or horses the old-fashioned way: on horseback. Practice your cowboy or cowgirl skills as you wrangle the herd along this scenic area. No riding experience is required; your guide shows you everything you need to know for this rare and thrilling experience.
June 2016
Absolutely loved this!!!! Everyone is nice, outgoing and helpful and there and #39;s a lot that you do all in this one tour . I and #39;d definitely recommend anyone to do it!
June 2016
The Tour guide Hose was awesome, the owner was grea,t the food was great the whole experience was awesome. We can wait to go back and take our kids! We loved it
June 2016
Great tour. Upon receiving my confirmation I later received a e-mail with the time they would pick us up. Pick time was 0945. We stayed at the excellence resort. IDK why but we did not get picked up by bus like the others but by a van. I guess it was because our resort was the furthest out. Just a guess. But we were picked up at about 1000. We arrived and was shown how to make a cigar while they brought the horses over. Jose was the main tour guide. He is too funny and straight forward. He always had us laughing. It was about 20 participants. We put on our helmets and then we mounted our horses. We went on a trail by the river which we crossed 10 times. We arrived to our destination had a nice lunch then zip lined. There were 2. After you zip line across you have to climb a flight of stairs and zip line back. You get to go twice if you would like, Afterwards we danced a little and then we made our way back to the original site. Fun, great price as it included zip lining and horse back riding. Also felt safe with the staff. There were staff in the back and then there were staff in the front and all in between.
June 2016
Best day excursion!!! We had a fantastic time. Loved everything about this trip. From the drive thru the countryside, the cigar making, the horseback riding-favorite part by far!, the food, the zip lining and the cocoa and mama juana making at the end made for a great DR experience. The people were wonderful! The horseback riding was something like we never experienced. No skimping on anything here. Zip lined again if we wanted. Highly recommend! piece of advice-don't wear white or nice clothing, you will get dirty but so worth it!
June 2016
The people were extremely friendly. The entire trip was worth the money.
June 2016
It was one of the best experience for us.
Wonderful people and good food.
They have a portion of the track that we could do a galloping, which was amazing !
5 stars for Viator. We had not a single issue with pick ups or drop offs at our Hotel.
June 2016
sooooo fun......not a horseback rider but they made it amazing....my 9 year old led the pack lol...great guides and a great day of fun and adventure. Well worth the money.....all levels....u will get dirty. Zipline....I am afraid of heights and faced my fears and did it.....all in all a wonderful day.
June 2016
This was an incredible experience! We are so glad that we booked our trip through Viator and Horseplay. Jose and his Staff at Horseplay were first class and we would definitely recommend their services and tour. It was much more than horseback riding and a zipline. We learned to make cigars, had a wonderful Dominican meal, saw how chocolate was made from coco beans, drank some Mama Juana and even danced a little! We have so many fond memories of our trip to Punta Cana but none more memorable than our time with the folks at Horseplay. THANKS, Jose!! Olie and Brenda Fosdyck/Destin, FL
June 2016
This was definitely on the top of my most memorable experiences in Punta Cana list. Jose was hilarious!! 5 star tour guide. From the beginning to the end, I was well entertained. Great Food. Great History learned. Fun activities. A true treat. Worth every dime! 3
May 2016
This was a fun tour through the countryside. It took awhile to get there after stopping to pick up guests in the various hotels, but definitely worth it.
It starts out by seeing the way they make cigars, with the opportunity to do some of it yourself or just smoke a free sample of the wide variety of flavored ones. Then you are mounted on horses and proceed to the ranch.
The horses were sturdy and well behaved... a breed bred especially for their endurance and disposition. The ride was varied and covered a lot of trail and included crossing a small river in a shallow area. Doing the cattle drive at the end was pretty cool.
When you arrive at the ranch, you can zip line a few times and swim in the pool or just relax. They show you a bit of the nature tour with coffee and chocolate samples and how they are processed. You also have music, a home cooked Dominican lunch, and photos preview of the photos they had been taking. This is also where you can leave a tip in the tip box.
After lunch you can go on the cattle drive if you chose that option, and meet the others down the path back to the cigar place. That is where you will leave to go back to your hotel, stopping at a large gift shop on the way.
Overall, I highly recommend this excursion. It was worth the money and lots of fun for all!
Special Offer
$99.00 Save $9.90
Advertisement
Advertisement