Experience the beauty of Punta Cana on this incredible adventure that pairs horseback riding and ziplining for a day of adrenaline pumping fun! Walk, trot or gallop through some of Punta Cana's most stunning scenery as you make your way along the Anamya River. Then, join your guide at a cigar plantation before soaring through the treetops on an amazing zipline ride. Choose to upgrade your tour and participate in a real-life cattle drive. Whatever you choose, this tour is sure to entertain, and includes a typical Dominican meal, plus a tour of a coffee, vanilla and cocoa plantation (samples included!).
Highlights
6-hour Punta Cana horseback ride and zipline adventure
Ride on horseback through the scenic Dominican countryside
Take part in a cattle drive along the Anamuya River (if upgrade selected)
Soar over the river with treetop vistas as you zipline
Enjoy a delicious lunch with local specialties and sample cocoa on the farm
Hotel pickup and drop-off included

Recent Photos of This Tour
Punta Cana River Horseback Riding and Zipline Tour
What You Can Expect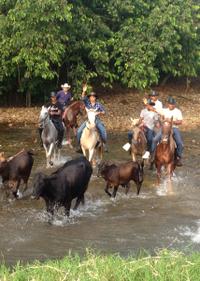 Saddle up for a day of adventure on this Punta Cana River Horseback Riding and Zipline Tour. Your friendly guide and driver will collect you from your hotel, then deliver you to meet your horse for a morning riding trip. Whether you're a seasoned horseman or a new rider, there's an animal to suit your need and level. You'll follow your guide along scenic trails and through the Anamuya River. Pick up the pace if you'd like, or just meander through the natural beauty, depending on your level of comfort and experience.
You'll ride through a mountain oasis and rural village, where you'll pay a visit to a local cigar plantation. Enjoy a cigar rolled before your eyes and take a moment to refresh with a cold drink. Make your way back to the ranch after a bit of relaxing and either test your herding skills during an epic cattle drive (additional expense) or take a breather.
After a break, prepare to soar through the treetops on an incredible zipline adventure. Your professional guide will be on hand to help as you make your way over the river as many times as you'd like. Once you've worked up an appetite, tuck into a traditional meal prepared by locals, and sample fresh coffee from the nearby ranch. Relax poolside or take a dip before touring the ranch, where you'll have a chance to sample cocoa and vanilla grown on site. Your tour ends with a return trip to your hotel after a day full of memory making in one of Dominican Republic's most prized landscapes.
Optional Upgrade:
Horseback ride with cattle drive
An extension of your ride on the Anamuya River, the cattle drive provides you with the opportunity to help herd cattle or horses the old-fashioned way: on horseback. Practice your cowboy or cowgirl skills as you wrangle the herd along this scenic area. No riding experience is required; your guide shows you everything you need to know for this rare and thrilling experience.
May 2016
One of the best excursions I have been on! I have only been on a horse once in my lifetime over 20 years ago but they have great horses and staff that made the experience so fun and I felt really safe. There was also some flexibility for those who felt more comfortable on horseback where the staff split the group into two. Staff was so friendly too. Would definitely recommend to my friends as something they must do.
May 2016
Jose is the man! This was the best tour we did on the island! Highly recommended!
May 2016
This trip was amazing! So much to do between the cigar rolling, cocoa and coffee grinding, zip lining and horseback riding. Jose and his crew were awesome! His wife made a fantastic traditional lunch! Our 6 and 8-year old were able to ride their own horses and zip line too! Absolutely recommend this trip for everyone!
April 2016
The staff and tour guides were fabulous! Very friendly, professional and made this tour an experience to never forget. Safety is their number one priority. For someone who never ziplined before, I felt completely safe and went up three times!! If you are looking for something fun to do on your trip, I would highly recommend giving this excursion a try!
April 2016
WE HAD A GREAT TIME! THE CREW WAS VERY HELPFUL AND SAFETY CONSCIOUS. JOSE AND HIS WIFE PUT ON AN AWESOME LUNCH WITH AUTHENTIC FOOD. THE TOUR OF HOW THE COCA AND COFFEE WERE MADE WAS PRETTY COOL AND THE VANILLA BEAN. I WOULD HIGHLY RECCOMEND THIS. I'M AFRAID OF HEIGHTS BUT I DID IT. :
April 2016
Excellent day......my whole family really enjoyed both the horse riding and Zipline. Great value for money and all the guides are really do an awesome job of taking care of you. Thanks again!

April 2016
March 2016
This tour was the best tour I have ever gone on. Cathy, Jose and the staff were wonderful. The horses are great. You will not be just going in a straight line. It was so much fun.
March 2016
Everything was wonderful. It was my first time doing the horseback riding and zipline, but I wasn't nervous because the staffs showed the demonstrations. The food was delicious. Learning how to make coffee, cigar and chocolate in the old fashion way it was a good experience that I won't forget. I highly recommend it.
March 2016
On time for pick up.. Excellent day, with great guides and lunch
Advertisement
Advertisement