119 Reviews
Location:

Punta Cana, Dominican Republic

Duration:

6 hours

(approx.)
A horseback riding tour with a canopy zipline adventure is a great way to take in the gorgeous scenery of Punta Cana! Walk, trot or gallop—depending on your skill and preference—along the Anamuya River. Follow your expert guide to a cigar plantation before arriving back at the ranch for an adrenaline-pumping zipline through the trees. If you upgrade your tour, you'll enjoy a thrilling cattle drive! After a Dominican feast, tour the plantation where coffee, vanilla and cocoa are grown—with plenty to sample. Round-trip hotel transport is included.
Highlights
6-hour Punta Cana horseback ride and zipline adventure
Ride on horseback through the scenic Dominican countryside
Take part in a cattle drive along the Anamuya River (if upgrade selected)
Soar over the river with treetop vistas as you zipline
Enjoy a delicious lunch with local specialties and sample cocoa on the farm
Hotel pickup and drop-off included

Recent Photos of This Tour
Punta Cana River Horseback Riding and Zipline Tour
What You Can Expect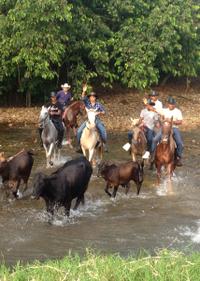 After hotel pickup in Punta Cana, saddle up with a horse to suit your skill level—from beginner to advanced rider. Then follow your professional guide on a scenic horseback ride along the Anamuya River, whose natural surroundings provide plenty of photo ops. You'll have the opportunity to pick up speed if you desire, or just walk or trot; your guide will customize the tour to each rider's comfort and level of experience.
The river travels up a mountain path as it winds its way through a tiny village to a beautiful oasis at a cigar plantation. Stop and grab a cold drink from the bar or sample one of the freshly made cigars rolled right in front of you (own expense). Enjoy a chance to mingle with the locals or just take in the peace and quiet before continuing on horseback to the ranch. If you've selected an optional upgrade, practice your herding skills on a cattle drive. (See description below for details.)
The fun doesn't end as you disembark from your horse! Get your adrenaline pumping while you soar back across the river on a safe and fun, double-cable zipline. View the breathtaking landscape from a different perspective as professional guides instruct and assist you through every part of your zipline adventure. You can go as many times as you'd like or descend to level ground to relax.
After you've worked up an appetite, enjoy an amazing Dominican feast prepared with local recipes, complete with fresh coffee from the ranch. Give your lunch a chance to settle as you work on your tan by the pool or lounge in one of the hammocks. Before return transport to your hotel, take a tour of the ranch and discover the many varieties of plants found here, including cocoa, coffee and vanilla. You'll observe how cocoa is processed and, of course, enjoy plenty of samples!
Optional Upgrade: Horseback ride with a cattle drive
An extension of your ride on the Anamuya River, the cattle drive provides you with the opportunity to help herd cattle or horses the old-fashioned way: on horseback. Practice your cowboy or cowgirl skills as you wrangle the herd along this scenic area. No riding experience is required; your guide shows you everything you need to know for this rare and thrilling experience.
January 2016
Best day we had on the island! The tour was a absolute wonderful time. Very well managed and organized. They really go out of the way to make sure you are enjoying your experience.

January 2016
We were a little apprehensive booking this trip, due to the fact it wasn't available through our resort. Only to come find out later the reason is, they do not pay a commission to the resorts. We were pleased beyond belief with the excursion. The phone number that Horseplay provides you is a direct cell number to the people picking you up in the morning. So don't be cheap call the phone number if you have any questions or concerns about being picked up. We called at 9:00am and Jose answered the phone and said they will be there in five minutes. And he was!
We were picked up at the resort about 9:05am. We then went to a few other resorts to pick up other executioners. It was absolutely wonderful because we sat in an raised open air'd Horseplay vehicle. Then we drove through the country side and small towns/villages to Rancho Real cigar making factory. They met us in the parking lot to explain what was about to happen, and handed out cigars for our enjoyment. We learn about cigar making and watched them rolled cigars, then were were able to roll our own. There is a small gift store to by souvenirs, cigars, and rum at a very reasonable price. Without pressure to make a purchase.
After the cigar demonstration, Jose and team brought us to our horses. Jose asked us about our riding level and matched us to the appropriate horse. They helped us get saddled. They were very, very, very helpful in every way. For instance, one of the excursioners was an elderly lady, and a trail guide rode next to her the entire time holding a lead rope for her. We rode through some jungle and over the river a few times to the Ranch, which was about an hour and half away. You were able to ride side by side, or in a line, trot, or gallop. However you felt comfortable.
December 2015
I had an EXCELLENT time on this excursion. The driver was great and the tour guide was pleasant and very knowledgeable. Good sense of humor too. Overall, a wonderful time. I would highly recommend to others.
December 2015
we had a great time, the horseback riding was a beautiful ride thru the woods and rivers..the cigar rolling was a great experience...the lunch was excellent, learning about the cocoa and zip lining...all was amazing!! highly recommended!!

December 2015
What a fantastic day long excursion and one that is an EXCELLENT VALUE! While the pickup was a little behind we were apologized to several times. The guide Jose was engaging and made sure that each customer received individual attention and he made sure everyone had a great time. The first stop was a cigar factory where everyone got a free sample cigar and was then given a very detailed demonstration 15 - 20 min and then was allowed to roll their own cigar free of charge as a souvenir. Next was the 45 min horseback ride to the zip line. The animals are well taken care of and safety was the 1 concern. You can trot or ride at a full gallop if you want, there are several guides so everyone can ride at their own comfort level, Once at the zip line we were treated to a wonderful home cooked lunch and free drinks beer is 3. Warning bring your own bottled water if you are wary of the purified water provided. Next was the zip line which you can do once or twice if you want I recommend 2x. The cocoa demonstration was informative and the end product, which is made right in front of you, is nothing like you have ever tasted. There are items for sale and tips are accepted, but bring small denominations since they do not have change. The ride back was shorter which was fine as sitting in a saddle for several hours can be a little uncomfortable if you aren't used to it. We were then dropped off at our respective resorts after we had to stop to fix a flat there was no extra charge for that part of the trip All told our total excursion started a 9am and we were back at about 5. Like I said it is well worth the money as a regular zip line tour was about the same price and uses the same line that we used. A big thanks to the staff for a great day!
December 2015
Unbelievable! By far the best day we had in the Dominican Republic. From the cigar factory to the lunch at the ranch to the zip line and ride back we had the most memorable day. It rained pretty much all day but we just didn't care. The whole experience was a once in a lifetime day. Well worth the money. The horses were sound but not ploddy. Very responsive but not head strong. We learnt about cigars and the industry. Chocolate and Mamajuana, what's not to love! All the guides were fantastic. Entertaining but not pushy. The zip lines were fantastic. Not short and gone in a blink of the eye but high and long and over a ravine and banana plantation, we actually got to go on them twice. The lunch was delicious and the ride back was fun through rivers and rainforests. Highly recommended.
December 2015
We had such a wonderful time doing this tour. The guide was so informative, entertaining and welcoming. Every one involved was friendly. The horse riding experience is a true riding experience through the forest and cross the river. What beautiful sighthing to see. This tour is worth the money.
November 2015
The tour was awesome. Their tour guide Jose was very funny and friendly. His wife cooks a delicious Dominican lunch. Horseback riding lasted 1 - 1.5 hour divided into two sessions. Zipline was awesome, although they only had two zip lines available. However, they allow you to go as many times as you'd like. The provide an excellent demonstration on the cacao bean and how they create chocolate from it. Overall this was a top notch tour and I highly recommend it!

November 2015
I recommend this trip to anyone who is visiting the area. We packed a variety of activities into one day, however, it felt relaxed and unhurried. The owner of the ranch, Kathy, made me feel welcome and even sat down to lunch, had a chat with the group and joined in on the ziplining. It was a nice personal touch. All of the staff are friendly and there was no pressure to buy anything. The horses are very well behaved, which is a good thing because I had never ridden before. Definitely a highlight of my holiday and an experience I will remember for a long time to come.
November 2015
Great tour...excellent horses, friendly guides. A.
Advertisement
Advertisement