13 Reviews
Location:

Punta Cana, Dominican Republic

Duration:

3 hours 30 minutes

(approx.)
Jacques Costeau eat your heart out! Walk along the ocean floor and discover the amazing corals and tropical fish of the Caribbean. This is the easiest way to explore the underwater world, its as simple as walking and breathing.
Recent Photos of This Tour
Best Punta Cana Seaquarium Underwater Adventure
What You Can Expect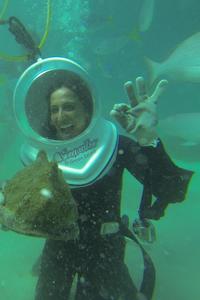 On this Seaquarium Underwater Adventure you will discover a submarine wreck, reefs, sting rays, sharks and a great variety of colorful fishes. Imagine discovering all this without getting your hair wet, you can even do it with your prescription glasses on! Slip on the helmet, attach the air tube and you are ready to start exploring.

There is no easier way for you and your family to explore below the surface, and discover what lies beneath the turquoise waters of the Caribbean. A professional diver is on hand at all times to ensure your safety and comfort.

The Seaquarium Underwater Adventure is suitable for everyone aged 8 years and over. This is an easy and safe experience the whole family will love during your Dominican vacation.
July 2015
What a great day. We had so much fun all day and the folks running the trip were FANTASTIC!!! Very nice and accommodating. If your are claustrophobic you will not like this trip. I could not go down but could snorkel and watch my kids do it. My boys loved this and make their trip.
March 2015
Husband and kids loved this a lot - they say it was the highlight of their trip. I'm a bit of a chicken but survived it! What I did love was the impromptu trip to Dolphin Island with snorkeling and sea lion show. Very cool! The sandwich snack on the boat was a nice touch.
August 2014
This was a fantastic trip. It was so much fun from the experience with the diving, snorkeling, swimming and the fun crew on the boat. This excursion was well worth the money.

Brian R USA
June 2014
Loved It ! It was so much more than I expected. The crew was super nice and everyone had a great time. Happy Birthday again Mr. Norm, hope you had as much fun as I did.
March 2014
This was an awesome experience. You don't have to know how to swim. The guards were very experienced people and did an excellent job by checking on you frequently.
February 2014
This tour was AWESOME!!! So much fun and so much value for the money! Not only did we do the underwater trek, but also swam with sharks and sting rays and then had a sea lion show, complete with kisses from the sea lion for each audience member (so cool!). And then the boat stopped at a gorgeous spot where we could swim for a while. The crew members on the boat were great and the divers during the underwater trek made me feel super safe. I would do this tour again and again! It was definitely the highlight of our trip.
February 2012
My fiance and I had a great time on our trip! We didn't realize all that came with this booking so for us, it was well worth the money! We reccomend this trip to anyone who visits! The water was so beautiful and the fish were awsome! There was a shipwreck next to us! To anyone like myself, don't be afraid to do this! I was scared too. But they have a dedicated area you are in, not just out in the ocean somewhere. The divers are with you the whole time and make it really relaxing. Then after you get drinks and dancing and we swam with nurse sharks and rays in a pen out in the water. And for a chicken like me, it was awsome! Don't think about this trip, DO IT!
March 2011
We thoroughly enjoyed our trip to the Underwater Adventure. From the bus driver that picked us up to the people organizing the adventure, it turned out to be so much more than we expected. Everyone treated us in a very kind and professional manner. From "wally" the seal to the walk on the ocean floor and the subsequent swim party, it was the highlight of our trip to the DR. A big thank you to all who were involved.
December 2015
We had a group of 5 and each one of us enjoyed various parts of the excursion. Weather was great for the entire trip. Great job by the crew and getting all aboard active and moving in a well planned flow from one excursion to another.
July 2015
Very good excursion, especially for the kids! Only downside is that you only get about 15 minutes for any given activity, and then you move on.
Advertisement
Advertisement