Experience the history, natural beauty, colonial architecture and rich traditions of Santo Domingo on this full-day sightseeing tour from Punta Cana. Travel by comfortable coach with your professional local guide to some of the city's most magnificent sites. You'll tour the UNESCO World Heritage-designated Colonial Zone and check out what was once known as Hispaniola. Make a stop at Los Tres Ojos, the Cathedral of Santa Maria la Menor and the Columbus Lighthouse, as well as other well-known spots. This is the perfect tour for travelers who want to experience the history and highlights of Santo Domingo—all in a single day!
Highlights
Full-day city sightseeing tour of Santo Domingo
Explore a cavern housing Los Tres Ojos and find three beautiful lagoons
View historical monuments in the UNESCO World Heritage-listed Zona Colonial, the oldest district in the Americas
See one of Santo Domingo's oldest buildings – the Columbus Alcazar
Visit the Cathedral of Santa María la Menor, the first cathedral in the 'New World'
Stop at the Columbus Lighthouse and venture down the Calle de las Damas
Lunch and round-trip coach transport from Punta Cana included
Recent Photos of This Tour
Santo Domingo Sightseeing Tour from Punta Cana
What You Can Expect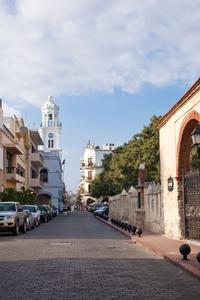 Meet your friendly, professional guide at your hotel and enjoy comfortable coach transportation to Dominican Republic's capital city on this full-day Santo Domingo Sightseeing tour from Punta Cana. You'll get an insider's look at this colonial city that was founded by Christopher Columbus's brother in 1496 and learn how this classic urban center is recognized as the oldest continually inhabited European city in the Americas.
Your tour will make stops at some of the city's most incredible sites, including Los Tres Ojos (The Three Eyes). This impressive natural wonder is comprised of turquois lagoons set in open-air limestone caves. You'll follow your guide up the stone staircase at Parque Mirador del Este for a closer look at one of Dominican Republic's most popular attractions.
After a stop at Los Tres Ojos you'll make your way to Ciudad Colonial (Colonial City)—which is known by locals at the Zone Colonial. You'll visit the Colobus Alcazar mansion, built in 1510 by Christopher Columbus's son in true Spanish style and have a chance to tour the rooms, gardens, grounds and museum that make this place a destination.
Your Santo Domingo tour continues with a stop at Catedral Primada de America—also known as Cathedral of Santa Maria la Menor. Built in 1540, it is considered one of the oldest churches in the Americas. Your guide will point out elements of Gothic and Baroque architecture as you explore the iconic religious structure filled with woodcarvings, silver and devotional paintings. Shoulders and knees much be covered to enter.
Next, you'll make your way to the famed Columbus Lighthouse, which stretches from 680 feet (207 meters) into the air. This towering structure was built to commemorate the 500th anniversary of the first colony in the Americas. From there, follow your guide to Calle de las Damas and enjoy wandering on the oldest streets in the new world. Learn how this historic street was named after the ladies of the Spanish court who used to stroll along the avenue to mass. Take plenty of pictures as you learn about the fascinating architecture, history and traditions of this capital city before returning to your Punta Cana hotel.
May 2016
This is a very good tour. Our guide Foster was great. He spoke at least three languages very well and was very knowledgeable. Our only complaint was that the bus we were on had very little leg room between seats. And when the person in front of you leaned their seat back it got even worst. Other than that we had no complaints. The ride to Santo Domingo from Punta Cuna is long but the guide notes some points of interest as the bus rolls along. There is a tour of a cave so wear appropriate shoes. And it will probably rain so be prepared to get wet. Also there are people on the streets trying to sell you stuff and they can be pretty overbearing. A woman in our group bought some jewelry from one of the street vendors and it fell apart about an hour later. The lunch was pretty good and after lunch there is some free time to explore on your own. The tour inside the cathedral is very interesting. Women must cover shoulders and knees before entering the cathedral so dress accordingly or they will offer a cover for you. The train tour is fun and a chance to wind down before getting on the bus to leave. The tour takes all day but it is very educational.
April 2016
Super fun! Our guide was very knowledgable. Everything went on time as planned.
March 2016
A lot of steps that was not explained on web site. Other wise EXCELLENT!!!!
Samie United States of ...
February 2016
I and my group of 4 were very impressed with the whole tour in general. The food was not great but it did not take away from the great driving, amazing tour guide Faust I, super planning. This will be a first of many tours on Viator.
Samie Friesen

January 2016
My husband and I loved this tour. It and #39;s a long day, but well worth the time and money.
November 2015
This was a great day - long but you do get a stop over both ways. The city of Santa Domingo is beautiful and is improving every year.
October 2015
The guide was very informative and provided all of the details effortlessly in English, Spanish, and French. We were able to see multiple historic sites inside the capital city and never felt rushed by the guides at any point. There is time available for shopping around the historical plaza as well, which was adequate.
October 2015
My husband and I enjoyed the tour. We had a very knowledgeable tour guide. It was worth the money. Pamela and Edward Marshall
Allan United Kingdom
September 2015
This excursion was a great way to see and learn more about this wonderful country, away from the beach resorts. We discovered so much about the original Latin American history and how the country was established. It was great to see it in real life and meet real people around the city.
It is important to consider that this is a very long day, with an early 6am pick-up and 3 hour coach ride to Santo Domingo from Punta Cana. It was well worth it! I have done this trip twice now and would do it again in future years. The journey progresses well on the new roads, the pace of the day is also good. The guide provided excellent commentary, demonstrating thorough knowledge of the country during the long coach ride. On the outward journey we stopped at a cigar outlet and tourist superstore with a large range of products, better priced than hotel shops.
Once in Santo Domingo we saw a great deal around the fascinating Zona Colonial area, one of the oldest parts. We were taken on the mini-train around the city. This was a great way to see most of the best parts without walking all day in the hot sun. We got an audio tour of the Columbus house Alcázar de Colón and the cathedral: Basilica Cathedral of Santa María la Menor, the oldest cathedral in all of the Americas! We also stopped at the National Palace government building for photos.
For lunch we enjoyed a delicous chefs taster menu style Dominican lunch in a restaurant opposite the Alcázar de Colón, with a fantastic view overlooking Plaza. There was also the opportunity for about 1 hour free-time walking around the city and checking out some shops and local sights.
During our journey back to Resort we also stopped at underground cenotes, Tres Ojos 3 eyes I think. There we had a guided tour of the lovely blue underground lakes. Our guide also stopped the coach and hailed over a local guy selling freshly cut coconuts for 1, a delicious refreshing drink for the journey back.
September 2015
This tour was outstanding and everyone on their first visit to the Dominican Republic should make time to see some of ther rest of the country. The beach at Punta Cana is makes a pleasant vacation, but in no way represents the country of DR. There is so much history in Santo Domingo and our guide was very knowledgeable in pointing out the site.
We were picked up at our hotel on time by a van and taken to a local shopping center to board the large air conditioned bus with the rest of the tour group, about 30 people. The ride to Santo Domingo was abou 2 1/2 hours with one stop for restrooms and a few minutes shopping. I got a coffee which was great, other had soft drinks and snacks. Before arriving in the main part of the city, we stopped at Tres Ojos which is a series of lagoons in a open cavern, there are a number of steps down to the lagoons but it was not necessary to go all the way to the bottom to see some of the scenery. It was a worthwhile stop and glad we did it at the beginning of the tour.
In the city, we saw the lighthouse and Christopher. Columbus mausoleum built in 1992 to celebrate the 500 year anniversary of Columbus Discovery. Very impressive! Also toured Columbus's son's palace which he used as governor. The train is only a name for a small motorized shuttle pulling cars through the narrow streets of downtown Santo Domingo. But it is fairly comfortable ride and you do see much more of the city than you would walking.
Lunch was a buffet on the second floor of a large modern souvenir shop. Food was OK, restrooms were very clean, but it was crowded with other groups and tourists. It was on the main plaza or square and we had about an hour to walk around and shop or explore the area.
We toured the oldest cathedral in the new world, which was very nice. The guide had a radio microphone and we were given earphones which worked well.
The tour does require a certain amount of walking, but nothing strenuous.
Advertisement
Advertisement