Experience the natural beauty and history of New Zealand's South Island on a 3-day tour to Milford Sound, Te Anau, Dunedin, Taieri Gorge and Pukerangi. Travel into the heart of the Milford Sound on a boat cruise that takes you through the world-famous fiord, surrounded by rainforest, waterfalls and glacier-carved valleys. Spend time at leisure in the charming and historic town of Dunedin and journey through the spectacular Taieri Gorge region by train. Discover the highlights of the South Island and have your choice of standard or superior accommodation in Te Anau and Dunedin.
Highlights
3-day South Island tour to Milford Sound, Te Anau, Dunedin, Taieri Gorge and Pukerangi, from Queenstown
Take a boat cruise through Milford Sound, part of the World Heritage Area-listed Fiordland National Park
Recharge in Te Anau, located on the shores of New Zealand's second largest lake
Enjoy free time to explore vibrant Dunedin, known as the 'Edinburgh of the South'
Travel through spectacular gorges on the Taieri Gorge Railway
Choice of either standard or superior accommodation
What You Can Expect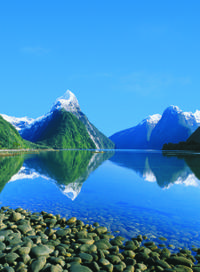 Choose from standard or superior accommodation in Te Anau and Dunedin on this 3-day tour that highlights the South Island with visits to the stunning fiords of Milford Sound, the pretty lakeside town of Te Anau, Dunedin's historic downtown, and scenic Taieri Gorge. Two breakfasts, one lunch, accommodations and transportation are included.
Itinerary
Day 1: Queenstown – Milford Sound – Te Anau (L)
Get an early start leaving Queenstown as you travel through Te Anau to the Southern Alps. Your coach ride continues along the picturesque Eglinton Valley, one of New Zealand's few glacier valleys that is accessible by road, as you enjoy great views from the vehicle's glass roof. Stop to snap photos of the Mirror Lakes, then drive to The Chasm, where you take a short walk over footbridges that span several powerful waterfalls and rapids. The 3.5-hour drive by comfortable coach includes plenty of stops for photos and rest breaks.

Continue to Milford Sound, the region that Rudyard Kipling referred to as the 'Eighth Wonder of the World.' Carved by an enormous glacier in the last ice age, Milford Sound shimmers with towering mountains, rushing waterfalls and rich marine and bird life. Enjoy your 2-hour boat cruise aboard a modern catamaran with large viewing windows, outdoor decks and warm indoor seating. Listen to informative commentary from your captain as you glide through the incredible scenery; keep an eye out for the seals, penguins and dolphins that inhabit the icy waters. At the pinnacle of the sound, marvel at Mitre Peak, which rises to a height of 5,550 feet (1,692m) above sea level. After your cruise, return to Te Anau where you have the remainder of the day to spend at your leisure.

Overnight: Your choice of standard (Kingsgate Hotel) or superior (Te Anau Hotel and Villas or Distinction Luxmore) accommodation in Te Anau

Day 2: Te Anau – Dunedin (B)
After breakfast at your hotel, travel by coach from Te Anau to Dunedin, soaking up views of the South Island's scenic countryside. Upon arrival in the historic town of Dunedin, check into your hotel and have the rest of the day free to explore at your leisure. Enjoy the laid-back charm of the city center as you take in art galleries, cafes and shops. You can also make your way to visit the historic Olveston House, join a guided tour of Larnach Castle (own expense), or stroll around Glenfalloch Gardens.

Overnight: Your choice of standard (Kingsgate Hotel or Park Regis) or superior (Scenic Hotel Southern Cross or Scenic Hotel Dunedin City) accommodation in Dunedin

DAY 3: Dunedin – Taieri Gorge – Queenstown (B)
Depart from Dunedin's Disneylike train station on the Taieri Gorge Railway to begin your journey to Pukerangi. Enjoy the breathtaking scenery of the Taieri Plains and Taieri Gorge as the train snakes its way through numerous tunnels, bridges and viaducts. Ponder the amazing engineering feats that it took to build the route as you admire spectacular views from your seat or the open-air platforms. Stretch your legs and snap photos at scenic stops along the 4-hour journey. Hear fascinating live board commentary about the history and nature of the area as you travel. Food and drinks are available for purchase from the on-board cafe. In Pukerangi, your coach picks you up for transport back to Queenstown where your tour ends upon arrival in the late evening.

Please note: Hotels are subject to change by the tour operator without notice; if changes are made, a similar hotel option will be provided.This tour operates in reverse on some days over winter, but all inclusions will be the same.
November 2014
September 2015
Tour was confirmed on 9 May 2015 and Ms Shireen Bosch has first contacted me on 11 May and 9 Jun. Received clarifications and reminders on 19, 24, 25 and 26 Aug. Got full documentation from reception on the day following check-in upon request. Received another copy of itinerary on morning of 28 Aug. Up to this moment, reference was made to my booked itinerary. After a busy day in town, I was shocked to receive another itinerary which has turned my whole itinerary upside down, ie going by rail to Dunedin and having the Milford Sound Cruise on Day 3 instead of Day 1. We were confused about the pick-up time, as 6:45 am for the original itinerary and 9 am for the revised itinerary and we had to call your emergency hotline at late hours. The pick-up service was 15-20 minutes late. We were at panic and had to call the emergency hotline again. After the railway journey, there was no pick-up at the station and we had to seek assistance from the staff of the Railway Station. Finally when a taxi picked us up and brought us to our hotel in Dunedin, the taxi driver asked us for taxi fare ... We just lost confidence in VIATOR and we felt so helpless. We called your emergency hotline again to get reassurance from your staff Olga. Thanks to Olga's kind assistance, the rest of our journey went smoothly. One deep regret though was we were unable to visit the Glowworm Cave at Te Anau. The original itinerary would drop us off at our hotel at 5:15 pm in Day 1 but the revised itinerary dropped us off at our hotel at 6:45 pm, which made it impossible for us to join the Cave tour. It is a shame to have missed it as the Cave was just about 15 minutes' walk from our hotel. We booked this 3-day tour with consideration of an early evening arrival at Te Anau on Day 1. Had we known of this revised itinerary, we would have made good adjustments to our journey well in advance. Ms Shireen's explanation of an oversight is hardly acceptable. Our time and money to travel is limited!
Advertisement
Advertisement