10 Reviews
Location:

Queenstown, New Zealand

Duration:

9 hours

(approx.)
Discover the untamed beauty of the UNESCO World Heritage-listed Mount Aspiring National Park on this full-day Dart River 'funyak' (inflatable canoe) and jet boat tour from Queenstown! Travel by coach to Glenorchy, where your adventure begins, and then hop aboard a jet boat and ride up the picturesque Dart River. Speeding through a landscape of outstanding natural beauty, your tour passes the 'Middle-earth' countryside that featured in the popular 'The Lord of the Rings' trilogy. In a secluded stretch of the river, swap the boat for your own easy-to-handle funyak and then paddle behind your attentive guide before stopping for a buffet lunch in the great outdoors!

No previous canoeing experience is required on this tour, and your guide will paddle at a leisurely pace to suit the group.
Highlights
Full-day Dart River funyak canoe and jet boat adventure from Queenstown

Explore the UNESCO World Heritage Site of Mount Aspiring National Park on this exhilarating tour

Follow your guide on your funyak canoe and discover hidden streams and rock pools
Soak up the park's incredible countryside scenery -- featured as Middle-earth in The Lord of the Rings film series

Enjoy a buffet lunch in the great outdoors

Lifejacket and wetsuit provided
Recent Photos of This Tour
What You Can Expect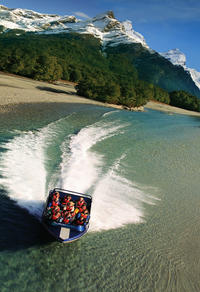 Travel by coach to Glenorchy, located 28 miles (45 kilometers) from Queenstown. You'll enter the Mount Aspiring National Park, a region characterized by towering mountains, dense forests and of course, winding river valleys – perfect for exploring by canoe and boat!

After a comprehensive safety briefing get kitted up with equipment: lifejacket, wetsuit with booties, fleece and a dry bag. Then, hop aboard your jet boat and hold on tight as your guide speeds you through the waters of the Dart River, while explaining the countryside's highlights.

Once you've ventured deeper into the wilderness of the park, swap the jet boat for your inflatable canoe (seats 2 or 3 people max) and paddle out behind your guide in a flotilla, exploring the hidden side streams, rock pools and chasms that make the Dart River so special. Stop for a buffet lunch laid out on tables in a grassy area and surrounded by the gloriously isolated scenery of Mount Aspiring National Park – featured in the Oscar-winning films of The Lord of the Rings series.

After lunch, continue along the Dart River in your canoe, soaking up the gorgeous countryside and watching out for rare fauna and wildlife like red deer and yellow-crowned parakeets. At the end of this exciting adventure hop back on board your coach and relax on the return journey to Queenstown.
May 2015
April 2015
March 2015
great tour, breathtaking views! the guide, Luke is great!
January 2015
Amazing place! Fantastic views! This area definitely feels like Middle Earth! Loved it!
August 2014
Beautiful place, fun activities, good food, great guides, excellent experience.
Great value to boot, a long jet boat ride, kayaking and lunch. Much better value than the 10min $100 jet boat rides available in queenstown.
January 2014
Seemed a little pricey when we booked it, but definitely worth every penny. The scenery is spectacular and they outfit you with everything you need for a fun day in the jet boat and funyaks.
December 2013
Excellent tour; a fun filled, adventure packed time. The Dart river is incredible! Don't forget to bring a camera (preferably waterproof) to capture the breathe taking views. The Jet Boat was great fun but I thought the Funyaking was even better! Lovely buffet lunch, experienced guides. Just amazing
March 2013
That was such a fantastic day out! Can't really describe the beauty of the surrounding landscapes.. it seriously left me out of words!!! After a 45-minute bus journey to Glenorchy, the morning began with an exhilarating jet boat tour and a fun guide that would stop in-between exciting spins to explain the locations and point out where some of 'The Lord of the Ring' scenes were filmed! As the morning mist cleared out we met some other guides that briefed us about the 'Funyak'! Its name really explains it all: it is FUN! And is not really hard to paddle on it, although it requires some team effort at times! Our guides were great. Very helpful when needed and so much fun to spend the day with. What else can I say? You have to try it yourself to understand what I mean.. So worth it! A little piece of advice: bring some sun protection (sun glasses/hat/sun screen) and warm clothes - it is chilly in the morning! And don't forget your insect repellent: sand-flies are evil!!!
March 2013
You can't beat this experience ......the water was so incredible
June 2015
This is a hard tour to rate because the jet boat ride was excellent and ten out of ten.Ben was a great driver and loved doing his 360s. Really good fun. All equipment supplied including fleecy undershirt, wetsuit, wet weather jacket and water boots. Unfortunately I cannot give an accurate review of the Funyak canoe as the weather we experienced was apparently the worst any of our guides have ever experienced on this tour. However the tour still went ahead. We received the tail of Sydney's very bad storm and the winds were gale force. Our guide Toby told us on a number of occasions it was the worst conditions he had ever seen along the river. We were first timers and I found the whole experience really frightening. One occasion Toby told us we could not cross the river as we normally would because the current was so strong so we had to have one person out of the canoe to push it on a 90 degree angle while the other person paddled furiously. The rocks in the water were very slippery under the water boots. When we finally made it to the lunch stop you had to pull your canoe through the water for about 100m. When my husband collapsed our guide and the other family were out of sight. Enter Gareth. In the middle of nowhere he comes walking out of the bushes with only Tshirt and shorts on very, very cold day and offers to take our canoe for us. When he found out my husband was having an asthma attack which he hasn't suffered for at least 20 years he pulled a Ventolin inhaler out of his shorts pocket. He was our saviour. We finally made it up to lunch which was delicious and plentiful. We had a very sedate canoe ride into the canyon which was unbelievably easy because there was no gale force winds and it was magnificent. I was very frightened about canoeing back and I was right, it wasn't easy. I think this would be a lovely day when weather permits, but due to the stormy conditions I would never consider doing this again. HUGE thanks to Gareth.
Advertisement
Advertisement