Get a taste of New Zealand farm life with dinner at Walter Peak Country Farm. Start your evening cruising along the calm waters of Lake Wakatipu from Queenstown on board the TSS Earnslaw, a 1912 vintage steam ship, to arrive at Walter Peak Country Farm. Enjoy a gourmet BBQ buffet dinner in the Colonel's Homestead, as the resident pianist provides background music during dinner. On cooler nights, the open fire creates a cozy atmosphere. After dinner, you have the option to watch a farm show or relax in the bar before returning to Queenstown on the TSS Earnslaw.
Highlights
Walter Peak gourmet BBQ dinner and Lake Wakatipu cruise

Cruise from Queenstown on board a 1912 vintage steamer, the TSS Earnslaw

Enjoy a gourmet BBQ buffet dinner with succulent roast meats and seafood

Listen to commentary provided by the skipper on the TSS Earnslaw and a farm demonstrator
What You Can Expect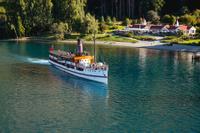 Launched in 1912, the TSS Earnslaw is the grandest vessel ever to ply the waters of Lake Wakatipu. Today, the TSS Earnslaw is believed to be the only coal-fired passenger-carrying vessel still operating in the southern hemisphere. Relive the elegance of travel in the early 1900s as you cruise across Lake Wakatipu to Walter Peak Country Farm and take in Queenstown's magnificent alpine scenery.

Disembark at the Walter Peak Country Farm, for a gourmet BBQ buffet dinner showcasing New Zealand specialties at the Colonel's Homestead. Sample an expansive array of New Zealand's traditional cuisine from the buffet including meat and seafood from the outdoor grill, antipasto selection salads and vegetables. Then finish your meal with our irresistible selection of homemade desserts, a New Zealand cheeseboard and freshly brewed tea and coffee. A range of wines and other beverages are available for purchase. The resident pianist will provide background music and the open fire creates a cozy atmosphere in the cooler months.

After dinner, you can choose to join a farm tour or relax in the bar before returning to Queenstown on the TSS Earnslaw.
Itinerary
December 2014
Excellent! Boat ride was very cool on the TSS Earnslaw; arrived to the Farm for dinner-Buffet Dinner was very good; then did a short walk around before the Sheep Dog show and shearing of a Sheep demonstration which were both excellent. Totally recommend this trip.
December 2014
WOW!
Having been to Queenstown before and missing out on travelling on the TSS Earnslaw I was keen to make this booking with Dinner at Walter Peak. Our cruise across Lake Wakatipu was fantastic and the TSS Earnslaw is such a lovely steamship - my partner loved the fact that you could actually watch the coal being loaded to power the ship.
Once we arrived at the Walter Peak station our night continued to be great. The station restaurant was set up beautifully and decorated lovely. The staff were so attentive and friendly and the food was absolutely exquisite. We were lucky to have a table for 2 in the outside area with a lovely view over the lake complementing our faultless meal. We enjoyed the fact that the chef did come around to have a chat at the end of the meal to see how we were enjoying the night.
After our meal we got to experience a bit of farm life, watching some cattle dogs in action and a sheep shearing performance. You could really tell that all of the staff at the station took pride in their work and were passionate about what they did.
We really didn't want the night to end, it was a fantastic experience that we would love to do again when returning to Queenstown.
By far.. this was the best meal that we had whilst in NZ, all should be commended!
March 2014
I can highly recommend the trip over and dinner at Walter Peak High Country Farm. The food was unequalled, the service friendly and efficient and the after dinner show a real treat.
We enjoyed the entire experience, from the moment we boarded the steam ship we felt transported back in time. The dining farm buildings and gardens are beautiful and have been lovingly maintained. The meal offered a large range of choices and catered for people with special dietary requirements (I am gluten free). Most amazing desserts I have ever had!!!
March 2014
The cruise across the lake on the steamboat was relaxing and comfortable. The buffet meal had a wide selection of fish/meats, salads and vegetables plus lovely desserrs and there was ample to choose from - certainly did not leave the table hungry. We enjoyed the sheep show and then we returned over the lake under the starry skies - a good evening - a tour which was good value for money
February 2014
Excellent trip which I would highly recommend. Apart from the wonderful views from the ship the Information given and sheep shearing demonstration was very interesting. Dinner was excellent with good choice and quality of food.
February 2014
Booked via viator day before cruise on arrival reception could not find us, boat waiting to go, thank you to the guy who said hop on we will sort this as for a moment I thought we were not going to be allowed on unless as reception suggested they took our credit card details again, sorted before arrival at destination. Really loved this, steam boat history and engineering amazing, scenic ride across, gentle and timeless with accompanying piano. Do wander to front of boat to find info and look at engines. Don't take BYO on board, we did, and were told not permitted. The meal was super, better than expected, absolutely excellent, would highly recommend as such a high standard but be prepared to wait a while to be invited to start - plenty of time to enjoy all though so no rush required, the shearing... well we are well used to, but was a good demo by an interested guide.
June 2015
Awesome experience sad the Earnslaw was being serviced and we never got to go on that, never mind next time.
January 2014
It's a nice cruise and the farm tour is recommended. Buffet was justified with lost of choices especially the desert should not be missed.
January 2013
Cruise was good. Dinner was good food selection and quantity good. Sheep dog and sheep shearing show was OK.
Advertisement
Advertisement