Milford Sound is arguably the most scenic destination in New Zealand, a must-see for any traveler. This is a small group tour for travelers seeking a personalized trip to Milford Sound. You will be transported in a modern, fully air-conditioned coach. As you begin your tour out of Queenstown we will travel south along the side of the amazing "Remarkables" mountain range and New Zealand's longest lake, Lake Wakatipu. From Te Anau the scenery really begins as we drive north along the lake. Lake Te Anau is the largest lake in the South Island.
Highlights
Full-day small-group tour to Milford Sound with sightseeing cruise, from Queenstown
Enjoy nearly two hours on a boat that cruises through the Milford Sound
Snap photos and take optional walks during scenic stops along the route
Pass the Remarkables, Lake Wakatipu, Lake Te Anau and other beautiful locales
Admire the incredible scenery while the pros handle the driving
Snack on a delicious barbecue lunch served in a picturesque location
Soak in the natural beauty of Fiordland National Park and the Milford Sound with a small group limited to 15 people
Recent Photos of This Tour
Full-Day Milford Sound and Fiordland National Park Tour including Milford Sound Cruise and BBQ Lunch from Queenstown
What You Can Expect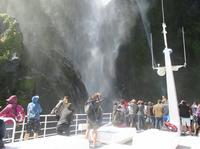 Upon entering the Fiordland National Park, the largest National Park in NZ, travel up along side the Eglington River to three mountain lakes at the head of the Eglington Valley. During this part of the journey you will make the first of our many sightseeing stops that also allow for some great photo opportunities. You have a couple of different locations for lunch and will endeavor to select the best spot on the day. With some fantastic walks in the area, this is a great opportunity to experience the beautiful alpine forest up close.

After lunch you head towards the Homer Tunnel, taking in some incredible mountain views while driving along side the crystal clear waters of the Hollyford river. Once through the Homer Tunnel, you'll wind the way down the Cleddau Valley. At this time you arrive in an area called Fiordland but are visiting a "Sound", the difference will be explained.

You link up with a scenic cruise for a 1hour and 45 minute excursion on the fjord.
The barbecue lunch includes a classic Kiwi BBQ of marinated lamb kebabs, chicken kebabs and sausages, a good range of salads, fresh bread and fruit juice. Vegetarian patties are available on request. Please be sure to specify any dietary requirements at the time of booking.
Important Note:
During the months of May to October the itinerary for this tour will be modified. In place of the BBQ lunch enroute to Milford Sound, the tour will include a full scenic cruise with a BBQ lunch on board the cruise boat.
April 2016
Small bus and great food. A very enjoyable day!!!
April 2016
Absolutely fantastic day and not to be missed!

April 2016
I would recommend to anyone who wants a thorough trip to Milford sound! Sooo good
April 2016
Great experience in every way, glad we went with the smaller vehicle, fewer people, friendly guide.
April 2016
If you want to see Milford Sound on a tour from Queenstown, you MUST book this one! Awesome guides, awesome bbq and awesome commentary while driving!
March 2016
I was so excited about visiting Milford Sound and not only did this trip meet all my expectations, it far exceeded them.
Before I begin
- Yes, it is a long day we were picked up at 7:30am and dropped off at 8:30pm and we were the last and first respectively
- Yes, the weather is unpredictable and you may get sun, rain, clouds, wind, etc.
- YES, IT IS ABSOLUTELY WORTH IT!!
Our driver was Marty and he was absolutely fantastic. From the moment he picked us up to the moment he dropped us off, he was friendly, chatty, and provided a wealth of information. We did part of the same drive we'd done the day before, but it was far richer for all the history, facts, and local stories.
One of my favourite things about this tour is that it's as much about the journey as the destination. Some of the pit stops along the way were GORGEOUS and a great way to break up the long drive. Considering the ever-changing, winding, steep road and huge distance from Queenstown, we were so glad to have someone experienced at the wheel - it meant we could relax and take in the breathtaking scenery and surrounds.
We stopped at Cascade Creek for lunch and it was utterly serene the mountains, the babbling water, the flora surrounding us. Then there was lunch itself chicken marinated in mango and sweet chili sauce, lamb skewers, sausages, fresh bread, pasta salad, and fruit juice.
The small group means more frequent stops and a MUCH more intimate experience. I believe we had 14 people on the bus and not many more on the boat, making for a wonderful cruise experience. We were able to access every vantage point to see the fur seals, spot rainbows, and literally stand under a waterfall. I can't compare the experience of sailing through the fjords to anything else I've ever seen or done it's untouched and seems like another world.
Thank you so much, Marty, it was an unforgettable day and experience - and one we're still daydreaming about!
March 2016
Outstanding in every way. Plenty of stops, personal attention, and the small group size meant our vehicle and boat could get close in to places the big groups couldn't. This tour took full advantage of the amazing Milford Sound, and the lunch was great too.
March 2016
We really enjoyed our tour guide Marty. We also enjoyed being on a smaller bus with fewer people. The BBQ was an added bonus.The tour was very scenic and Milford Sound was beautiful even in the rain.
February 2016
BBQ bus made the experience much more personal than booking with the large coach tours. Stopped off on route through the National Park at various points to appreciate the magnificent views. BBQ lunch at a lovely site, where only cars and mini buses could reach. Boat tour on the Milford Sound was awe inspiring, the most stunning scenery. Great host who was packed with information and was great fun.
A long day but enjoyed every moment.
February 2016
One of the best tours we have ever been on! Nigel the tour guide was outstanding in his knowledge of the area and lots more besides! The scenery was amazing and the BBQ lunch provided was delicious, would highly recommend this tour to anyone wanting to see New Zealand at its best.
Advertisement
Advertisement