Tour code:
2264RJ2202_MILFORD
A Milford Sound cruise, scenic drive and return helicopter ride complete this extraordinary day trip from Queenstown. See the UNESCO-listed Fiordland National Park by land, sea and air, starting with vivid landscapes viewed through your glass-roof luxury coach along Milford Road. The 2-hour cruise covers the entire length of Milford Sound to the Tasman Sea, while the 40-minute helicopter flight takes you over Mt Tutoko and Lake Wakatipu, with a brief landing on Donne Glacier (weather permitting).
Highlights
Milford Sound day trip from Queenstown by land, sea and air
See Milford Sound and its incredible natural beauty from all angles
Travel past Lake Wakatipu and the region's alpine scenery, stopping for photo ops
Enjoy a 2-hour cruise on the sound to see waterfalls and wildlife
Take an exhilarating helicopter flight over the sound and Mt Tutoko
Land briefly on Donne Glacier, if the weather permits
Listen to interesting commentary throughout the day
What You Can Expect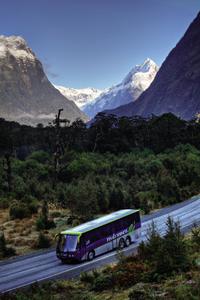 Your Milford Sound day trip begins with hotel pickup in Queenstown, where you'll board a luxury coach. Through the glass roof, soak up legendary views of the Remarkables Range while traveling alongside Lake Wakatipu, then motor through the verdant countryside to Te Anau for morning tea (own expense).
Your driver shares insightful facts about the region as your 5-hour scenic drive continues along Milford Road, aka Highway 94. The coach makes photo stops where you can stretch your legs and take in the alpine landscape of UNESCO-listed Fiordland National Park.
Board the
Milford Mariner
or
Milford Wanderer
cruise boat upon arrival at Milford Sound. Meet the informative crew and prepare to be stunned by the fiord's natural features as your 2-hour cruise follows the full length of Milford Sound to the Tasman Sea. Hear commentary on the regional wildlife as you search the waters for New Zealand fur seals, bottlenose dolphins and rare Fiordland penguins. Relax with provided tea and coffee, and snap postcard-worthy pics of lush waterfalls descending from steep-walled spires like famous Mitre Peak.
Lunch is available for purchase at the onboard cafe when hunger calls (own expense).
After you disembark at the wharf, hop on a shuttle bus for the short drive to the airstrip for the 40-minute helicopter flight that returns you to Queenstown. Your pilot flies over Milford Sound so you can appreciate the fiord along with glaciers, rivers, lakes and rainforests from the air. You'll soar above Harrison Valley, Mt Tutoko and shimmering Lake Wakatipu, and — if the weather cooperates — you may even experience a snow landing on Donne Glacier.
Upon return to Queenstown, your 3-in-1 tour ends with hotel drop-off.
March 2015
Absolutely Amazing!! Helicopter flight was cancelled but flew back on fixed wing plane instead. We worth the cost of the tour.
February 2011
The bus was clean, the driver was humourous and knowledgeable, the boat tour and lunch were great. The helicopter and pilot were fantastic, landing on the ice-field and giving us a memory to last a lifetime!
January 2011
Absolutely breathtaking. We were fortunate to have a beautiful clear day. While the drive to Milford Sound was long, it went by amazingly fast. The bus was very comfortable and the views were stunning. The bus even has windows across the top allowing you to see everything - top-to-bottom. The cruise was equally beautiful, albeit windy. We missed out on seeing penguins, but did see some seals sunning themselves. We also got up close and personal with a couple of waterfalls. The helicopter ride back was great and it was fun landing on a glacier and having a snowball fight. . I wish the helicopter ride was a little longer, but all-in-all this was truly a fabulous excursion. Quite frankly, Milford Sound has to be one of the most beautiful places on the planet! Take this trip if you can! Erik from Rockford, IL USA
July 2010
Excellent full day that continued to get better as the day went on. The helicopter ride was the ultimate experience of our entire trip to New Zealand. Don't pass up this opportunity.
David M United Kingdom
December 2014
Very good trip , only spoilt a bit by rain (snow at high altitude) on the way to Milford Sound and when I was there.
The bus journey there is over 5 hours and so I was so happy that I had booked to return by helicopter - which took 45 minutes including sightseeing and a high altitude snow landing which was great.
Still, overall, I was lucky , as 2 days later the one road in was blocked by an avalanche. All tours cancelled !!

June 2013
How beautiful! Glad we chose the helicopter instead of plane. (Plane flights are cancelled more often due to weather conditions, which is a factor because it rains at Milford sound over 200 days out of the year.) The rain was interesting because it creates hundreds of waterfalls that cascade down the mountains!
November 2011
The tour was well organised, the coach driver was good fun and very knowledgeable and the scenery was incredible. It was a no stress trip with a lot of great experiences, especially the helicopter ride from Milford back to Queenstown.
December 2010
This tour was great but be prepared for a very possible rainy weather (75% chance as explained by our driver). Nevertheless, the area is fantastic!
July 2011
Bus drive and driver very good, so was boat trip. Helicopter flight was cancelled last minute, due to too little booking passengers, disappointment.
January 2014
The bus tour was great, our bus driver was extremely knowledgeable and humorous. The nature boat tour was also enjoyable, the boat was great and commentary also informative and entertaining. We were thrilled to be able to take the helicopter ride home, but it was no where near 50 minutes, perhaps 35 minutes at best. It was awesomely beautiful but way too short for what we were promised and what we paid for.
Advertisement
Advertisement